An abundance of new things
I'm so glad I didn't go to Computex this year. It's not the humidity, or the torrential rains, or even 130,000 people in my way at the show. No, it's the almost overwhelming slew of new products all at once. A firehose treatment my little brain can't absorb. Intel had over a half dozen significant things to show.
From new 10th Gen Intel Core processors and new details on Intel's innovation program (code-named "Project Athena") that will take mobile computing to an entirely new level, to the first-ever gaming processor with an all-core turbo of 5 GHz, Intel again raised the bar for PC experiences.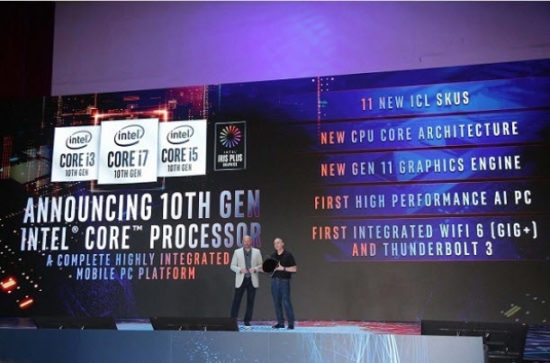 10th Gen Intel Core processors (codenamed "Ice Lake"): Intel announced the first 10th Gen Intel Core processors, bringing high-performance AI to the PC at scale with Intel Deep Learning Boost (Intel DL Boost). The processors are built on the company's 10-nm process technology, new "Sunny Cove" core architecture and new Gen11 graphics engine. 10th Gen Intel Core processors will range from Intel Core i3 to Intel Core i7, with 4 cores and 8 threads available, up to 4.1 max turbo frequency and with 1.1 GHz graphics frequency.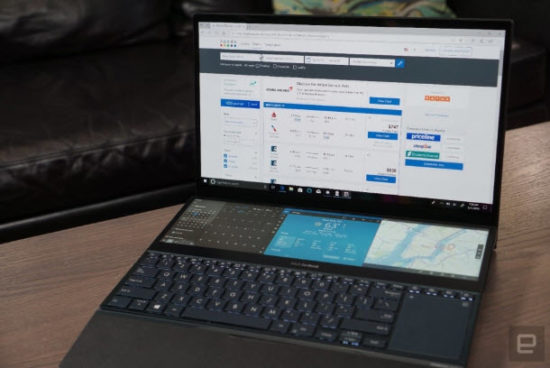 Project Athena: Intel also shared more details on its innovation program code-named "Project Athena," including the 1.0 target specification that will usher in the first wave of laptops in the second half of this year. The company also previewed some of the first designs to come from partners spanning consumer and commercial including Acer, Dell, HP, and Lenovo.
9th Gen Intel Core i9-9900KS processor: Intel unveiled a special edition 9th Gen Intel Core i9-9900KS processor, which has been fine-tuned to deliver 5 GHz all-core turbo. It is expected to be available by holiday 2019.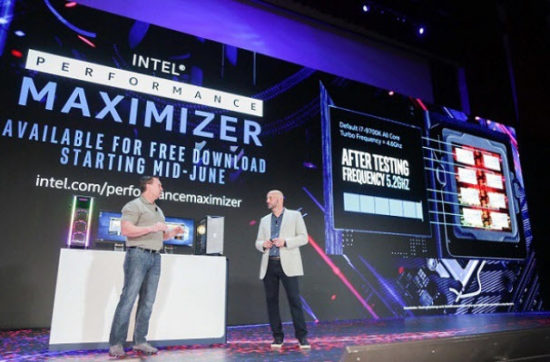 Intel Performance Maximizer (IPM): For the first time, the company also showed the new Intel Performance Maximizer (IPM), an automated overclocking tool that brings overclocking to the masses by making it easy to dynamically and reliably custom-tune unlocked 9th Gen Intel Core desktop processors based upon their individual performance DNA. IPM will be free and is part of the Intel Adaptix Technologies toolkit, a collection of advanced software technology tools that helps OEMs and consumers maximize platform-level performance and experience. The toolkit also includes Intel Dynamic Tuning Technology, Intel Extreme Tuning Utility, and Intel Graphics Command Center.
Intel also shared updates on three more product lines: Intel launched 14 new 9th Gen Intel Core vPro processors for high-performance mobile (H-series) and desktop (S-series) PCs, the highest performing business processors.
Intel Core i9 vPro processors—with up to 8 cores and 16 threads reaching up to 5 GHz on desktop and up to 4.8 GHz on mobile—join the best-for-business Intel vPro platform for the first time, delivering superior performance on demanding workloads for an exceptional business user experience, built-in security features, remote manageability, and stability.
Intel launched 14 new Intel Xeon E processors for mobile and desktop workstations that are purpose-built with professional-grade performance, real-time data analytics capabilities, built-in platform security features, and remote manageability features as part of the Intel vPro platform. For the first time, Intel Xeon E processors include up to 8 cores, 16 threads, 5 GHz turbo frequency, Wi-Fi 6 (Gig+), Intel Optane Memory H10 and 128 GB DDR4-2666 ECC memory support.
Plus, Intel announced that the new Intel Core X-series family of processors for premium creators will come this fall. These processors will bring frequency improvements, increased memory speed, and updated Intel Turbo Boost Max Technology 3.0.
What do we think?
PCs have never been better. New ideas continue to emerge on form factors, architectural improvements, better battery life, lighter, connectivity, hi-res touch screens and pens, the choices and features are literally mind-boggling. And the prices keep dropping—I thought Moore's Law was dead. Somebody didn't get the memo.