The latest update adds GPU accelerated rendering and new modeling and animation tools.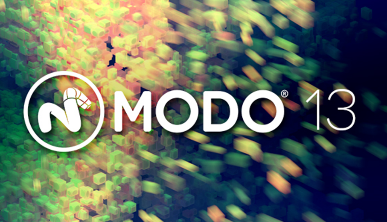 The Foundry is rolling out a major update to its Modo software, three installments to complete the Modo 13 Series. The first installment is out and offers significant updates to rendering, animation, and added modeling tools. Foundry's senior product manager Shane Griffith says this version is the result of a renewed focus on the product's strengths for its users. This version comes out immediately after the acquisition of The Foundry by Roper Technologies; and in a long video introduction for the Modo updates, Griffith said the acquisition gives the Foundry the security to execute on long-range plans and projects. This version of Modo, while long in the process is an example for its focus on Modo's strengths and also the introduction of new tools for new workflows, including a focus on the fashion industry, a new market for Modo.
Modo's traditional markets include professionals creating photorealistic images for advertising and marketing, which Griffith defines as synthetic photography, as well as gaming and TV motion graphics. The company has long been picked up by freelance workers for its relatively shallow learning curve compared to other 3D tools and attractive pricing.
GPU rendering
The big news for rendering, of course, is the addition of GPU rendering with the integration of AMD's Radeon ProRender and also AMD's denoising. The advantage to AMD's technology is that it's hardware agnostic and takes advantage of open standards to support GPU and CPU hardware. Just as important, says Griffith, the Foundry found AMD easy to work with. The teams worked closely together to implement ProRender in Modo.
So why, one can't help wondering, do all this work integrated AMD's ProRender when a good portion of Modo's reputation has been based on its own rendering capabilities? Modo's CPU-based render is what has won the company its customers in synthetic photography, and Griffith says, the Modo dev team has plans for its native renderer, but with the arrival of a slew of low-cost, sometimes free, ray tracers, it has become important for 3D modeling and animation tools to be able to support their customers' renderers of choice. For the markets, Modo is serving such as advertising, game development, and motion graphics. He says it's important that Modo gives its users options and GPU rendering is key.
The project of integrating ProRender was driven by more than meeting customer demand for GPU rendering. Modo already supports Chaos' VRay, but the Modo team also wanted to make it easier to support plug-in renderers. The ProRender project with AMD helped them update their APIs for plug-ins.
New features in Modo
A new Animation Layer system makes it easier for character artists to non-destructively control layers of animation, and they can override existing actions. The new system also includes masking to define and isolate parts of the animation.
The Foundry has developed its own tools for working with game engines. First of all, because Modo is being used for game developers; but just as important, game engines are opening up new markets in design and engineering, film, and TV. The Modo Bridge adds support for the Unity game engine and enables models to be directly dropped into Unity with textures, lighting, etc., intact. The Modo Bridge is coming soon to the Unity store but is available directly from the Foundry as well.
Game engine workflows: Modo also has the Unreal Bridge, which it developed for working with Modo content in the Unreal engine. It too accepts content directly from Modo, without the additional conditioning that is sometimes required from other programs. The bridge offers a shared interface so users can move interactively between the game engine and Modo environments. This is an area that Autodesk has also been working on after it realized trying to compete with Stingray, its own game engine was a not-great idea. The need to send work to the game engines and render in those products, and have a two-way workflow, is becoming increasingly important.
MeshFusion adds Kit Fusing allowing artists to define just a part of a mesh to be used for Boolean operations.  This is part of an ongoing usability improvement by the Modo team to make working with models much more powerful by selecting parts of a mesh, and fusing them so they can be manipulated with Boolean operations. In addition, the company has made beveling the surfaces easier.
The Arrays extension to Modo's procedural system offers users new options for working with data for storage, manipulation, and data output. Procedural modeling was introduced in Modo 10 and brought with it a powerful node-based toolset. In version 13, Modo has advanced the tools with the Arrays, which adds new generative design capabilities. Arrays can be used to store value types and multiple arrays can be used to build new procedural tools within Modo. A quick description is available here, and it's evidence of the Foundry's ambitions to make Modo a powerful competitor. With Arrays, Modo is adding the kind of functionality that is driving Houdini's advance in the market, and the company has beaten Autodesk to the draw (let's pretend that pun was intended). Autodesk is also promising advanced procedural and particles-based tools, but they didn't make it into the last release.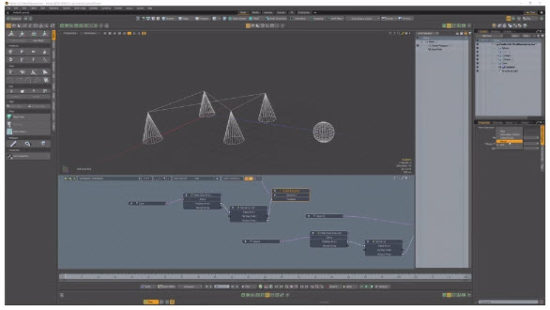 Opening up a new front, the Foundry has been exploring strategic partnerships in the fashion industry where companies struggle to visualize designs with accurate colors in a way that's consistent with their traditional workflows. Once again, rendering is paramount, and the Foundry has developed Colorway to be able to correctly reproduce colors. Griffith says the Foundry has been working closely with companies in the sports shoe industry, and they are discovering workflows that take advantage of the Foundry's strengths in compositing, color, lighting, and 3D modeling.
What do we think?
It's interesting how important rendering has become after having been with us for decades and for decades it has been very competent. Renderers have been good but they haven't been fast. GPU rendering has changed all that, and the work done by the fierce competitors in the industry, AMD, Chaos, Intel, and Nvidia among many others is pushing GPU rendering ever closer to production rendering.
Last year, Maxon integrated ProRender for Cinema 4D and it has followed up with the acquisition of Redshift. The company says, it needs its own renderer, but it will also continue to support plug-in renders. Now we have Modo adding ProRender and developing easier hooks to support the leading rendering plug-ins even though they have their own, very strong and well-liked renderer.
Game engines are also very much part of the game and so is support for pipelines already in place. One of the important messages of 2019 is that tools have to work together.