Cinema 4D arrives with a big subscription incentive: the S22 release for subscribers.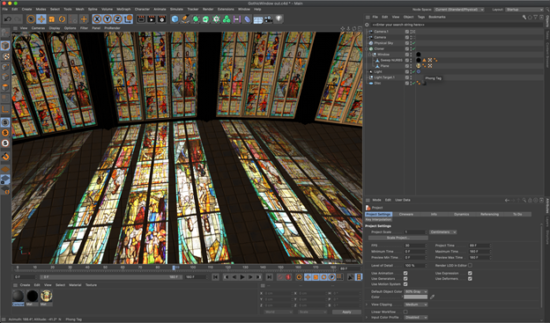 Maxon was planning for a bang up NAB 2020, but it all went up in a cloud of Coronavirus. It's too bad, because Maxon was coming to the show with increased firepower of its newly acquired Red Giant VFX, RedShift GPU rendering, and a new subscribers' edition of Cinema 4D's R22. The Red Giant acquisition closed in January 2020.
So, even though the NAB show did not go on for 2020, Maxon did have its semi-annual rollout press conference to talk about Maxon's plans and new releases and the company talked a little bit about its new building phase kicked off by the acquisition of Red Giant and Red Shift. CEO David McGavran said the teams, who had already worked together and were all friends, were looking forward to NAB and getting together as one team and raising a beer.
Instead, it's Zoom beers and live-stream presentations that were unveiled during the NAB time frame. Presenters include Maxon's stars from its trade show presentations such as Mike "Beeple" Winkelmann, Andrew Kramer, Chris Schmidt, Joey Camacho, Penelope Nederlander, Sasha Vinogradova, Chris Schmidt, Nidia Dias, and a lot more people.
Maxon did a remarkable job, better certainly than some of the industry giants we would have expected to be able to muster a streaming presence, but never mind, we're all dealing with these disasters in the best way we can. By the way, NAB will have a virtual presence in mid-May with NABShow Express. Do go check out Cinema 4D's Virtual NAB content. Maxon has been streaming their NAB content for 15 years and they've been producing educational content for their Cineversity training platform. The company's content and technical quality is good; you'll learn stuff.
Cinema 4D is the company's centerpiece and NAB 2020 would have been the site of C4D's Release 22, which is arriving before the company's usual annual release in the Fall. In a press briefing, Maxon CEO David McGavran said he wanted Maxon to be able to bring out much more during the year. As a part of fulfilling this goal, Maxon brought out Cinema 4D S22, a special release for subscribers with new features. The company will still maintain its perpetual license options and a later release will arrive with all the features introduced for subscribers and more. In essence, the company will have two major releases.
The headliner in this year's release is new tools for working with UVs including automatic UV generation, more control over unwrapping, and a simultaneous view of UVs and the 3D model with relationships maintained so it's easier to see where you are from map to model. All the work done with UVs goes a very long way towards making C4D easier to use and lays the groundwork for working more efficiently with RedShift and materials.
Modeling tools have been updated for the S22 release. Tools for extrusion are now simpler to use and the extrude generator not automatically extrudes in the correct direction. Extrude tools have also gotten sliders to make working with them easier. Maxon has improved selection with the ring and loop selection tools, which it says also makes unwrapping much easier. And, Maxon has added a mirroring tool. Bevel tool and deformer have been improved, which as a result improves their UV generation. Maxon has added the ability to untriangulate imported geometry, say for instance from CAD tools, to make them easier to use. Overall, says Maxon, the performance has been improved for modeling tools.
Maxon has upgraded the Cinema 4D viewport, which is now faster and can present work in higher quality renders. Hair and fur will be displayed more realistically and more like the desired final result. The viewpoint now handles multi-instances much faster. Users can customize how the viewport renders images and in this version Maxon has added more options. Preferred choices can be saved and reused. The display of shadows has been improved. For Macs, the viewport has been optimized for Apple Mantel.
Another important advancement for Maxon is the new support for GLTF, the Khronos open source format for 3D models. GLTF has been designed to be a common format for file exchange and is being used for retail sites, VR and AR, and has become a popular exchange format for getting content into game engines.
In other news
Maxon's tool for import and export, Cineware was built for transfers between Cinema 4D and After Effects. It has been expanded beyond After Effects to enable transfers to Illustrator, Graphisoft, Unity, and Unreal. Exchange for Red Giant and C4D has also been updated for subscribers.
Last year, Maxon introduced support for the Zbrush exchange tool GoZ and the company is promising an update for this year.
On the Red Giant front, new updates are on the way, says Maxon. With new updates for VFX Suite and Trapcode, Red Giant's toolset for particle simulations is "coming soon."
Redshift has been part of the Maxon family for a year now and over that time they've been working on a 3.0 update. It's almost done, says McGavran; they'll be adding Optix 7 support as well as Metal. The updates for Redshift are taking longer than expected, says McGavran, but this promises to change the world for C4D users as well as the extended family of parent company Nemetschek's other products including Vectorworks.
Maxon is improving and expanding its support for Adobe's tools. For instance, its support for GLTF makes C4D a good companion modeler for Adobe's Aero VR tool. But, the acquisition of Redshift and Red Giant gives Maxon much more firepower as a standalone creative tools company.
What do we think?
The show must go on even when it doesn't, and software companies must release their updates on time. It wasn't always this way. Before the dawn of subscriptions, software companies planned for yearly releases only to push them back in order to fill out feature lists with a strong lineup against competitors. The move to subscriptions has enabled companies to roll out products predictably and add feature updates when they're ready. With the arrival of S22, Maxon seems to have hit on a solution that pleases everyone. Early access to updates for subscribers, and a big perpetual release with something for everyone.
The addition of Redshift is big news for CAD users of Nemetschek's Vectorworks and Graphisoft tools. Those people are going to get more options for visualization and we expect to see their use of visualization increase.