The design and engineering community steps up to supply needed medical equipment. Ford, GE, GM, HP, Stratasys all find ways to pitch in with expertise and equipment. 
The United States has endured a maddening and frustrating logjam in getting enough medical supplies and getting them to where they're needed.
US automakers have announced plans to mobilize their plants in response. Ford has announced plans to work with GE and 3M to manufacture ventilators for Covid-19 patients. Tesla and General Motors are also pitching in. The fact is these companies aren't building cars right now because cars aren't what people want to buy right now.
These companies are stepping up on their own.
Ford is collaborating with GE to build a simplified design of GE Healthcare's current ventilator product. In addition, they are working with the US Food and Drug Administration to adapt anesthesia devices built by GE Healthcare to function as ventilators.
GE says it has doubled its capacity of ventilator production and plans to double it again in response to demand.
Ford has projects on several fronts including working with 3M to manufacture Powered Air-Purifying Respirators (PAPRs). Ford said they're leveraging parts from both companies to meet the urgent demand from first responders.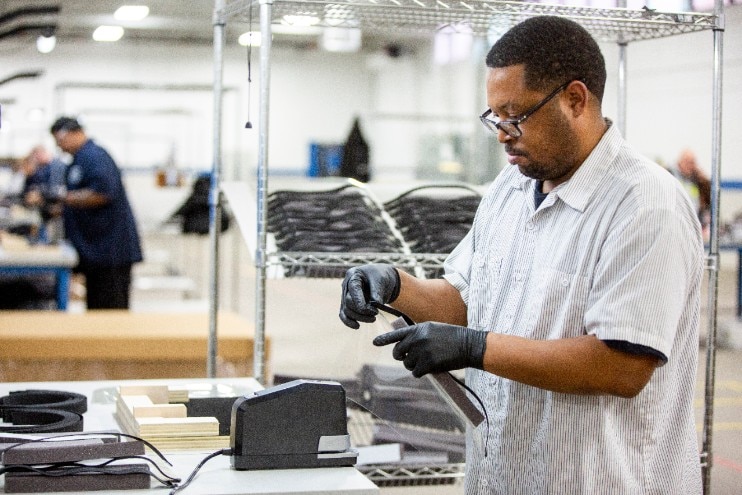 Ford has also been working with the UAW to assemble more than 100,000 plastic face shields per week. Ford says, it is leveraging its in-house 3D printing capability to produce components for use in personal protective equipment, or PPE, as we've become accustomed to hearing.
Stratasys face shield design
Along those same lines, Stratasys says it will create 5,000 disposable face shields free of charge by March 27th including the 3D printed frame and a clear plastic shield that covers the face. Stratasys is making the printing and assembly instructions for the full face shield design available on its COVID-19 response page.
Stratasys' GrabCAD community of 7 million professional designers is mobilizing. They're supporting the CoVent-19 Challenge by Massachusetts General Hospital, which is asking engineers and designers to help develop a new, rapidly deployable ventilator and other innovative solutions to the lack of sufficient supplies to help patients and caregivers. They might want to check across the river with MIT designers whose E-Vent project repurposes available components to function as emergency ventilators.
Stratasys swung into action on face shields when they were told by a leading hospital that they normally go through 1,530 disposable face shields every week. With the arrival of Covid-19, they're down to six days of inventory with the pandemic building momentum in most regions of the world. Stratasys is getting support for the plastic shield material from Medtronic and Dunwoody College of Technology in Minneapolis.
Stratasys says, they have scores of 3D printers available to produce shields at scale and they're located across the country in Eden Prairie, Minnesota; Austin, Texas; and Valencia, California. Also, 3D printing capacity has been offered by Wentworth Institute of Technology in Boston, Queensborough Community College in New York City, and the Savannah College of Art and Design in Savannah, Georgia.
Stratasys has set up a web page for organizations to request 3D printed products, to offer capacity or request printers or material for medical- or safety-related purposes at www.stratasys.com/covid-19.
 Finally, tapping into the power of its GrabCAD community of more than 7 million professional designers, engineers, manufacturers and students, Stratasys is also supporting the CoVent-19 Challenge—an initiative led by Massachusetts General Hospital asking engineers and designers to help develop a new rapidly deployable ventilator and other innovative solutions to address the ventilator shortage.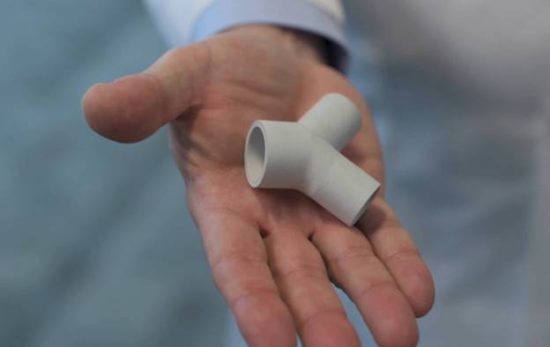 Siemens steps up
Siemens has been developing the use of additive manufacture for mass production. The company introduced the Additive Manufacturing Network in 2019 as a means to open up a range of resources for additive manufacturing projects and also to enable collaborative workflows and process orchestration.
In response to the worldwide outbreak of Covid-19, Siemens has announced plans to open up the AM Network including its 3D printers to the global medical community to speed design and production of medical components. Siemens' Additive Manufacturing Network includes the entire production chain from upload and simulation to design verification to printing and associated services.
Siemens' designers and engineers are part of the AM Network and can help with design requests and designers, engineers, and service providers already working within the network can offer their expertise on projects related to making necessary components for Covid-19 treatment.
The important thing about the Siemens network is that it includes medically certified 3D printers from partner companies. The group says printing capacities can be added through additional service providers as needed.
Read more…