The people at Black Magic are hardware geeks. They're happily pushing cameras that can capture high resolutions while they're pushing down price and they seem to be thriving as the transition to IP picks up speed. Companies like Aja, Black Magic, and Red are offering alternatives to the traditional production equipment manufacturers. Their tools are enabling people in the field get content out quickly, and people in the small house to produce professional content.
Black Magic is pushing 8K workflows with new equipment including 8K switchers. Not everyone is using it, but Black Magic intends to be there when they're ready. And when they are, they'll also find Aja there with a complete lineup of cameras, monitors, and switchers.
The company's CEO Grant Petty said that the massive transformation that is happening in the industry is forcing an equipment shift and that's just the sort of thing a man like Petty wants to hear.
However, the biggest news for the Black Magic was around software. The company has completed a major rewrite for Davinci Resolve and Fusion, the company's editing and post tools. Like Avid Composer which was introduced in about the same timeframe, the early 90s, Resolve needed an improved workflow for web work.
Petty is an old video hand, and he said he had his epiphany sitting in on a video editing training session and he saw inefficiency, which set him off on his quest to eliminate waste in the editing process. He complained about too many bins and complicated interfaces.
The new Davinci Resolve 16 introduces the Cut Page, a reimagining of the interface that enables users to select, and assemble content with simple control/click moves. The Dual Timeline feature, gives people a view of the whole piece and also a zoomed view of the working area so people don't have to waste time zooming out and zooming in to the timeline. Another innovation is the Source Tape, a bin that presents all the content as if it were a single "tape" making it easier to select content and toss is down into the timeline without searching bins. Intelligent Edit Modes eliminate the need to mark in points because the edit modes can logically sync clips and edit.
Petty and the Davinci editing team are seeking to recreate some of the efficiencies that were lost as workflows became analog and interfaces became more complicated with time. But, it's up to the users. The traditional Resolve interface is available.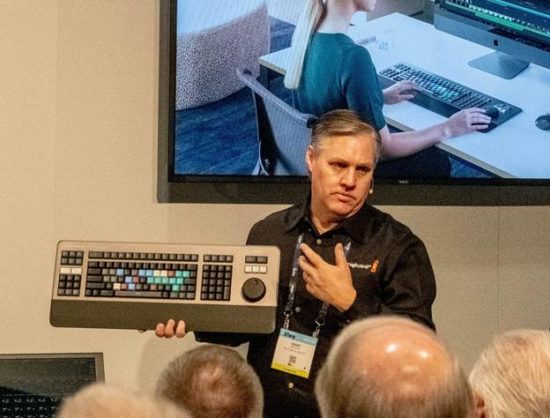 Petty also referred back to his editing days as he also introduced a keyboard for the DaVinci products that, he says, does much of the work the old decks did, but this is basically a computer keyboard. Petty said he was inspired by gamer keyboards. In addition to the color-coded keys, it also has a job wheel, letting editors return to the days of two-handed work modes. He promised the younger people in the audience that they'd understand as soon as they worked with the new keyboards. (Judging from the picture, you might notice that there weren't necessarily a lot of young people in that audience of NAB press people.)
Resolve is the Davinci group's Flagship, and the company is doing a good job of pushing it into the market with a free version, that has plenty of features. In addition to the traditional editing tools, it has the Fusion toolset for VFX and compositing so that tools like color correction, retiming, paint, rotoscope, special effects tools including particles are built right into Resolve.
Blackmagic also offers a standalone version, Fusion 16 Studio which sells for $299. The new Fusion 16 Studio has unlimited distributed network rendering and a bin server which enables multi-user collaboration letting users track, manage, review, and approve shots.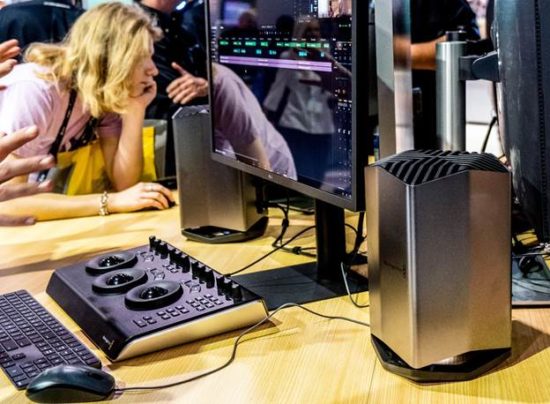 Blackmagic was once an all-Mac video hardware maker, and the company still has a fondness for Apple hardware. They've added a little beef to Apple's notebooks with the addition of an AMD-based e-GPU box that connects via Thunderbolt 3 enabling 4K HDMI output, an additional Thunderbolt output and four USB 3 connections.
The boxes come with two GPU options, the Radeon Pro 580 or the Radeon RX Vega 56. Blackmagic says the Radeon Pro 580 can provide a 6× performance boost on DaVinci Resolve on a 13-inch MacBook Pro. Add the beefier Radeon RX Vega 56, and it will also accelerate operations such as noise reduction in Resolve up to 22×. Because the eGPU Pro also has an additional DisplayPort, users can hang 5K monitors off their MacBook Pros, which will certainly boost the cute little things' pro quotient.
Unpacking
So, to review, SD to IP, to web, to 8K, ProRes Raw, one click editing and GPU acceleration.
The broadcast industry is moving along a pre-ordained trajectory that calls for increasing resolutions, but also fast turnarounds, and a voracious appetite for content that doesn't have to be good, it just has to move. Sure, there's a big shakeout coming, but not yet because there's so much yet to be discovered by audiences.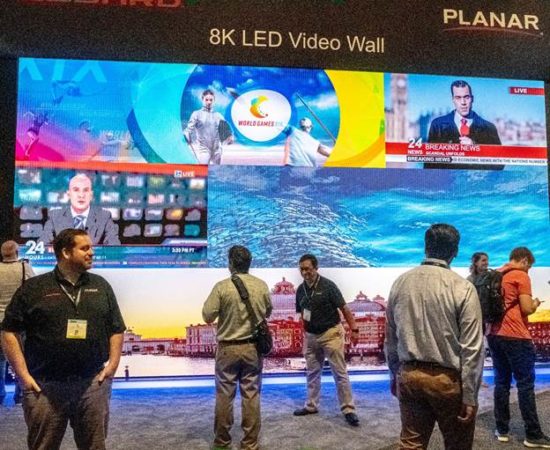 Anyone who is feeling jaded about the march of resolutions might as well chill, because it's not going to stop. We saw LED screens you could walk right into, and they're just going to get better and brighter and content consumption can move to the streets if we want it to. People are already stopping on the streets of Vegas to watch content on giant LED billboards. Soon we're liable to be watching the news on the street like people of the 50s watching the news in TV store windows.
Content everywhere, and everyone can make it, and anyone can distribute it. What in the world could go wrong? We'll find out pretty soon, but we'll also find wonderful, new ways to learn, and even new mediums.
Read more…
NAB 2019: transformation in broadcast industry