Siggraph combines an Academic Conference, with Science Fair experiments, trade show, art fair, and animation festival. It's a select bunch, people who love computer graphics and in the past decade, the show has been dominated by the film industry. Lately, we've been seeing a lot of buzz at Siggraph for virtual production.
However, where the interest has primarily been rendering, other interests including VR/AR, 3D printing, and AI have also gotten attention.
Virtual characters are going to be a big presence at Siggraph this year. They walk among us … maybe. This year will be the first year of the Virtual Beings World Birds of a Feather meeting on Monday, July 29, 4:30 p.m. to 6 p.m. at the ACM Siggraph Theater.
According to the write up for this event, which sure sounds like it's worth seeing, Virtual Beings have arrived to fill the demand for virtual performances. They can be YouTube performers, virtual influencers, digital doubles, virtual idols, and avatars.
The discussion will cover the options for digital performers including photorealism, fantasmagoric, realtime, on-demand.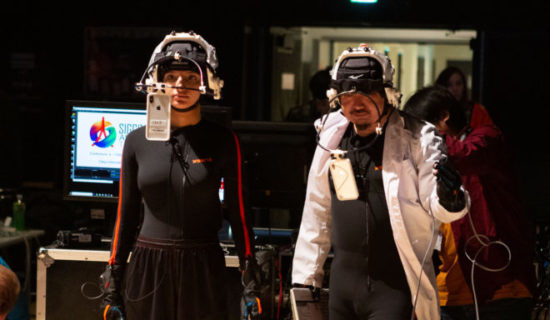 The game engine people are devoting much more attention at Siggraph as the film industry has been adapting the tools to filmmaking. The early pioneers in this work had to adapt the game engines to their purposes and in those days Unity was a lot more accessible. Epic was quick to pick up the challenge and now the two leading game engines have built significant organizations around film and video.
Epic at Siggraph
Epic has an interest in characters unreal and otherwise. The company has had a growing presence at Siggraph over the past few years as it has realized that studios have been picking up game engines as tools for virtual production. This year, the company is hosting a huge user group meeting. There will be a demonstration of Hololens with Microsoft to commemorate Apollo 11's trip to the moon and a number of tech talks. We expect that virtual characters are going to show up at the user group meeting and we won't be surprised to run into them elsewhere.
Epic's July 31 tech talks will cover:
Epic's Chaos Physics engine in Unreal 4. If you haven't seen the demo, seriously? You haven't? It's here. Speakers from Epic and Intel will show new features and workflows. July 31, 10 a.m.
Virtual Production using Unreal Engine with Livelink for multi-user and VR scouting will be at 11 a.m.
In-camera VFX using Unreal for dynamically placing actors in scenes with digital elements to take advantage of lighting and reflections at 2 p.m.
Unity too
Unity has also put together a number of sessions and demos at Siggraph. They list them here.
Of note, Unity has been highlighting its "Reality vs. Illusions: Real-time Ray Tracing to highlight the power of rendering inside the game engines. The ability to get a realistic view of digital content onset is one the major selling points for game engines in film and video.
Also something to look out for will be Natalya Tatarchuk's talk on "Advances in Real-time Render in Games." Unity has been doing extensive work on rendering and Tatarchuk is a compelling speaker, so this is going to be a hot topic as will be "High-Fidelity Lighting with Unity's High-Definition Render Pipeline."
Real-Time Live!
Chaired by Gracie Arenas Strittmatter, Real-Time Live is a show and competition for interactive technology. It takes place on July 30 from 6 p.m. to 7:45 p.m. Unreal is entering the competition with their Chaos physics engine. Unity has two entries, one called realtime procedural VFX characters in the Heretic (Unity's short animated demo) and the other realtime versus illusion, Unity's demo of realtime ray tracing. Get a quick view of the entrants here.