Improved integration with SolidWorks and other CAD programs; support for motion studies.
Revisiting KeyShot, a dedicated rendering tool for CAD users is always a revelation. Sold as a standalone or plug program, Keyshot is a professional tool with an emphasis on ease of use. It's well entrenched in the SolidWorks customer base, but there's plenty of competition from within. SolidWorks has its own rendering modules in Visualize, which is based on GPU accelerated iRay technology and CPU rendering in PhotoView. They're available to customers who pay extra for the Professional or Premium versions.
It may not be so trendy recently, but Keyshot is a CPU-based renderer. The company says that's its strength. It doesn't require specialized hardware such as GPUs and it can take advantage of multi-core CPUs in ways that even most CAD programs don't.
Last year, KeyShot stepped up with support for SolidWork's Motion Studies module, which is available to SolidWorks Premium customers. Users can import motion study animations and render them with KeyShot for a better look at how design is working.
This year's release of KeyShot 8.2 has a lot of new features and bug fixes, but it is primarily an incremental update. The company says that this the 2018–2019 period marks a period of significant growth and development at KeyShot. The company has boosted hiring, and they're promising advances coming for KeyShot 9, as the company lays the groundwork for 2020.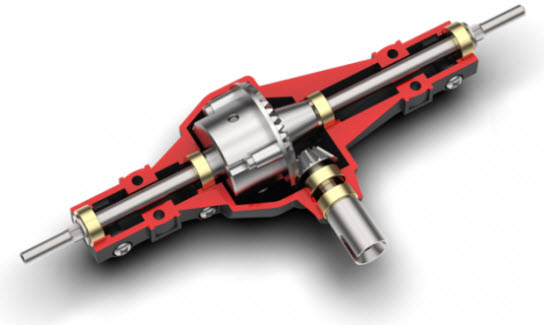 KeyShot is also becoming considerably more powerful with support for textures and bump-mapping, particle simulation, and options for creating simple configurators which would allow end users to change colors or features.
KeyShot 8 top new features overview
Some of the changes KeyShot is making follows the changes Solidworks has made for its 2019 version such as support for texture and the output options that preserve information about animations as well as renders. 2020 is going to be a big year for KeyShot because 2020 is going to be a big year for SolidWorks. However, KeyShot stands out for its willingness to push its development into new territory. The company has no choice if it wishes to maintain its status as an advanced tool for professionals. There's plenty of competition.
What do we think?
The company is setting expectations high for KeyShot 9 after all 8.2 is no slouch.
In the past, we have argued that in the design and engineering world, rendering has been limited to a few in house experts or maybe handed off to specialist companies. KeyShot has a good play because the ease of use it brings broadens the field for CAD rendering. The limiting factor is its price, $1995.
In the past, models have been recreated for rendering in products such as Max, Maya, Cinema 4D, etc. Why? Because sometimes so much work has had to go into "conditioning" the model that it's just as easy to re-model specific parts for a rendering. KeyShot was designed to avoid that kind of workflow and give CAD professionals direct access to rendering. But SolidWorks has also changed the game in its 2019 release with the OpenGL-based Export to XR that's available to all SolidWorks users—Standard, Professional, and Premium.
So now, rendering is becoming more accessible than ever. In our ray tracing study, we count over 70 commercial ray tracing renderers, many of them are free.
Beyond SolidWorks, KeyShot company has made improvements to its integration with other major CAD products. For instance, KeyShot has made improvements to its Autodesk Revit 2019 import, and Fusion 360 integration, as well as its PTC Creo plug-in. Keyshot has also added integration with Cinema 4D.