The new graphics engine for SolidWorks demands professional graphics.
Rendering and VR are strong messages for graphics vendors at SolidWorks World 2019 and AMD was riding high on those bandwagons. In addition, AMD is highlighting new GPU accelerated features in SolidWorks 2019. The company also highlighted new workstation options. In short, AMD had a pretty good story to tell at the show.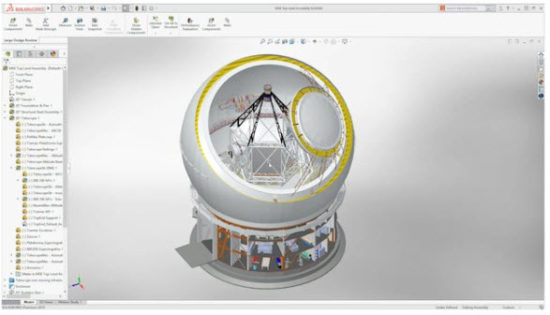 At SolidWorks World, Manish Kumar, SolidWorks Vice President of R&D talked a little bit about the work that has been done revamping the graphics engine in SolidWorks. He promised that the work is ongoing and will result in a much faster, more powerful SolidWorks overall. Currently, the new engine has been put to work to improve SolidWorks Large Design Review (LDR) mode and Extended Reality (XR). Previously, to view large assemblies, LDR turned off features and degraded the visual quality as the model moved and then it snapped back to detail when stopped. It's a decent compromise. At least users could dynamically interact with very large models. This time out the improvements to the SolidWorks graphics pipeline enables users to explore large models with all details intact and performance is also improved for large models even when LDR is turned off.
SolidWorks Extended Reality is a new export capability which enables users to publish all the necessary data to create an immersive visualization including:
Geometry & Scene Hierarchy
Appearances & Textures
Lights & Cameras
Exploded Views
Motion Study Animations
Display States & Configurations
Metadata—per-configuration custom properties, per-node comments, per-node & document general and design tables
The Export to XR feature produces .glTF and .glb files which are supported by a variety of VR and AR applications as well as eDrawings, Unreal Engine, and rendering products including AMD's ProRender. This capability is a considerable enabler for creating immersive views of CAD models.
AMD is talking about these new features because they require professional graphics boards and take advantage of OpenGL. AMD demonstrated Export to XR with HTC Vive headsets. The more important message is much easier creation of immersive content with off the shelf applications.
Rendering, let's not forget rendering
Rendering is really having a moment in 2019, and JPR believes that moment has some staying power, thanks to the many options for accelerated rendering and ease of use advancements on all fronts from model making, to export, and materials. New tools are making rendering more practical for people who are not rendering experts.
Nvidia has decided to let its chips ride on SolidWorks Visualize since it is based on the old Bunkspeed technology, which in turn is based on iRay. Nvidia has continued to develop the iRay SDK keeping it up to date for  RTX to accelerate programs like Visualize, the various iRay plugins for Rhino, Max, and Maya, and the renderers used by other companies including Siemens.
AMD has two plays for rendering in SolidWorks, the PhotoView 360 feature in SolidWorks and its own ProRender plug-in. SolidWorks enhances the view in its viewport with the RealView and Ambient Occlusion options, both of which provide interactivity and shading. But, AMD really thinks users ought to have a nice ray traced image. SolidWorks PhotoView 360 offers a rendered viewport which is updated automatically with any changes made to the SolidWorks model. It is CPU based and can take advantage of multiple CPU cores.
AMD offers ProRender as a free option for SolidWorks customers. It's available as a plug-in and is able to translate SolidWorks appearances to a rendered image. The ProRender window is also linked to the SolidWorks design process so any changes to the model are updated in the rendered image as well.
Workstations in the cloud and under the desk
AMD has several options to extend its GPUs and CPUs to SolidWorks users. At the conference talked about its Remote Workstation capability which supports Radeon Pro WX 4100, WX 5100, WX 7100, WX 8200, or WX 9100 GPUs and the latest Radeon Pro software. In addition, AMD's implementation of remote computing relies on Citrix XenDesktop VDA (virtual delivery agent) to be installed on the workstation and the client PC, laptop, or tablet. The Citrix VDA accesses rendered frames directly from the GPUs framebuffer, which the company says provides a performance boost. AMD says their technology also enables flexible access to resources enabling designers to access different virtual machines (VMs) as needed. The company says, for example, a designer might use a VM with entry-level graphics during the modeling phase and access a VM using more powerful graphics for ray tracing a model. AMD says the secret is its MxGPU technology to enable hardware-based virtualization. AMD also has a deal with AWS, which makes AMD Epyc processors available as EC2 instances.
On the ground, AMD talked about the HP Z4 or the Dell Precision 5820 which can support one or two GPUs including and both offer a lineup of AMD options. The Dell Precision 5720 is an all-in-one with 4K Ultra HD display with 100% Adobe RGB color gamut. The system quad-core Intel processor and AMD's Pro WX 7100 GPU with 8GB GDDR5.
Dell is also offering a sleek, lightweight Precision 7730 17-inch laptop that comes stock with a 6-core i7-8750H Intel processor, and a Radeon Pro WX 7100 GPU with 8GB of memory.
What do we think?
AMD looked good at SolidWorks world. Like Nvidia, both companies took back of the room spaces because GPUs just don't get that much love from the CAD companies. However, that is changing as SolidWorks works on its engine for a whole host of reasons, not the least of which being integration with Dassault's 3DExperience technology. See SolidWorks World returns to Dallas with platform products for SolidWorks.
Also, according to our new report on Ray Tracing, rendering in CAD is set to grow. At SolidWorks World, we saw much more interest in ray tracing from the community, but also new capabilities like Export to XR, or Unreal Engine's optimizations for CAD output are finally changing an important equation for professional users: is rendering worth my time? Increasingly it is, and the time to result ratio comes down.