And that means you…
In honor of the NAB that never was, HP is introducing new products that are designed for creators, which in HP's view include designers as well as artists. HP distinguishes itself with its full pipeline consisting of 3D printing capability, Hololens devices, and full color displays.
The company is rolling out new mobile devices designed for creatives on the move, even if right now, most are simply moving around their house. Mike Nash, Chief Technologist and Vice President with HP's Personal Systems group, notes that the pandemic has helped raise people's awareness of environmental concerns, and he says HP is onboard with features such as thin and light designs, power saving features, and the use of ocean plastic. Not much new there, but the designs are snazzy and HP does a good job of adding extras.
As they go after creatives, HP is targeting millennials and Gen Z as well as Mac users, and they're taking a page from Adobe's marketing to say that everyone is a creative. HP is also making googly eyes at young computer users including Gen Z. In their polling, HP's markers say they find Gen Z users are on their computers more than millennials and they're creating 2× the amount of content. They are the spearhead of the social media revolution and they are churning out massive amounts of content. (We're not sure where these bright young things will find the extra money to pay for these higher end computers, but we get the point.)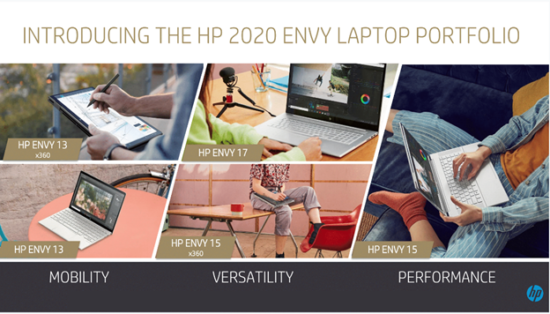 With their Envy lineup, HP says they concentrated on several areas they've identified as important to users, especially in comparison to the Mac. The keyboard stands out. Nash says users want hot keys, short cuts, and touch pads. The keyboard integrates the power button, camera shutter, mic controls, fingerprint reader, and HP Command center, which adds controls for thermal and cooling controls to allow users to make their own tradeoffs between power, noise, performance, etc. The touchpad has a glass layer on top that makes it silkier to the touch.
When it comes to comparisons with the Mac, what people like is a lot more ephemeral. People like the feel of the keyboard. Given the current conditions, we weren't able to actually bang on these computers to see how their keyboards feel. Just as well, to go down that road means nothing but argument.
Focusing on their Envy 15, HP says their machines are built with Intel's 10th Gen 8-core processors, Nvidia RTX 2060 graphics, and most spectacularly support for two TBs of SSD with RAID 0 support. The Envy also features up to two USB-C slots, two USB Type A, HDMI, and a multi-format media reader. HP is proud of the aluminum chassis and a clean minimalist design.
The new HP Envy also gets a high-end cooling system via vapor chamber. Vapor chambers are a planar version of a heat pipe and can more effectively cool the CPU within a small space. HP says the use of vapor chamber cooling adds 33% more performance power to the Envy 15.
HP offers two display options: a 4K display HDR OLED with touch, or the 4K HDR 600 nit display with reduced light reflection and anti-glare. Both of the displays are factory calibrated. HP is offering color space presets so users can easily switch between display color space as needed. Similarly, HP has provided pre-set power settings letting users make the decision for saving battery life or going all out for power for better rendering speeds, etc.
There are a lot of features in the new Envy that will give Apple a run for the money. Having all those slots for memory cards is one, and also having options for Type A USB as well as Type C is another, but the feature that the poor schlubs in the Windows world don't even know they want is Quick Drop. The ability to wirelessly transfer images from iPhones, Android, or Twitter to their computers. Apple's feature for this is Air Drop and it's nice but you have to live in the Apple world with iOS and MacOS. HP's innovation connects all phones and tablets with their machines.
This is great news, let's hope it's a trend for 2020.
Getting to Z
HP continues to take aim at Apple, but broadens their target to Dell and Razer as well, with their new Z branded workstation class machines. HP is introducing two new ZBooks: ZBook Studio and ZBook Create. Both feature high screen to bezel ratios (87%), a 15.6-inch screen, and Next Gen Dream Color with Pantone validation.
Again, both machines offer an envious selection in I/O, especially if you're living with a sleek Mac with no holes or a sleek entry-level computer with nothing but two USB-C points of connection.
HP is joining its competition and heeding the requests of its users by offering Turing-based Nvidia GeForce RTX and Nvidia Quadro options, which is what separates the Zs from the Envys—high-end graphics. Customers can choose options which include the GeForce RTX 20805 or the Quadro RTX 5000. The choice between Quadro or GeForce has been working its way through the workstation world.
This is probably a good time to mention that Nvidia has dropped new drivers for the Studio line of machines across all brands.
These Zs are also distinguished from their older ZBook cousins because they're smaller and lighter. That is partially due to the use of the vapor chamber cooling, which also saves space. Nvidia's MaxQ design, originally develops to enable thin and light gaming machines, has now been employed to thin down ZBooks as well.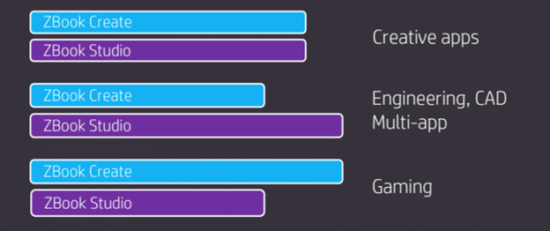 HP is going after the Mac even more aggressively with the ZBook design. The company says their new "creative keyboard" replicates a Mac layout so Mac users can easily make the switch from MacBook to ZBook.
HP offers a redesigned audio built with Bang and Olafson with 150-Hz bass roll-off and loud decibels. HP says that means great conference calls as well as music and gaming.
The HP ZBooks also include the capability to dynamically trade off power between the GPU and CPU.
So, as we mentioned, the new Envys are coming out in a number of configurations and in varying time frames. Blessedly, HP chose to announce them all at once. The new 17-inch laptop is available now. The 13-inch laptop x360 will be out in May 2020 and so will the 15-inch Envy x360. The Envy 15-inch laptop will arrive in June 2020, and the Zbooks will amble along in August.
HP is going to the gold, sort of literally with these full-featured machines for creatives, but as we're entering the Spring refresh there are going to be a wealth of new notebooks on the way and many of them will conform to Nvidia's Studio design. So hang on, options are in the offing.
What do we think?
Apparently, no one was creative until the last five years or so, when Adobe was astounded to discover they were making boatloads of money from people making video shorts of nothing in particular, but now entertain us during the pandemic.
Before that, creative people had been relying on computers to make magazines, edit photos, and create art. What's changing, actually, is that more people are able to do that kind of work in the context of their jobs and people are able to accomplish credible results with a little imagination and relatively inexpensive tools. Computers getting faster means that computers are getting easier.
HP is bringing the Envy line and the ZBook line closer together as it recognizes the need to compete effectively against the powerful computers made by their computers across both sides of the OS divide between Apple and Windows. Nvidia's Studio design, introduced in 2017, has probably helped to accelerate that trend in both technical features enabling smaller but also powerful computers and also in its market which finally recognizes the demands of creative users who are, yes, everyone.
Now about those millennials and Gen Zers. I don't think that HP is wrong in their assumptions, but as it's all working out, this marketing campaign comes at such a painful time. People are short of money and younger people in the gig economy, and content creators are the people who are losing their jobs for the time being.