New feature in Premiere redefines Adobe video editing.
From the very beginning, Adobe Premiere has been a tool for single project work, which makes sense given its origins as a desktop product and its role in democratizing video editing for individuals. It has grown into its position as a professional tool for making movies, TV shows, advertising pieces, but users had to contend around the single project structure of Premiere.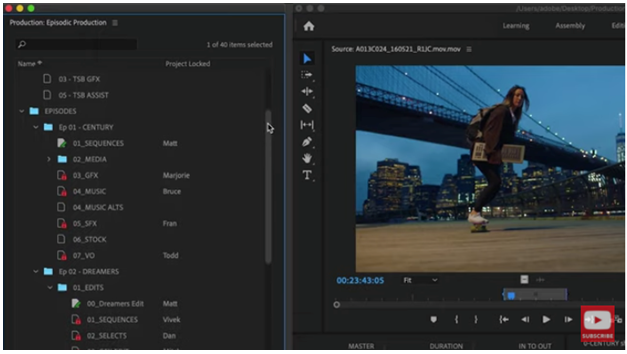 Adobe has long understood that collaborative workflows, large projects, and people creating multiple short-form videos, all demand a different approach as to how files are managed and accessed by multiple people. And now, they think they've got the problem licked with Productions, a new feature built into Premiere that allows people to work with multiple projects and cross-reference them. It's a superset of the Projects panel. In this way, Adobe feels it can accommodate single users working on one project, and big productions with lots of moving pieces.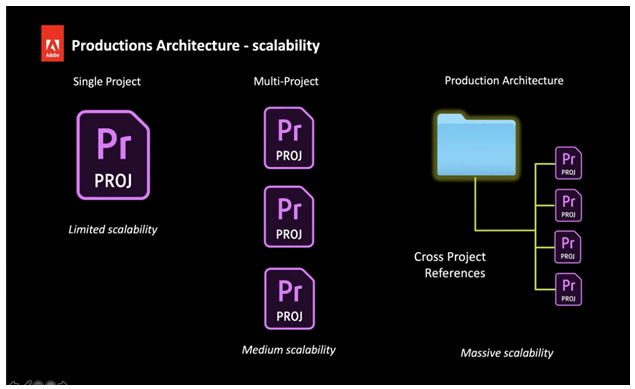 Premiere now includes a customizable Productionspanel, which enables people to define how they will organize a project and bring in new content. The Production panel is the command center providing access and visibility into different workflows. In his blog post, Adobe's Van Bedient says that Adobe has been spending time at festivals and conferences like Sundance and SXSW (just, not this year) to understand how people are using Premiere to tell stories and how they're using Adobe creative tools. Bedient says filmmakers have tried out builds of Productions on Terminator: Dark Fate, Dolemite is My Name and David Fincher's MANK.
In a sense, Adobe has radically changed Premiere and it has left everything in place. Premiere has kept its existing project format, but the idea is that projects can become components of larger workflows and they can be defined in any way that makes sense for the work. For instance, they can be reels, scenes, shows, dailies, whatever makes sense for the team and the end product. Productions enable projects to be connected.
Adobe's Productions, a new feature for Premiere Pro, opens up Premiere to multiple users working on multiple projects or different parts of a larger project. (Source: Adobe)
The secret to productions is Adobe's use of referencing which means that files are not moved but made accessible in context via links. Adobe has a helpful page, with pictures, explaining how references work. Essentially referencing makes the workflow more lightweight and faster. Premiere and After Effects don't have to have all the associated files loaded until they're needed.
When working in a production, participants can edit clips from the Master Project into the timeline. Adobe has been thoughtful about how people work and how Production behaves on host computers. Files that are changed in Premiere are updated on the disk and files that are changed on the disk are updated in Premiere. Productions maintain a 1:1 relationship with one's OS folder structure.
It should go without saying that Productions works the same in Windows or MacOS, it all syncs into Premiere Pro and on disk. All projects in Production share the same settings, including scratch disks.
People working on a production can collaborate on shared local storage and multiple editors can work on different products within the same production. Shared local storage might be a high-speed network-connected storage system or it could be Dropbox, Egnyte, or Google Drive. As users set up an individual production, they can assign the storage. For individuals, it can also be a personal hard drive.
Adobe has implemented file locking to prevent teams from working over each other and it's adapted the locking feature to use by multiple people and with multiple projects. People can see the content, but they can't change it until the other person is done with it.
In situations where people may need to collaborate from remote locations, like right now, Adobe offers Team Projects, which is built for remote collaboration. It's available to people with a Creative Cloud for Teams subscription or an enterprise subscription. Access to the team's workflow is a higher-priced subscription but it comes with more storage and shared resources. All the associated data is stored in Creative Cloud and accessible by people working remotely wherever they are. Recognizing that people are working from home and may need to collaborate, Adobe is making Team Projects available for free to all users from April 14 through August 17, 2020. Check this post for details.
What do we think?
Productions is another turn of the crank towards better collaboration tools. Yes, you're going to have to live within the walls of Adobe's tools, but there's a lot that can be done in what is becoming a larger and larger room.
Speaking of that larger room. For those people who are familiar with Adobe Lightroom, or the ill-fated Apple Aperture (later in its life, anyway), the file management in Productions is similar in that it reflects the file management system already in place on the computer.
There's a juicy potential for making a spectacular mess of content if people are not working together without a framework for how to communicate and collaborate¾who's boss, whose decisions wins, etc. Adobe says you're on your own on that front but successful productions have necessarily worked out their own protocols. It's likely most professional customers aren't asking Adobe to add additional procedures.
We're really happy that Mathieu Mazerolle shared his experience in creating the Athera platform for Foundry. In his article, Matt lays out a vision of a virtual studio in the cloud, and he explains some of the challenges to make that happen right now. Have a look at that article. It's really an aside for what Adobe is doing, but it's always worth thinking about what more can be done.
Additional resources:
Have a look at the presentation by Adobe's Jason Levine and Karl Soule that they would have presented at NAB, it's very helpful for people who are familiar with Premiere.