Autodesk continues building out its construction and cloud options; updates Revit.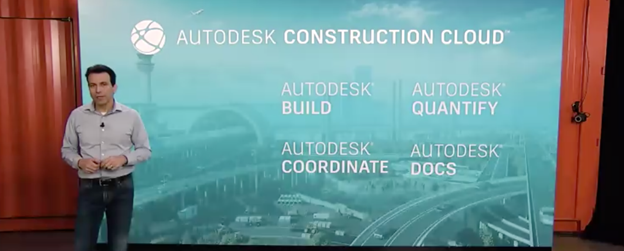 The motto for AU this year was Reimagine Possible and we've been doing plenty of that. We're reimagining everything from going to the grocery store to visiting with friends using a computer. Why should work be any different?
Autodesk CEO Andrew Anagnost talked about how the pandemic has forced us to rebuild supply chains, work together at a distance, and find better ways to collaborate. At this stage, all that is getting easier and there is real innovation emerging from the living rooms and home offices of people in lockdown.
Central to Autodesk's message this year is the idea of open data exchange. That's not a new message for Autodesk, but the way Autodesk interprets has evolved. In the past, Autodesk suggested its own formats and APIs as exchange channels and there's still plenty of that but also Autodesk is helping drive better data exchange on some fronts.
Customers are demanding better ways to interoperate throughout their workflows. Traditionally, vendors would just as soon own their customers and their data, but that's just not going to work as the course of digitization dictates that multiple applications work together.
For BIM to work, it has to enable the free exchange of data because the projects have always involved different software, trades, and specialists. This year in AEC, Autodesk customers forcefully made themselves known to Autodesk with a widely circulated letter complaining that the costs of using Autodesk Revit have gone up, but product features have not. They demanded better ways to exchange data including better support for the BuildingSmart (bSI) IFC standard for architectural data exchange. Most of all, customers were feeling trapped after accepting the proposition of Revit as a common environment for large AEC projects. They said Autodesk did not respond to their requests for features and improvements, and prices still went up. Autodesk is offering BIM360 as a powerful complement to Revit that includes construction but that entails an additional subscription, which is just the sort of thing the letter writers were complaining about.
The issue is far from settled, but the company is working to regain the trust of its disaffected AEC customers.
In the summer, Autodesk joined BuildingSmart partner organization ODA (Open Design Alliance) to play a larger role in the development of the IFC exchange format for BIM projects. Shortly thereafter, bSI granted Autodesk Revit certification for its implementation of the IFC4 export standard for architecture and structure. Andrew Anagnost noted that Autodesk's IFC is now more compliant.
Autodesk has become more of a joiner. The development of open standards and formats are coming along, thanks to organizations like the AWSF, Khronos, ODA, and bSI among many others. Autodesk is a leading contributor to GitHub and has been for some time. In October 2020, Autodesk has joined these groups and has also joined the Digital Twin Consortium, along with GE Digital and Northrup Grumman Corporation. Members also include Ansys, Bentley, Dell, Lendlease, and Microsoft. (So far, the Digital Twin Consortium is a partial representation of the companies involved in defining and building digital twins.)
Since its founding in May 2020, the Digital Twin Consortium has grown to 150 members. The consortium is focusing on aerospace & defense, infrastructure, natural resources, and manufacturing and their work to drive the adoption of digital twins is to help establish common ground for technology and terminology.
At Autodesk University, Anagnost wanted to make clear that Autodesk's embrace of open standards is company-wide. It fits into Anagnost's view of how to move the company forward across all the industries it serves.
Modernizing Autodesk
To go further down this fascinating rabbit hole, see the three-part series of articles written by Anthony Frausto-Robledo after an interview with Anagnost. In these discussions, Anagnost underscores his commitment to the cloud and open technologies as a modern approach to professional applications and promises the concerns of the letter writers are being addressed.
He talked about the re-engineering of AutoCAD for all platforms saying it now has a true web version, it has a true mobile version, a true Mac version, and a true Windows version. All of those things talk to each other through a single data backbone. It's a vision he has for all the Autodesk products though that vision might be realized differently for different products serving different code bases. The point is that there is considerable development work going on in Revit under the hood and that reengineering a decades-old Windows product takes time.
At AU, Anagnost talked about new features users can take advantage of right now including improvements to the generative design features in Revit. He said that earlier doing generative design studies usually required familiarity with Revit's programming tool, Dynamo. Now, it's easier to do them within Revit but also Dynamo has been improved and is easier to use with informative cues and performance improvements.
Autodesk has also been preoccupied seeing to the digitization of construction by building Autodesk Construction Cloud and BIM360.
This year, Autodesk announced three new products for Autodesk's Construction Cloud:
AutodeskBuild: Unites the best of PlanGrid and BIM 360 to connect teams in the office and the field, providing a single solution for project management, field collaboration, document management, and cost controls.
AutodeskQuantify: A groundbreaking product for preconstruction professionals that enables teams to perform 2D and 3D quantification workflows together.
AutodeskBIM Collaborate: Brings together design collaboration, model coordination and cloud work-sharing, allowing construction teams to easily collaborate on complex models.
In addition, Autodesk highlighted the role of Autodesk Docs, Insights, and Administration as features that reinforce the new construction cloud products but will also have a role across the company's product lines as an integrated part of the common data environment "for every unified product."
It's easy enough to understand how Docs play into Autodesk's broader plans. Insights adds analytics from the data associated with projects and that data can be exported. Administration provides a centralized user management layer that includes permissions, templates, and other tools for project setup as well as authentication.
New products
The AEC family of products is also getting new tools. Autodesk announced the acquisition of Norwegian company Spacemaker and the development of Tandem for digital twin handover for AEC projects.
Spacemaker uses project documents, requirements, and physical project site information with AI to generate different plotting options for a project to most efficiently use space. It's being used for urban planning and smaller projects but Autodesk also stressed in talks with press and analysts that the deal for Spacemaker was as much a talent acquisition as it was a technology acquisition.
The deal was completed on November 24 for $240 million and represents Autodesk's 13th investment for design and construction in three years.
Doing the knitting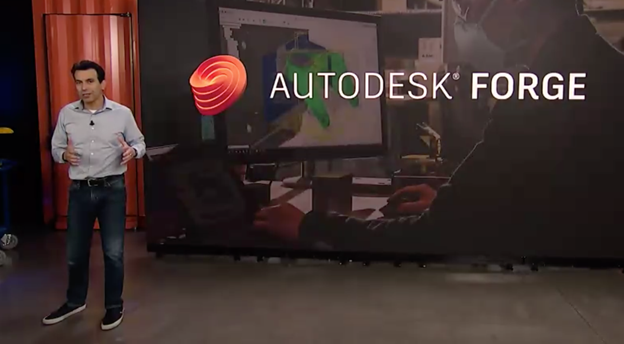 Reflecting its increasing importance, Autodesk's Forge made an appearance on this year's keynote stage and got its own keynote as well. Anagnost talked about Forge as an essential, cloud-based tool for Autodesk's customers to realize the interconnectivity of modern digital twins. Forge is a collection of APIs that allow people to build custom apps using specific capabilities of Autodesk's applications. Customers can also use Forge to build their own automated work processes.
As an example, Autodesk promoted Forge as a tool to build and rebuild supply chains, which has become an important topic … again.
Coronavirus dramatically disrupted supply chains when Asia mobilized to fight the virus. Asian suppliers, especially China's suppliers, locked down and disappeared. They recovered quickly but their customers learned immediately the value of multiple supply chains with sources maybe closer to the point of use.
"Physical and virtual production will be forever redrawn," said Anagnost.
Five years ago, Autodesk teamed with Schneider Electric to improve the design and operation of buildings using Schneider's expertise in electrical engineering. Now, Schneider is using Forge to build a cloud-based platform that takes advantage of generative design and machine learning to propose infrastructure design networks using building plans. The system will offer tools to consider load distribution, power balancing, equipment sizing, and single line diagramming for Revit.
Autodesk is using Forge to follow up on a promise made last year to tighten the links between Inventor and Revit. This year, Autodesk gave it a name: Design for Manufacture and Assembly. And, again, it's Forge that would be making the connections for applications such as online configurators for architects specifying manufactured components.
The types of work Forge is being called on to do are similar to what it's always been doing—making links between applications to create new applications. But the opportunities are growing as Forge is being used and new APIs get developed. The applications are getting ever smarter with AI.
Putting it together
Customers in AEC are demanding integration and collaboration because their work requires them to collaborate with a combination of capabilities, programs, and skills. But Autodesk has that challenge internally as well. The APIs Forge is using are the same tools being used by Autodesk's developers to build products and enable interoperability.
Autodesk has been described as a collection of fiefdoms, which is not unusual for large companies that have grown by acquisition and are ambitious in the markets they want to serve. Autodesk's goal has always been to go to market with the strength of its broad product line but progress on that front has sometimes been slower than the company would like. This new era the whole world is now entering will reward those companies that can build strong lines of communication internally as well as externally.