2020: a landmark year for Graphisoft;
direct and to the point: new features in Archicad 25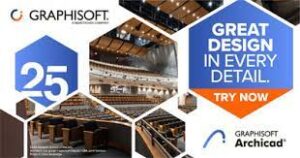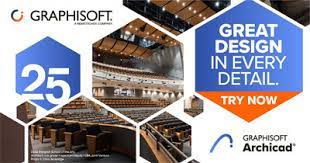 Graphisoft, a company of German AECO software group Nemetschek, has unveiled Archicad 25 and has also announced that its upcoming Building Together 2021 conference will again be virtual. It will be held September 14-16; it will be free and registration is open.
In a short press presentation, teeing up the latest version of Archicad, CEO Huw Roberts talked a little bit about the company's performance in 2020. Recognizing that 2020 was a challenging year, Roberts noted that 2020 was also Graphisoft's most successful year ever in terms of revenue. He said he was proud of the way the company responded to the pandemic and helped their customers shift to remote work. More important, he said the company has learned a great deal from the experience. Graphisoft says it was first to offer its customers free access to remote working tools including their BIMcloud SaaS service.
As we've mentioned before in writing about similar deals from other design software companies, offers like these cut both ways. The ability to access cloud tools has helped customers quickly move their workforce home in an emergency, but it's a pretty good demo platform with built-in incentives to try it out. Unscientifically speaking, Covid-19 has done more to drive the acceptance of cloud workflows and remote work tools within the CAD community than advertising campaigns or keynote speeches.
This year, the company has a lot to talk about as Graphisoft responds to user requests and expands its tools for collaboration, remote work, documentation, and visualization.
Archicad 25
Integration is a key theme for Archicad 25. Graphisoft is continuing to increase the usefulness of BIMcloud and BIMx.  With last year's introduction of Archicad 24, Graphisoft extended the integration of its Nemetschek siblings RISA and SCIA for structural interoperability. That work has been extended with new features in Archicad 25. This year, Graphisoft will integrate additional capabilities of another cousin, Maxon's Redshift rendering tool into Archicad. With that move, Maxon and Graphisoft are answering the prayers of a number of Archicad users. The Redshift integration is planned for the near future so details about the integration are still to come.
This year, 2D is also getting a bigger share of the spotlight. Graphisoft has improved consistency between 2D and 3D views as well as improved the ability for designers to work between 2D and 3D through its Quick Shift feature for Archicad 25 that lets users interactively switch between 2D and 3D views as they work.
The company says the new features add up to improved usability, navigation, and accurate quantity takeoffs, and also increased options for visualization and rendering. In short, says Graphisoft, there is a lot more that can be done from within Archicad.
Within the realm of design, Archicad 25 adds:
Unified navigation commands between 2D and 3D views.
Precise quantity estimates thanks to custom-shaped openings using plain polygons in a familiar 2D or 3D environment.
Custom stairs creation with support for local standards compliance.
A library of 3D parametric objects to enhance models with furniture, decorations, and components including modular cabinetry for kitchen design.
Import and export support for Rhino 6 and Rhino 7 files adding the ability to create organic design shapes and use within Archicad and include that information in the documentation.
With these new tools, Archicad has greatly expanded the power of 3D to create documentation and compelling 2D visualizations. Designers can use 3D to create functional models and simultaneously update the 2D documentation with notations and details. It also becomes easier to communicate construction information and take off quantities. For instance, the ability to create custom-shaped openings using polygons allows designers to accurately accommodate MEP (mechanical, electrical, and plumbing) elements with exact shapes and sizes for openings.
Archicad 25 has new visualization features including:
Support for surface textures in section and elevation views within Archicad to add realistic detail.
Also, support for artistic details with soft shadows to add contour and depth in section and elevation views and to add pattern fills to overlay textures.
For MacOS Graphisoft has added support for Apple's Metal graphics API to replace OpenGL.
The new visualization features give architects the ability to create rich documentation for better presentations and more personalized looks.
The addition of Metal brings Archicad up to date with Apple's rendering hardware support and will speed rendering by providing access directly to the GPU.
Additional documentation features add support for regulations and local standards. As mentioned earlier, the tight link between 2D and 3D ensures accurate documentation, and it makes updating 2D elements easier and faster. MEP-related data can now be automatically displayed.
In addition to Rhino, Archicad also has interoperability outside Nemetschek with support for over 40 import and export formats including DWG, PDF, and XLS as well as the OPEN BIM formats IFC and BCF.
Archicad 25 also has support for real-world coordinates through its Native Survey Point which ensures accurate location data within Archicad and when working with other applications. Users have toolbar access to the Native Survey Point feature which includes real-world coordinate data. They can snap to the reference point and orient their work across project documents.
Archicad supports Revit formats up to 2021. Graphisoft notes that a benefit of Revit format support enables better collaboration with engineers using Revit MEP software. Also, it doesn't hurt that the migration path from Revit to Archicad is paved through the RFA and RVT geometry exchange functionality.
Archicad 25 has roundtrip support for code and constructability compliance through its free support of the Solibri add-on. Solibri is another Nemetschek brand. It offers tools for BIM validation, compliance control, design process coordination, design review, analysis, and code checking.
BIMx and BIMcloud updates
In spite of their similar names, BIMx and BIMcloud started off on different tracks. BIMx was introduced in 2011 and is a presentation tool that allows the desired elements of the Archicad BIM model to be packaged in a "Hyper-model" that can be shared and easily navigated to enable exploration of the design and the presentation of various elements including 2D data, model cut throughs, and more. User interface improvements enable easy context switching between 2D and 3D. It also enables the addition of project markups and in-context measuring. Through Graphisoft's Model sharing cloud service, BIMx remains linked to the Archicad BIM model so that all the data can be kept current and updated.
BIMx has long supported viewing on iOS and Android devices, but new innovations first hit the market on iOS. With version 25, Graphisoft has also added its next-gen 3D engine providing unlimited model size capabilities to BIMx's Android version.
BIMcloud is Graphisoft's cloud-based collaboration tool introduced in 2014 as an evolution of BIM Server. BIMcloud supports both private and public cloud configurations on standard software so it can be used by large companies and also smaller companies that may have to rely on DIY IT. BIMcloud facilitates collaboration between team members across offices or across geographies and between different design tools.
BIMcloud has been upgraded to support as many as 100K files and allows users to host all project files in one central location.
After their experience opening up access to BIMcloud during the pandemic, Roberts says that the Archicad team has come to recognize that the need to change office configurations and to quickly enable remote working is likely to become a "feature" of modern life. Roberts says BIMcloud's SaaS licensing options can expand the capabilities available to a user through their single sign-in. He said the company will be continuing work on this front and support for bringing your own license SaaS will be available in the Fall.
More on visualization
The news that Redshift will become available to Archicad users will please many Archicad users but there are other, interesting options as well. In May 2021, Graphisoft and Nvidia announced support for Nvidia's Omniverse technology, which implies some level of interoperability between the other software supporting Omniverse. In addition, Graphisoft is working with Epic Games with support for the Twinmotion renderer. Twinmotion is another option for presentation in that it lets designers quickly render a model to present design options to clients.
For Graphisoft, Twinmotion is a rendering tool but it's also a gateway for models to be brought into the Unreal game engine to become part of an interactive application such as game content but also real estate walk throughs, interactive construction planning and oversight. This is a very active area of exploration and development for Epic.
Similarly, Graphisoft is partnering with Nvidia in its ambitious Omniverse project. The two companies have announced an Omniverse Connector for Archicad. The first Omniverse applications in AEC have been to add realtime rendering through Nvidia's RTX technology but that's just the beginning. Nvidia hopes to create a community around Omniverse to enable shared experiences through the use of open software.
The Academy Software Foundation (ASWF), an open-source organization that develops software to enable collaboration between teams using modeling and animation tools in filmmaking, has provided the inspiration for Nvidia's Omniverse. Pixar's Universal Scene Description (USD) was developed by some of the same people involved in the ASWF. USD is not part of the ASWF portfolio, but it is open source. This work is driven by the studios that have become impatient for better interoperability between the tools routinely used for content creation.
Many people, including people at Nvidia, hope that USD can provide the basis for content interoperability in AEC as well as in film and video. Companies such as Autodesk, Graphisoft, Trimble, and Bentley are working with Nvidia so there is great potential, but the companies are all still working out what level of support they are comfortable with. Their customers, including large construction and architectural firms, are also exploring the potential for Omniverse because they, too, would like easier ways to work with different software programs. We believe that, in time, customers will be the drivers of Omniverse support in the same way studios are driving support for open software interoperability. The catch is that Nvidia isn't building open software, it's building a customer base for RTX. Still, there is enormous potential in their ambition.
Epic, Nvidia, and their partners are looking ahead to the ability to inhabit design through immersive tools. This may be a digression but with Archicad 25, Graphisoft is all about opening doors.
Announced on July 7, 2021, Archicad 25 is available in International, US, UK and Ireland, German, Austrian, French, Italian, and Brazilian localized packages on the official download site. Users worldwide can contact local Archicad resellers for specific language shipping dates for each of the 29 localized packages that will become available during the remainder of 2021.
For more information on the new features included in Archicad 25, see Graphisoft's page on the topic that has more details.
What do we think?
In his presentation of Archicad 25, Roberts said "great design is in the details." We see this is a good summation of what makes this latest version of Archicad significant in 2021 and for architects and integrated design practices. Those of us who write about design and engineering tools often talk about how the modernization of the AEC disciplines to become more efficient requires them to become more like the manufacturing industry. It's an easy way to compare the revolution that's happening in AEC to the transformation of manufacturing in the 80s and 90s, and the introduction of software that began the march of digitalization for all design and production workflows—including AEC—but it's not totally accurate. Architecture is not manufacturing. Documentation is key to the discipline of architecture and enables construction and ongoing building maintenance. 2D and 3D are inextricable and Archicad makes it much easier for users to maintain those relationships and ensure that data is continuously updated.
Given advances by Nvidia and AMD, 2020 was a year of great advances in rendering and use will continue to grow through 2021. Ray tracing is getting wide acceptance after a relentless push by Nvidia and its competitor AMD. Both companies offer hardware support for ray tracing. But designers are also opting for easy and customizable traditional rendering as well. What used to be the territory of specialists is becoming integrated into the process of design. The news that Maxon's Redshift is coming to Archisoft comes as Redshift is adopting subscription licensing and preparing to release a version with ray tracing making the update all the more interesting to AEC designers.
We're fascinated by the potential for immersive applications in CAD and engineering. Come to think of it, we're fascinated by the potential for immersive technologies in entertainment creation as we're seeing it evolve in game engines like those of Unity and Unreal. As always, customers including studios and architectural practices are wary of being locked into a single hardware or software provider. Vendors are just as protective of their customer base. As this decade unfolds, companies will be finding their way around these barriers to new and better ways to communicate ideas. Once again, design and engineering present a fertile field for revolutionary change.