Q2 revenue is $19.6 billion, flat YoY, $700 million above non-GAAP guidance.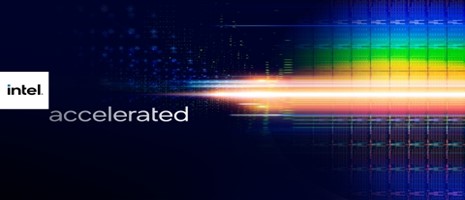 Intel said second-quarter revenue exceeded April guidance led by continued strength in the Client Computing Group (CCG) and strong recovery in both Intel's Internet of Things Group (IOTG) and the Enterprise portion of its Data Center Group (DCG). The PC and Mobileye businesses achieved record Q2 revenue. In the second quarter, PC platform volumes were up 33% YoY and Mobileye closed 10 additional design wins for more than 16 million total lifetime units.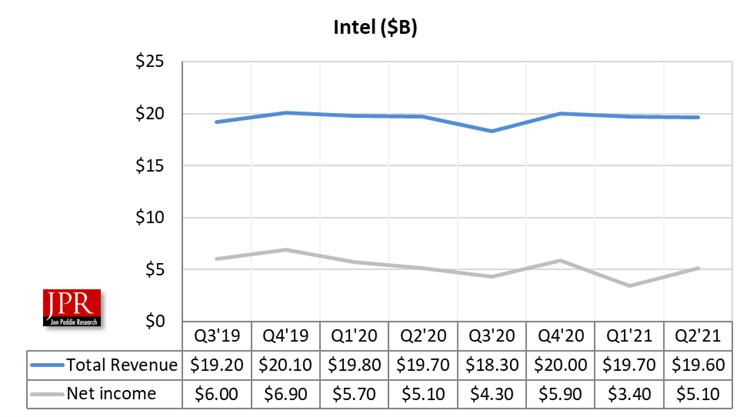 There's never been a more exciting time to be in the semiconductor industry. The digitization of everything continues to accelerate, creating a vast growth opportunity for us and our customers across core and emerging business areas. With our scale and renewed focus on both innovation and execution, we are uniquely positioned to capitalize on this opportunity, which I believe is merely the beginning of what will be a decade of sustained growth across the industry, said Pat Gelsinger, Intel CEO. Our second-quarter results show that our momentum is building, our execution is improving, and customers continue to choose us for leadership products.
Intel said that as part of its IDM 2.0 strategy, the company is accelerating its annual cadence of innovation with new advancements in semiconductor process and packaging.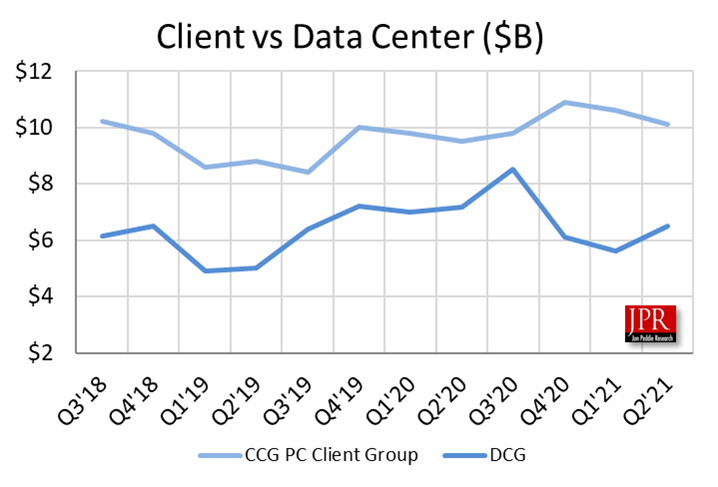 Intel listed their Q2'21 business highlights as:
Announced a $3.5 billion investment to equip Intel's New Mexico operations for the manufacturing of advanced semiconductor packaging technologies, including Foveros.
Launched 12 new processors for the client segment, including 11th Gen Intel Core with Intel Iris Xe graphics and Intel Xeon W-11000 series processors with more than 300 designs expected this year.
Announced partnership with Microsoft including Intel Bridge Technology to deliver better mobile experiences on Windows-powered PCs.
Leading cloud service providers, including Alibaba, Baidu, Microsoft, and Oracle are offering services based on the latest 3rd Gen Intel Xeon Scalable ("Ice Lake") processors.
Unveiled the Intel Network Platform and expanded networking leadership product portfolio with new FPGA, software, and Ethernet solutions.
Announced partnership with Ericsson to expand cloud radio access network to increase 5G performance.
Mobileye and automotive camera maker ZF were selected by Toyota Motor Corp to develop advanced driver assistance systems.
Announced Mobileye as the only company holding an autonomous vehicle testing permit in New York.
Announced new organizational changes and welcomed renowned technologists to strengthen execution and innovation in critical business areas.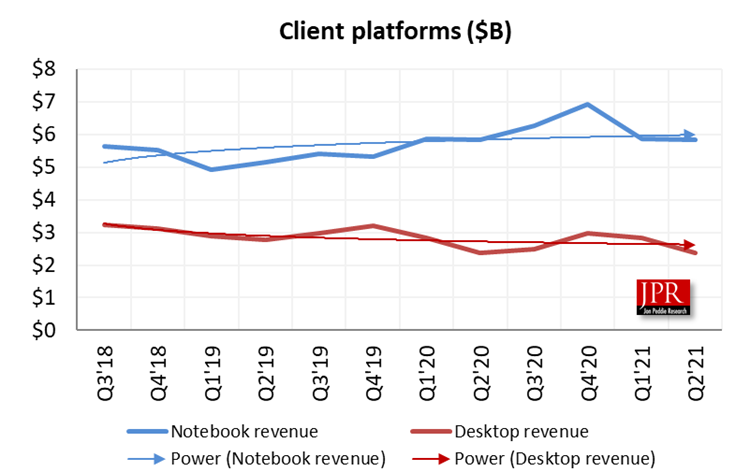 Client Computing sales relative to overall sales, over time. (Source: Intel)
Intel's investor presentation summarized the quarter's results nicely as shown in the following chart.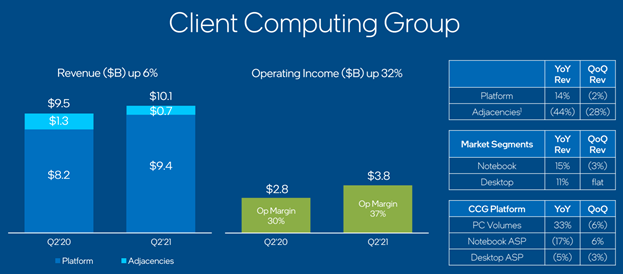 The third quarter's guidance is down 2.9% from Q2 and the overall year's forecast is shown in the following chart.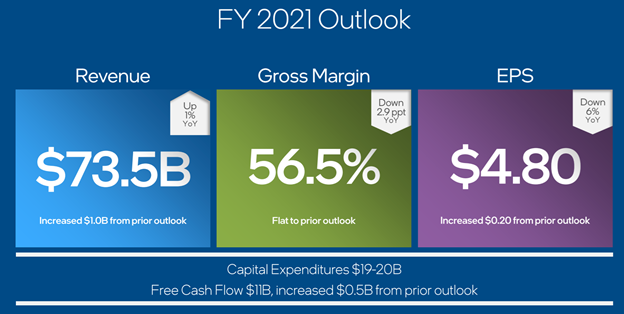 What do we think?
Intel is going through a rough period of adjustment and correction. Some of Intel's problems are self-made and some are imposed on them by circumstances they can't control like pandemics and its side effects. And the company is experiencing the effects of plans put into motion years ago by previous management teams. The company is still a solid forward technology leader and ignoring the hysterical short-sellers, Intel will continue to be a leader for another decade or longer.
As Intel rebuilds its manufacturing capabilities, CEO Gelsinger is concentrating on the company's footprint in the US and strengthen the US' competitive position against its major competitors in Asia, TSMC and Samsung. In April, Intel published its US Economic Study. Its message is that Intel is good for America. The company is lobbying for a partnership with the US to build and improve its foundries and CEO Gelsinger has said he'll be actively courting companies like Apple to bring their manufacturing business to Intel and to the US.
Many are seeing Intel's fight to regain leadership in semiconductor process technology as a fight for US sovereignty in the semiconductor industry against China, which certainly harbors similar ambitions.