The latest workstations offer A4000 or A5000 AIBs.
Workstations have proved their mettle during the pandemic—sometimes by their absence. People, who have had to relinquish their powerful computers to work on home computers, have found out how much the workstation's power, processing, and fast access to data means to them. Others have found it's well worth the inconvenience to take the office machine home if that's part of office policy. Still, others have struggled with the challenges of accessing their company networks from home and working without the protections of their job's IT department.
New workstations are emerging with features that address the challenges of current life—remote working, resource hungry software applications, and advanced security threats. HP says their new Z workstations for the post pandemic generation of workers have advanced security features enabling IT departments to protect devices, data, and identities.
HP's Z Workstations were designed for users working in creative fields including design, engineering, VFX, visualization, simulation, rendering, and more. There is a heavy emphasis on design, both for aesthetics as well as practical reasons such as compactness, airflow, and low noise.
At Nvidia's GTC 2021, HP says their latest update brings new levels of power to its entry-level Z workstations, the HP Z2 Small Form Factor G8 and the Z2 Tower G8. HP offers Nvidia's new RTX A4000 and RTX A5000 as options. The Radeon Pro W5700 is also an option. The new workstations also offer the option to provision them with Samsung drives.
Also in this release cycle, HP is making Ampere graphics options available to the higher performance Z machine in the line: the Z4, Z6, and Z8 workstations.
HP's Z line of Workstations is celebrated for their cooling features that keep their processors and graphics cards cool, enabling them to run at maximum performance with no throttling. HP also brags about the Z's quiet running features. As with all branded workstations, the workstations are certified for professional software.
The new workstations support Windows 10 Pro 64 or Linux.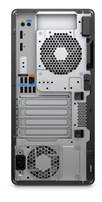 Featuring Samsung's new PCIe Gen 4 drives
Samsung has just announced their new PCIe Gen 4 drives. The PCIe Gen 4 interface standard offers double the bandwidth of the previous PCIe Gen 3. Samsung has introduced their PM9A1 which takes advantage of Samsung's NAND, controller, and firmware in a compact M.2 form factor.
Jaejune Kim, Corporate Senior Vice President of Memory Market for Samsung, notes that as applications become increasingly complex and file sizes balloon, PCIe 4 enables a noticeable advantage in performance. Samsung and HP collaborated to design the PMA9A1 SSD into the Z machines.
Going remote
Also, in the fall of last year, HP updated its Remote Graphics Software (RGS) to ZCentral, which is a complete VDI (virtual desktop infrastructure) setup. It includes ZCentral Connect, a connection manager, and ZCentral Remote Boost to provide users with a lightweight and low-cost hardware and software solution to enable robust remote working.
Originally designed to give IT workers more options for connecting users to workstations in racked systems, ZCentral Remote Boost also makes it easier for workers working from home. The ZCentral Remote Boost system enables clients at home to connect to workstations in a company's server system or even to the workstation at a worker's desk at the office. Remote Boost is a two-part VDI system with a sender and receiver. The Remote Boost sender is installed on the workstation. It has optimized connectivity for low-bandwidth networks. GPUs are recognized. It supports 4K monitors, multiple displays, touch gestures, and USB devices on the Receiver side including peripherals such as Wacom tablets, etc. The receiver can be installed on laptops, desktops, or tablets.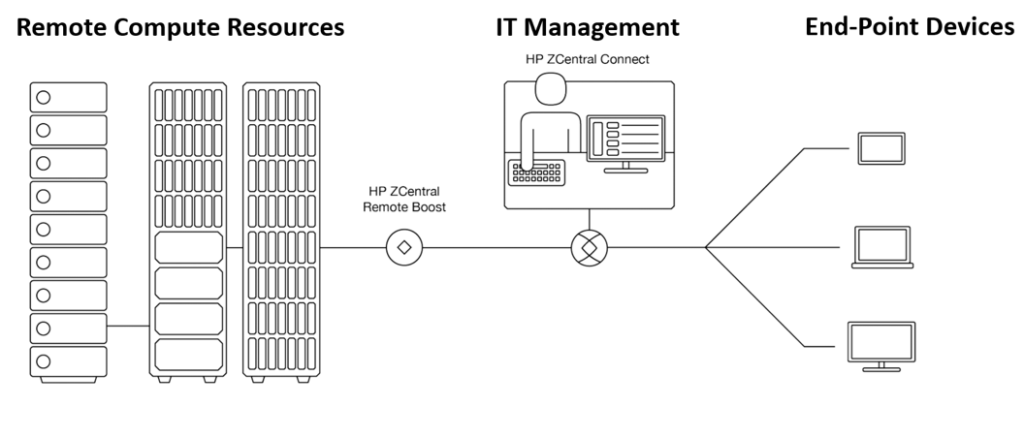 As the pandemic ebbs, some workers are going home, others are still working remotely. The assumption for the near future is that many workers will be spending some time at home and some time in the office. Having a computer with integrated remote working support and adherence to established security protocols defined at the office makes it easier for workers to have the flexibility of working at home or in the office with access to workstation power wherever they are.
HP is marketing its integrated VDI as a distinguishing feature for workstations, but in 2021, we're expecting to see many more machines including the feature. At GDC, Boxx also introduced its Flexx machines with integrated networking capabilities.
The HP Z2 Small Form Factor G8 will be available in May 2021 at a starting price of $1,169. The Z2 Tower G8 will also be available in May and its price starts at $1,179.