Latest version of Painter includes benchmark tool giving users insight into how brushes work.
The Painter family of products has its origins in MetaCreations, a digital arts development powerhouse in Santa Barbara. They were early pioneers in computer graphics software for artists and the work they did lives on at Daz3D, Poser, and most vibrantly at Corel in Painter.
The implosion of MetaCreations as a company at the turn of the century is a big bang event that scattered innovative modeling and imaging technology throughout the tech universe like seedlings. On the flipside, MetaCreations also left a legacy of opaque interfaces, and mystifying workflows. Painter is a survivor, which is a tribute to its appeal for creative users. More importantly, over the years, Corel has made Painter much more accessible.
Corel acquired Painter in 2001 and has continued to develop the product. As a primarily Windows-centric tool, Painter gave Corel an important product on the Mac and it inspired the company to port its flagship CorelDraw to the Mac. Corel's CAD products have Mac versions as well.
In 2017, Corel decided to capitalize on the popularity of Painter's capabilities and effects. It released the ParticleShop utility which enables Painter's powerful brushes to be used within Corel's other imaging tools such as Paintshop Pro, and also Adobe's tools Lightroom and Photoshop.
In the summer of 2019, Corel released its latest update of Painter, with AI features and added support for modern computers with GPUs and multiple cores. Most recently, Corel released an update Painter Essentials.
Painter for everyone
Painter Essentials is Corel's gift to people who like the idea of creating paintings from their photos, embellishing their photos, or combining digital paint and photographic elements but who are daunted by the complexity of imaging tools.
The new Painter Essentials 7 cuts straight to the chase. The developers recognized that what most Essentials users are going to want to do is to create a painting from a photograph so the program opens to that feature letting new users try out the Auto-Paint feature. With the advent of new AI tools, Corel has added the ability to transform pixels in an image into paint strokes that imitate famous painters or styles. It is a pretty common parlor trick these days, but Painter and Painter Essentials gives users control over the process. They can combine paint styles, stop the process, or use a brush to roll back some of the effects and bring out details. Users can combine paint and photo elements with brushes and cloning tools.
The Auto-Paint tool isn't fast, but you can select an image, select a paint style, and let it go and the program automatically goes to the tools that allow the user to roll back the effects and pick up the underlying details for the source photo.
The best part of Essentials is that it provides the new user with an easy path to success. After transforming a few photos, many users will be encouraged to start enhancing their photos and creating original works.
Painter Essentials' tools include Natural Media tools that behave like real-life paints, chalks, watercolors, etc.
Corel has added more brush customization control to Painter Essentials and it has added more control over digital watercolor. It has enabled customers to combine AI styles with other features of Essentials like Image Hose and effects. Corel has also added mirror painting for automatic symmetry while drawing and a Kaleidoscope tool to create mandalas automatically or manually. Truthfully, this seems like an odd feature but for all, I know there's a cult of mandala makers out there.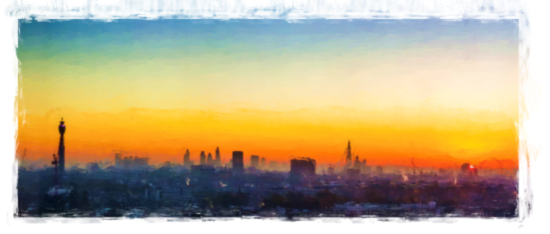 Essentials have Wacom tablet support and Corel strongly encourages users to adopt drawing tablets to be able to draw more freely on the computer.
For those not quite ready to commit to a high-end tablet, by the way, Apple has released its Sidecar feature, which enables Mac users to use an iPad as a tablet. There's also an interesting startup called Astropad, which has created an application that enables iPads to be used as tablets. Astropad is branching out and developing tools for Windows as well. The Astropad people are determined to add features for artists that will complete with dedicated tablets. As it is now, it's not a bad alternative.
Painter Essentials is available in Mac and Windows, and product manager CHK Tanya Lux notes that even though it does not have upgrade pricing, users who do upgrade get a custom brushback worth $199.
Painter 2020
Painter Essentials 7 is powerful enough for many creatives to incorporate digital paint techniques in their work. The full Painter program is a professional tool, meaning it has even more features and capabilities than its little brother. Painter 2020, introduced in June 2019, is optimized for GPUs and multi-core CPUs.
Painter 2020 comes with a utility that lets users evaluate their computers so they can get the most out of Painter. It runs a test of the computer and provides a graphic indication of where the computer is adequate and where it falls flat. It's a reminder that a program like Painter is really 2.5D because some paint effects have depth and react to the placement of light and all that real-world behavior involves physics.
Even after testing the computer, Corel Painter continues to provide information to the user about what's going on under the hood. As you choose a brush and work with the controls, Painter tells you what the program is using to accelerate the brushes, whether it's GPU, multi-core CPUs, AVX2 instructions, etc. And, if you're curious you can see how the brush would work without those optimizations.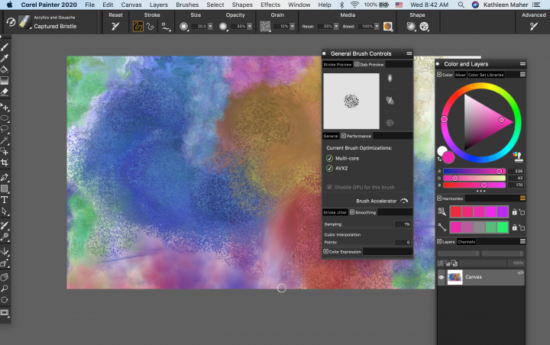 "By leveraging GPU technology, we're now able to deliver performance gains never seen before in Painter. Go ahead and set your GPU-based brushes to maximum size and you'll still see screaming fast realtime performance—even on a wall-sized canvas. With this new release, we're delivering the power, artists need to achieve painting perfection," says product manager Chris Pierce.
Corel has improved the interface with improved property bars, flyouts, and palettes to make it easier for users to get to their most frequently used controls with sliders for brush size, opacity, etc. The new brush selector lets users define how the brushes interact with the canvas by changing dab types.
Corel has also improved Painter's layer system with more controls to collapse, lock, select, and paste.
Painter 2020 is available for $429 (€424.95/£359.99) and can be upgraded for $229 (€218.95/£179.99). The company also sells brush packs that can be used to beef up the capabilities of Essentials and Painter, but there are so many options for defining and fine-tuning the performance of brushes that there are probably a good proportion of users who can live happily with the brushes provided in the program. However, people who work between Adobe and Corel environments can leverage the work they do with brushes in Painter and use them in Photoshop and Lightroom by buying the ParticleShop plugin for $49.99
What do we think?
Brushes are powerful tools in imaging software, but it's hard to get just the effect you want and it's easy to make a mess. The simplification that Corel has done in the Painter Essentials interface is welcome and so are the basic controls in Painter 2020. It's still pretty easy to make a mess, perhaps the most used tool in brush creation will be the Reset tool in the brush top menu that lets you go back to where you started. It can make the difference between giving up and giving it another go.
Corel provides tutorials and the user community is also a source of training. I've noticed that the Corel tutorials tend to be long. It would be great to have short, targeted videos of about 5 minutes or so just to nail down a technique.
Adobe is also exploiting the power of brushes in its new Fresco mobile app that works with Lightroom and Photoshop. Thanks to the power of computer processors, these tools are becoming much more fun to work with. With a good system, feedback is usually instantaneous. It makes all the difference.