Looking for new markets, the Looking Glass Factory goes to art fairs. The holographic display by Looking Glass Factory provides an interactive and collaborative environment to experience the holographic work of artists.
Three dimensional (3D) virtual worlds provide rich interaction in a realtime environment, thus maintaining the interest of users. The desktop holographic display designed by Looking Glass Factory enables 3D creators to create, view, and share 3D content in real life space without using VR or AR headsets.
Brooklyn-based startup Looking Glass Factory has hit the ground running hard. The company has introduced the Looking Glass Pro in May 2019 as a workstation complement, and they've followed up that introduction with new products for different price ranges.
The company says their technology is a combination of lightfield and volumetric display technologies within a single 3D display system that updates at up to 60 fps. It generates 45 distinct views of a 3D scene so that multiple people standing around a Looking Glass device can see different parts of the scene in the real world. As viewers move around the Looking Glass, exposure to different sets of 3D information creates a life-like 3D experience for groups of people.
Looking Glass Factory was founded in 2014, and the company's entrepreneurs CTO Alex Hornstein and CEO Shawn Frayne first kept offices in China to be near the micro factories of Shenzhen where they could design and iterate their products for far less money than it would take in the U.S. Since then, Looking Glass Factory has moved to the U.S. and has grown rapidly to keep pace with the company's new products. Its current headquarters are in Greenpoint, Brooklyn—an area of Brooklyn known as the home of the hologram.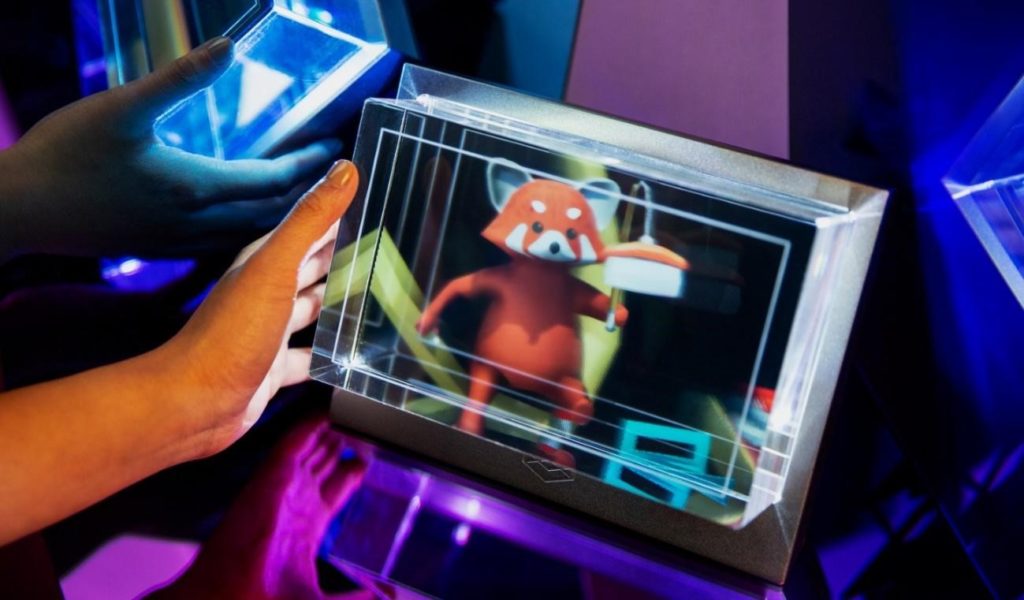 Shawn Frayne says that people have been wishing for a medium to see and interact with a genuinely 3D virtual world without 3D glasses and without VR or AR headgear but factors like limited computational power, poor display density, and the lack of widespread 3D content were keeping that vision from becoming real. All that is changing rapidly now, and commercialized holographic displays are now beginning to come to market. The beauty of the Looking Glass design is that it lets multiple people experience 3D content together and without glasses.
Many sectors like medical, entertainment, gaming, and defense can make great use of holographic displays. Holographic CT scans are going to become real, and a patient will be able to review medical information with a doctor inside a holographic display before undergoing a procedure. Holographic family movie nights, where they can watch their favorite Pixar characters come to life inside a holographic display, will be coming to a living room.
Frayne said that enterprises are using the Looking Glass Pro to showcase professional 3D content such as orthodontic scans, volumetric music videos, concept car demos, and much more. The applications are increasing rapidly and the company is going to keep supporting and accelerating that with new software tools over the coming months.
Talking about ease of access and availability of Looking Glass products, Frayne said, "this first generation of Looking Glass products is designed for developers so in that sense they are made to work off of PCs with enough computer power to run 3D rendering software like Unity, Blender, and Unreal Engine." Earlier this summer, he said, "we launched the enterprise version of the Looking Glass (Looking Glass Pro) which is designed to work out of the box, as an all-in-one integrated solution that covers most business use cases."
Frayne compares the evolution of his Looking Glass products with the evolution of computers. Products are first developed for developers and the enterprise, and then come products for consumers.
Experiencing art through a holographic display
 Until now, there really hasn't been a real-world canvas for 3D digital art that was designed specifically with that art form in mind. Through AR/VR, artwork can be experienced only by a single person at a time. However, Looking Glass provides a canvas that can hold piece of 3D digital art in the real world. Recently, at Sausalito arts festival in California, artists Marpi and Kevin Ang showed their holographic work.
"Algae" by Marpi Studio (left) and a butterfly by Keven Ang (right).
As the market for the holographic displays is emerging, Looking Glass is working towards making its products a powerful tool for different types of artists working in 3D digital space. The company's expectation is that as this new medium grows, technology and non-technology artists will be capturing and displaying art in various new ways.