Meta technology resurfaces as a new company with AR pioneer Jay Wright at the helm.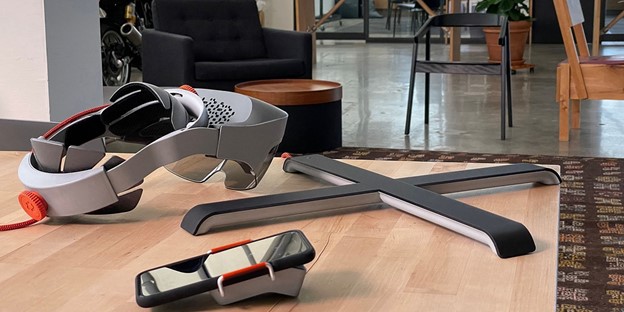 There are at least 12 popular AR SDKs. Why is that important? For two reasons, (A) you can't develop a category or industry without applications that people want and need, and (B) if you enter such a market, you've got an excellent foundation to work with.One of the first companies to help develop AR was Qualcomm. In 2008, Jay Wright initiated and led a Qualcomm team to create an SDK of AR tools, libraries, and demos. The group's work got a positive reception demonstrating pent-up demand and interest in AR. They were developing the first tools that became Qualcomm's Vuforia organization. In Oct 2015, Qualcomm sold Vuforia to PTC in a cost-cutting move, and Wright went with it. Today Vuforia is extremely popular with over 1,000,000 registered developers and tens of thousands of published applications. Wright moved on.
A few years ago, one of the early developers of AR hardware was a startup company named Meta founded in 2013 and headed by Meron Gribetz. It raised a lot of capital, had a very high profile, was the darling of VCs, and a hero at VR conferences. The company attracted luminaries in the field, and as a result, the company was rich not just in VC money, but fantastic ideas of what AR was and what could and should be done with it. Meta became an R&D center of AR. That was the good news. The bad news was that it couldn't productize those concepts fast enough, so its sales were insufficient to support its burn rate. The VCs had had enough promises and Meta went quiet as it searched for investment money. The company worked with Dell to sell headsets to professional companies for design and engineers. Trump's trade war with China put a stop to a $20 million investment deal Meta was trying to arrange with a Chinese company. In y 2018, Meta's assets were foreclosed upon by its lender and subsequently purchased by Olive Tree Ventures (OTV), an Israeli-based venture capital firm that formed a new company, Meta View Inc. to commercialize the assets, a significant patent portfolio among its assets. Meta View announced the hiring of Jay Wright soon after.
For the next 23 months, the company pulled together the decades of knowledge Wright and his team processed and silently began developing an AR/VR system. He selectively showed it to a few enlightened investors and raised more than $8 million from OTV, Kli Capital of Montreal, and Tuesday Capital. It sure looked like somebody was going into production.
And now the curtain is lifted, and Wright is showing the world what he and his team have done— Campfire has created a holographic collaboration system for professional 3D designers.
In addition to a newly imagined device and applications suite, Wright also offers a new way to get the devices and use them—a subscription program. That is the ultimate try-it-before-you-buy-it scheme. One of the mistakes made by every other AR (and VR) hardware supplier is making the prospective user plunk down thousands of dollars to find out if the technology will work for them and solve actual problems. Most of those companies, BTW, have failed, and not because they didn't have innovative products but because they didn't have an imaginative business plan.
The most significant, most apparent piece of the kit is the headset.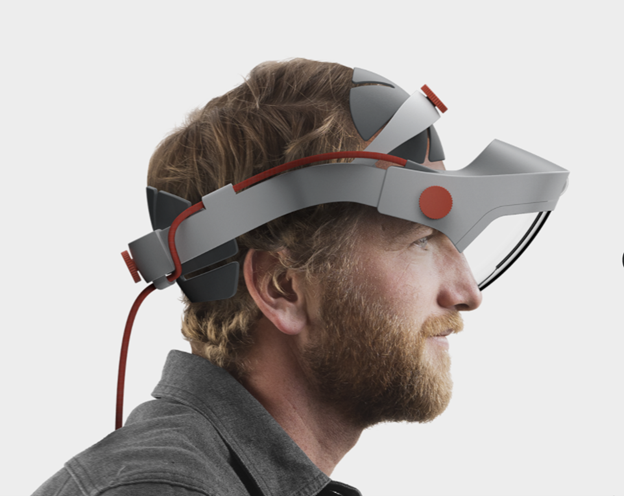 The headset uses a very different approach than HoloLens and MagicLeap to achieve both high fidelity AR and comfort VR. Campfire calls it a "convertible headset." For AR, the big difference is the field of view (FOV) of the Campfire head-mounted display (HMD is 92-degrees diagonally compared to the 52-degree FOV of the HoloLens or the 35 60-degree FOV of other AR HMDs.
OK, so you can see stuff, so what?
One of the critical features of a collaborative AR system is being able to see stuff. Imagine four people standing around a desk looking at an AR model. Now imagine they are all looking through a toilet paper roll at the model. They can't see what their colleague is pointing at without turning their head toward her or him. And when they do that, they can't see the model.
A small field of view and poor image quality are among the problem of most existing AR HMDs. VR devices can also be unpleasant; they press on the face and head which can cause pain, and they get warm and become uncomfortable. Also, users must learn new interfaces and tools. And integrating with regular workflow has been really disappointing.
Then there's the issue of where to look in general. You need some directions, a traffic cop. Campfire solves that problem with a clever virtual fence and 3D monitor. They call this brilliant bit of tech the Console, and it is as unassuming as a lost base of a standup microphone or mannequin.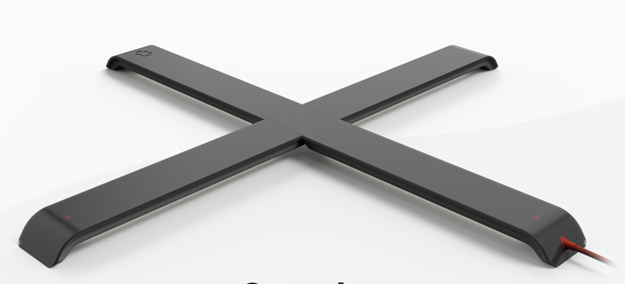 The Campfire console marks the location to display virtual 3D objects. This enables product designers to share their work with colleagues. The Campfire console pulls everyone's focus with a headset to see the same virtual objects anchored to the same space—and that's the magic—the virtual anchor. One of the complaints of AR is the way virtual objects float about. It's disorienting and makes it almost impossible to deal with a 3D model. Those great video's you see of a group of people happily and conscientiously working on a design are no more accurate than the things you saw from MagicLeap. Campfire has solved that disturbing problem.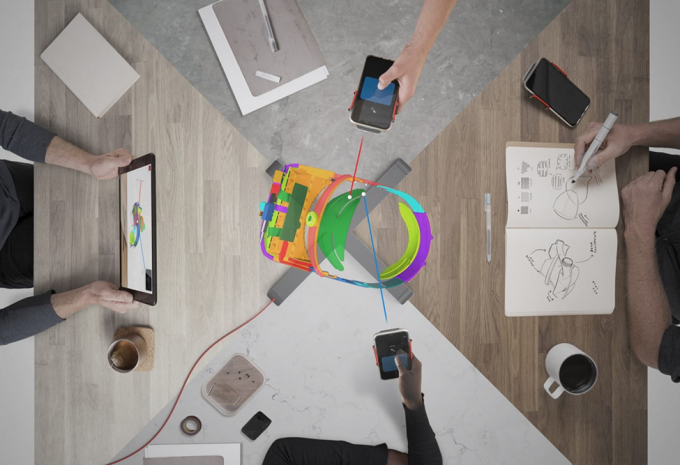 Teams can also use Campfire to work together remotely too. The Console can establish over-the-internet synchronization, which lets remote people work on the same content in real-time.
"The vision for holographic collaboration has been talked about for decades, but not realized in products with any measure of success," said Wright. "By focusing on specific needs for design and engineering, we've reimagined the entire stack to deliver an experience that takes a giant step toward the vision and, more importantly, enables a giant step in productivity."
And then there's the pointer. It's a snap-on Pack that turns a mobile phone into a controller with tools for working with 3D models. It attaches to the phone's back and eliminates the learning curve of proprietary controllers and gesture interfaces.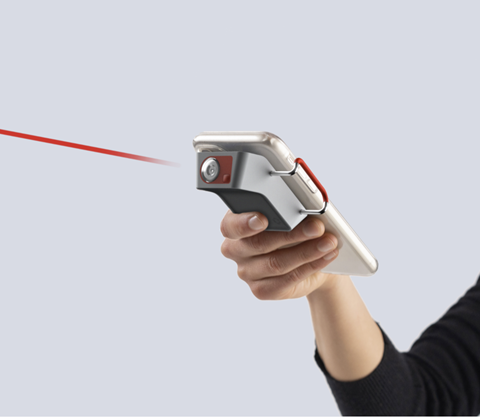 Wright says Campfire will not be positioned as an open platform or even start with an API. Instead, says the charismatic CEO, its functionality is designed to plug into existing collaboration tools such as Zoom and Teams instead of apps like Spatial that define a collaboration environment.
However, the company is developing software called Scenes, which allows product designers to import their 3D models into the collaborative viewer. Wright said the software supports over 40 leading CAD and 3D file formats, "So you can seamlessly extend your workflow."
If you like the looks of the Campfire gear, you can thank those clever folks at Frog Design.
Wright says, "we got Frog involved really early." "There are probably half a dozen companies that I wanted to get close to early. And because we're gonna focus on design, I wanted to come out of the gate with some of the world's best designers." Wright says they went to Frog with a prototype of the headset. "We wanted it to be very approachable, very sort of familiar, yet futuristic, and utilitarian. I am just thrilled with the work they did, just thrilled."
But Frog not only designed it, but they also use it. The Campfire system is being used by Frog Design for other client jobs—they are a Campfire development partner, among a select group of companies, said, Wright.
What do we think?
Wright is a bonafide pioneer. Yes, he's got arrows in his back. Yes, he's had some disappointments and misstarts. And yes, he knows more about AR than any ten other AR experts. He also has a unique understanding of growing AR from software to chips, to CAD, to HMDs. Not many people with that span of experience.
Will Campfire succeed? You probably will never know until they do an IPO. It's not a razzle-dazzle consumer electronics company. It's a nuts-and-bolts, get the job done, designer's tool chest. If Wright is successful, he will quietly (which is his natural style anyway) wander around the world showing his gear and leaving with new subscribers. It's almost a no-brainer. Here's a kit you can collaborate with, no CapEx; call me if you need any help using it.