One of the breakout stars of the NAB-that-never-was is Blackbird plc. The company offers a cloud video editing platform enabling live or file-based video editing and sells itself on its speed, scalability, quality of editing tools, and output. The company's demos make Blackbird's tools look very straightforward and easy to use. There's a refreshing cleanliness to the interface, and more to the point, the company claims it has the fastest editor in the world.
The company is no fly by night surprise startup. It's been around since 1998 when it was founded in London as Forbidden Technologies. The company went public in 2000. In 2017, Ian McDonough came on as CEO after gigs at Turner Broadcasting, BBC, and A&E. In 2018, the company changed its name to Blackbird, invested in branding, and began its transformation into a high-end video production tools provider. We talked with McDonough about the company just as the Coronavirus lockdown was changing the trajectory of content creation and video production.
McDonough's timing is propitious if propitious is the sort of word to describe a period defined by plague, rioting, and even locusts in Africa. It does make for a lively news cycle and Blackbird is turning their attention to the news, live events, and sports.
Currently, the company's revenues are growing fast. The company's revenues rose 24% from 2018 to 2019 and that growth is continuing with a goose from Covid-19. McDonough says, "we're in a market with giants and we're just gaining traction."
The changes caused by the virus lockdown have been swift and transformational. We've seen Adobe pivot rapidly to enabling online and remote video editing with partners and on their own. EditShare has been building a platform for virtual workflows and steadily adding on. Meanwhile, Blackbird has always been enabling cloud-based workflows.
As this is being written, Blackbird has been awarded TV Technology's Best of Show Digital Video Award. This year, the organization, which usually ties its awards to conferences, created a special digital edition of the award and invited written entries from their community. It makes sense that Blackbird won in this year of lockdown since the company's tools are built to allow anyone to edit content wherever they are on any device. McDonough thinks the boom in remote workflows that has resulted from lockdown are here to change. "The genie is out of the bottle," he says as people get used to working remotely. "People may stay home."
Blackbird is seeing growth in the US as users get used to the idea of cloud-based workflows. McDonough says that at first, US customers were resistant because of privacy concerns. That is changing, but in the meantime, says McDonough, the company is making their case based on the speed and efficiency of their tools as well as the breadth of their capability. The company has its own CODEC, which was developed in 2000 by Dr. Stephen Streater, a math genius, says McDonough, because he realized people would be watching video on the Internet. It was Streater's plan to create something like YouTube before YouTube existed. In its early days, Forbidden Technologies was a boutique supplier working with small content creators including post houses in Soho.
"We've rapidly industrialized Blackbird," says McDonough, commenting on the company's new game plan.
Streater developed a custom CODEC for Blackbird, which was developed for cloud workflows. The company holds 14 patents and describes itself as essentially an IP company. McDonough notes that most competitors have relied on some form of H.264/265 and are limited to 60 fps. Blackbird's approach creates a high-quality proxy faster than realtime allowing customers to start editing immediately using Blackbird's Forte online NLE.
Forte's features include realtime video transitions, supports 18 video tracks and 36 audio tracks; multi-cam editing, alpha-channel overlays, color correction, voice-over, standards-compliant subtitles, and closed captions. Currently, the company provides cloud access through AWS and Google. The base requirement is a sustained 2Mbps.
McDonough describes the Blackbird process as instant logon, fast in and out. Customers' high-res content is not moved. Blackbird Edge ingests video content, transcodes it to their CODEC, and uploads to the cloud where it's available for edit anywhere. As the file is edited, an edit decision list (EDL) is created and it has hooks into the original high res. Only the high-res edit is uploaded for publishing.
If desired, customers can also use traditional tools such as Premiere Pro, Avid, and Final Cut Pro, with Blackbird by downloading the EDL and moving over to the other tools. This workflow might be useful for post and finishing, for example, but Blackbird stresses that their value is in offering browser-based, frame-accurate editing to make content available for distribution as fast as possible.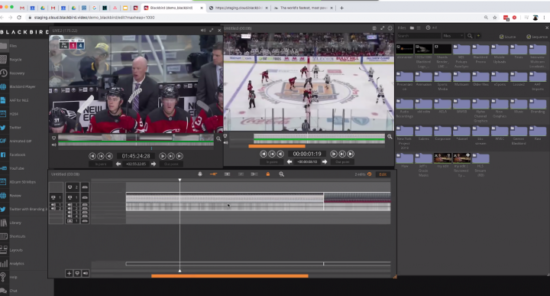 Blackbird video was not designed for hobbyists or for social media stars. "We are a small company, but we have a big company solution."
The company provides demonstrations of their system in action on their site and hosts regular webinars. Their sales approach is high-touch because they're looking for the right deals, not every deal. The company's tools are sold to companies depending on the number of users and the amount of content that's created and distributed. Over the next 12 to 24 months, McDonough says their goal is to sign up large-scale global OEMs, "so they can help us scale our business." For example, the company announced a deal with Zixi in April 2020. Zixi has a similar model to Blackbird and it has high-profile customers including Bloomberg TV+, the first streaming service to offer 4K UHD content.
McDonough cites Zixi as an ideal partnership since Zixi has already plowed much of the field for Blackbird. "Zixi is the default standard for the ingest and distribution of live video," he says on his company's site. Blackbird's CODEC brings real-time ingest to Zixi and Zixi's platform enables companies to monetize their content.
The deals are the story
During the NAB 2020 timeframe, the company announced a deal with the Arsenal Football Club to produce short-form content for Twitter, Instagram, and YouTube. Blackbird's system enables the content to be created by editors in multiple locations. A&E Networks announced plans to increase its remote video editing capability using Blackbird. The company's customer list also includes the US Government, Peloton, TownNews, Whisper, and Zixi to name some of the more high-profile wins.
Town News is also an example of the type of partnership McDonough is courting these days. The company serves local news providers with services and tools to create and sell advertising for content in print, digital, video, and OTT. The Town News deal has brought Blackbird into 49 TV stations in 24 states.
Australia's National Rugby League (NRL) signed up with Blackbird because it gave them a way to get content to social media services fast. McDonough says the NRL wanted a way to get content posted on NRL Watch accounts ahead of pirates. A case study on Blackbird's site says the league has 300,000 Watch customers. Blackbird gets them their content within 30 seconds of the action.
The way people consume video is changing rapidly but getting content to all the screens we're watching these days is a requirement. Blackbird has an edge on that front.
The company is still small; McDonough says they have to be conscientious about the deals they choose. "Nobody else has the Blackbird CODEC," says McDonough. "We've spent 18 years building software we can replicate." Blackbird is ready to fly with the right partners.