Reporting back from Autodesk University '19 and the company's financial results.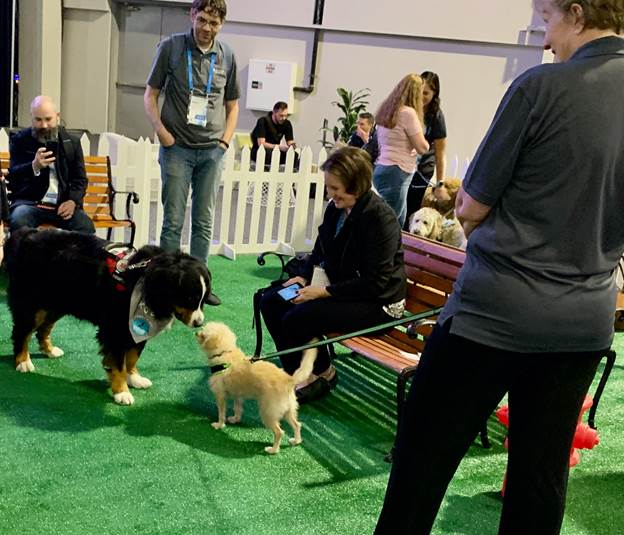 Over the years, Autodesk's messaging has not changed much. The company has underlined its commitment to sustainability. It has steadily advanced its technology for cloud-based computing and SaaS, and dogs are still an important component of the company's corporate culture. It's just one of the many obvious signposts Autodesk has put up to signal, it's not losing sight of the past as it pushes ahead to platforms and products.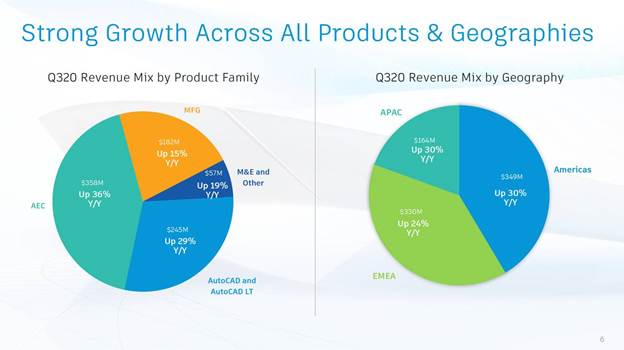 Now that the transition to subscription has been accomplished and the company has started to convert "non-compliant" licenses to subscription, the company is ready to launch into new platforms. (Source: Autodesk financial presentation)
The company's trajectory has been consistent over the decade even though the tenure of two CEOs: long-time CEO Carl Bass and Andrew Anagnost, also a long-serving executive at the company. The major shift for the company has been a shift in emphasis from manufacturing back to the architecture, the company's traditional power base as a result of changing markets. The company is responding to global market forces and opportunities as the digitization of construction opens up opportunities worldwide. At the same time, global manufacturing has slowed. Yet, Autodesk says it continues to grow its manufacturing business and is gaining market share.
Autodesk 3Q fiscal 2020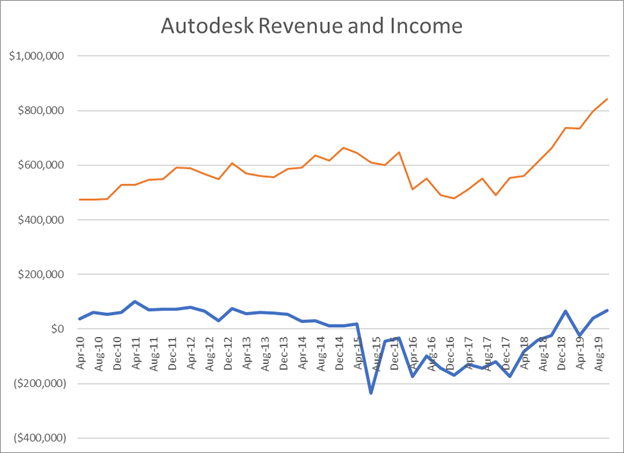 Autodesk has raised revenues and profits after a few years of transition to subscription. (Source: Autodesk financial results)
Just after Autodesk University, Autodesk reported its quarterly results for its third fiscal quarter. The company reported $843 million in revenue for the quarter, an increase of 28% year over year. The company says recurring revenue has reached 96% of total revenue.
Total annualized recurring revenue (ARR) has also increased 28% and is now $3.22 billion.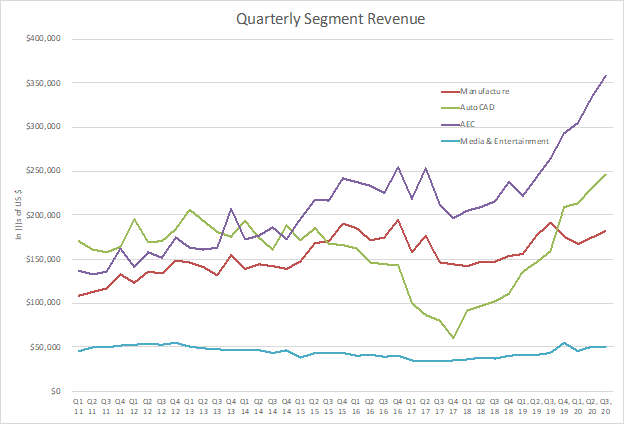 But, if all looks pretty much like business as usual on the surface, there's a lot of work going on under the covers as Autodesk works furiously to transform its traditional business.
This is a great time to be in technology as the work of decades comes to fruition, networks grow and collaboration becomes more seamless. This year at Autodesk University, Anagnost unveiled the Construction Cloud, which was built on Autodesk's construction portfolio including BIM360 and new additions PlanGrid and Assemble. Autodesk is strongly underlining its commitment to cloud-based workflows.
During the third quarter of 2019, PTC announced the acquisition of OnShape. The news came as a surprise to competitors who had expected Onshape to be more successful—more of a long-range play. As of its sale, OnShape has about 5000 users. During Autodesk's financial call, Anagnost was not above crowing a bit, even as he expressed admiration for OnShape founder Jon Hirschtick and PTC CEO Jim Heppelmann. He said, "We added more subscribers to the Fusion base in Q3 than that entire installed base [of Onshape]. So we're talking tens of thousands of paid Fusion subscribers."
The other part to remember is that PTC is a strong competitor with a willingness to take chances and stick with them. PTC CEO Jim Heppelmann sees OnShape as a springboard to further develop cloud-based design applications. From his point of view the Onshape team has done all the heavy-lifting making it easier for PTC to build on the Onshape platform and indeed, Onshape has demonstrated the ability to add on to the core with a steady cadence of improvements and add-ons.
Building cloud-based products are about a lot more than putting distinct products and capabilities in the cloud; it's about building an ecosystem and this is where Autodesk and the rest of the CAD industry are going. In that same conversation about cloud-based CAD, Anagnost told analysts on the financial call that the future is in multi-tenancy SaaS. He said that he, Hirschtick, and Heppelmann can all agree that "the cloud is going to revolutionize data flow in the manufacturing and product development industry."  Including, across all parts of the supply chain. It will enable multi-disciplinary data flow, and be able to take advantage of the massive amounts of compute power from the cloud. Add to all that, says Anagnost, is the ability to leverage all that data with machine learning so they can do predictive analytics, and find new insights.
Building for the future
During the presentations at AU, Autodesk employees talked quite a bit about "Andrew's vision." In addition to building a cloud infrastructure, the company is also revamping its underlying development infrastructure. It's a project that was started some time ago with the introduction of Forge, a collection of tools and APIs that the company has made available for developers who want to build on Autodesk's platforms. There are examples of what people are doing with the technology on Autodesk's Forge site.
As the world moves to the cloud, the ability to build applications on top of Autodesk's tools has the potential to open up new business for the company beyond design, build, and manufacture. For example, a Revit model can be used to let customers pick out rooms in a hotel. An inventor model can provide the base for a car configurator, and maybe anyone can see a room in their house and shop for new lighting fixtures using the Forge Viewer. Information is becoming a utility and Autodesk is not the only company on this path.
Probably what will be most interesting in the future is how companies will work with each other to share data and expertise. For example, ESRI has been opening up its technology to make mapping and location tools available to partners. At Adobe Max this year, we discovered ESRI's ArcGIS offered as a plug-in for Adobe's Creative Cloud. Also, Autodesk is taking advantage of ESRI data to enable location information for design plans, and so is Vectorworks.
Sharing the wealth. ESRI and Autodesk are collaborating to take advantage of each company's strength.
At Autodesk University, ESRI CEO Jack Dangermond told press and analysts that the more accessible data becomes the more valuable it is, but it has to be meaningfully integrated. Last year, the two companies announced an alliance that would open up access to ESRI's GIS data to designers. The two companies see their collaboration as being especially valuable in infrastructure projects.
In another collaboration, Autodesk announced that they're working with Ansys to take advantage of Ansys' lighting simulations and Autodesk's VRED visualization tools.
Adding up
Autodesk University doesn't look so different from year to year. It seems the company nurtures consistency in a lot of ways and sticks to the same themes to mark progress. Also, the projects that people use Autodesk tools for are generally long-term projects. Autodesk and its competitors have to be careful about how they communicate big changes.
At the same time, the transition to the cloud, to digital twins, and AI-supported workflows are well underway and have huge momentum. Customers are no longer saying hell no; they're coming around to, what do I do first.
What do we think?
Autodesk is a prickly beast. The company is as much hated as it is loved and that's natural when a company's products have such an outsized importance in the lives of its customers. People got their start learning AutoCAD in high school. Young architects cried over their first-year projects in which AutoCAD and Revit may have played a horrible terrible part.
That's also why Autodesk University can be such a sweet homecoming for people who have been a part of the community for a decade and probably more.
With the arrival of the cloud, some companies are seeing a chance to lock in customers. It could be even harder to switch tools, once legacy work becomes wrapped up in a platform. Will companies allow competitors access to add-on important capabilities or will they try to continue to build it all themselves.
Further reading:
Autodesk introduces construction cloud
Autodesk adds on new technology for preconstruction, bid management