The company opens up access for rich 2D data in Ares products.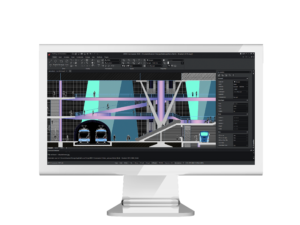 There are nearly three dozen CAD programs on the market that work like AutoCAD, but there is only one that comes close to AutoCAD's market size. Autodesk executives speak of 10–12 million versions of AutoCAD in use, of which 3/4 are, they suggest, pirated ones. So it may come as a surprise to learn that German software developer Graebert claims 10 million downloads of its Ares Commander DWG editor and variants—80% of which were free downloads of the ARES-based DraftSight from Dassault Systèmes. (Graebert found its success in OEM'ing its software to other companies.) I say were, because the free version is disappearing in January, and so the number of paid licenses is closer to two million.
Whether ten or two, the number is impressive, and enough for the CAD media to take notice when the company in November held its Annual Meeting in Berlin. Ares Commander is a solid 2D DWG editor but is weak in 3D. ARES instead gets its glamor in being the only CAD program in the world to operate on six operating systems:
ARES Commander software is for the desktop and runs on Windows, MacOS, and Linux
ARES Touch app is for portable devices, and runs on Android and iOS
ARES Kudo app is for the cloud, and runs in any modern Web browser
Given that ARES is weak on 3D, it came as a surprise to us to hear Graebert executives reveal their next big push: the data-complex hardcore 3D world of BIM (building information modeling). The decision is the result of four events that took place.
Graebert isn't actually ignorant about 3D. They have a division, iSurvey, that surveys the interiors of buildings for large landowners, such as the Catholic Church and the city of Hamburg. The surveys are made with their SiteMaster software, which, since 2013, has been outputting the collected 3D room data as IFC (industry foundation classes) files—the default exchange format for BIM software.
Then, a couple of years ago, the Open Design Alliance decided to target the BIM market with its reverse engineering effort. Today, it has SDKs (software development kits) for reading Revit's file formats RVT (models) and RFA (parts), and it is working with buildingSmart (the keeper of the IFC format) to specify future additions to the IFC specification, as well as provide read-write libraries for IFC files. The ODA hopes next year to offer SDKs that write Revit files, and then add the ability to create and edit Revit entities.
More recently, Graebert's involvement with five of the largest construction firms in Japan raised the company's awareness of a need for BIM capability in ARES Commander, which, surprisingly enough, these firms use in the thousands. (Graebert claims 20,000 seats of ARES have replaced AutoCAD in this market.) These customers did not want a BIM clone; they already had Revit and capable Revit operators. They did, however, want support for BIM tasks including support for BIM formats such as RVT and IFC without needing Revit and so reduce the annual license fees associated with Autodesk's software, as well as have something that does a better job than Revit in the areas of documentation and data massaging. Cedric Desbordes, business development and marketing director at Graebert, points out that there is a great deal of detail captured in 2D CAD that can be fed into BIM, and Graebert is working on making it accessible in meaningful ways.
Information from Bricsys and Graebert indicates that fewer than 20% of AEC firms use BIM; the rest rely on CAD.
For Graebert, it added up: IFC experience + easy RVT and IFC access + customer demand + big market opportunity = BIMflow, an add-on to be released when ARES Commander 2020 ships in late January. The first release of BIMflow is rudimentary, but Graebert told us it has a road map for adding functions for release later in 2020—especially once the ODA makes Revit data more accessible.
The initial BIMFlow performs these tasks:
Imports RVT and IFC files
Examines read-only IFC properties with Properties panel
Toggles elements of BIM models with the new BIM Navigator panel
Extracts IFC data in CSV format to create in-drawing tables for quantity take-offs and reports
Generates 2D sections of BIM models
The workflow with the first release works like this: use the BIM Navigator panel to open one or more RVT and/or IFC files. Use the new BIMmove command to position the BIM model in the drawing, if necessary. Use the new BIMsection command to slice through the 3D model to create sections and elevations. Export IFC data using the new DataExtraction wizard. Graebert staff demonstrated all this to us using beta software that still is being developed.
In future releases of BIMFlow, Graebert plans fill-in obvious functions like exporting models in IFC format, editing IFC properties in the Properties panel, and linking changes in drawings back to BIM models. The more complex tasks of editing BIM models and writing RVT files have to wait until the ODA makes these capabilities available—and if customers indicate they actually want them.
Graebert seems to have the financial resources to pull this off. It puts nearly 60% of its revenues into R&D (research and development). It has struck 10-year OEM agreements with major software companies, like Corel Software, Dassault Systèmes, and PTC-owned Onshape with minimum annual payments. With that kind of guaranteed future income, it can afford to make long-term development plans, more so than any other CAD vendor.
BIM will not be limited to the desktop software. Graebert told us that BIMflow will next become available on their Kudo software for Web browsers, and then in Touch for portable devices. The demand is there; one Japanese construction company runs ARES on 2,000 iPads on its construction sites worldwide.