Announces new investments in Brigit Solutions, Factory OS, and the acquisition of Pype.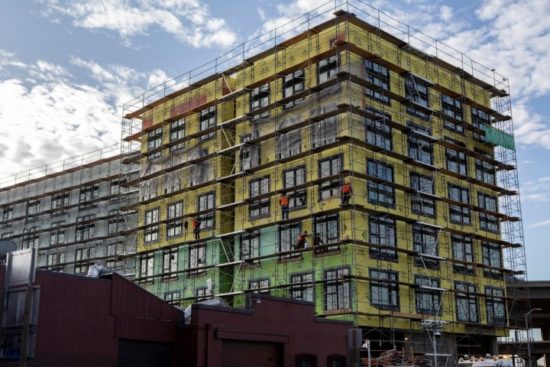 Autodesk has been hell-bent on its plan to build out its tools for the construction industry and let's just say upfront, it's a good plan.  There's a great deal of work to be done in construction and benefit to gain.
Most recently, Autodesk has announced an investment in Brigit Solutions and further investment in Factory OS. Autodesk company has also announced the acquisition of Pype, an AI-powered construction management tool.
Autodesk is investing $7 million in Canada-based Brigit Solutions which builds workforce planning software. It's a young startup founded in 2014 by Mallorie Brodie with COO Lauren Lake. The company began with its Brigit Field application that transfers a punch list to a phone. Just the simple act of putting information in the pockets of workers on-site makes a tremendous difference and it seems to dovetail with Autodesk's ambitions for the construction industry. Autodesk wants to make all the construction related information on a project available in its Construction Cloud network of applications.
Brigit's portfolio of products has grown and the company's most recent introduction is Briget Bench for workforce planning. The collection of tools can provide information on workforce utilization rates, contracts under management, hiring, planning, and forecasting. Brigit's tools will be integrated into Autodesk's Construction Cloud. Brigit plans to use the funding to invest in product development, research, and expanding strategic partnerships.
According to an article in VentureBeat, Brigit has raised $15.7 million to date. Autodesk's $7 million deal with the company includes contributions from Salesforce Ventures, StandUp Ventures, Sands Capital, and Export Development Canada (EDC).
Autodesk also announced the acquisition of Pype, a company with AI technology for process automation in construction. The company's customer list includes Barton Malow, JE Dunn, McCarthy, Mortenson, and Skanska among others.
Pype can reduce manual data entry tasks. The software uses AI, machine learning, and analysis to extract relevant data to flow into project plans and specifications.  Pype's products will be pulled into Autodesk's Construction Cloud.
Pype's product suite includes:
AutoSpecs—Allows construction professionals to generate submittal logs in a matter of minutes
Closeout—Accelerates the construction closeout process via an easy-to-use, centralized dashboard and automated document collection
eBinder—Automatically converts hundreds of closeout documents into a fully indexed, hyperlinked and searchable turnover file
SmartPlans—Extracts submittals, product schedules, and contract compliance requirements from drawings
Autodesk says it expects to close the deal during Autodesk's third quarter of fiscal 2021, ending October 31, 2020. The company says the deal will have no material impact on Autodesk's second quarter and fiscal year 2021 guidance.
Factory OS gets more love
Factory OS is everybody's darling. As we wrote last year, the company's ambitions are nothing less than reinventing the construction industry by incorporating manufacturing methodologies. Factory OS brings much of the construction practice indoors to build component parts of the construction on an assembly line that can then be taken to the site and assembled. In the case of The Union project in Oakland, California, the construction team on site was able to stack whole floors of the five-story building on the site. The company says it can lower prices by 20% and increase building time for 40% with 70% less material waste.
What do we think?
Autodesk's effort to modernize construction has the potential to significantly grow its business and that's what the company has focused on to the extent that the AEC group has put in less work and less marketing into Revit. Architects have registered their displeasure, but Autodesk is on the hunt for increased revenues so it will continue to expand into new sources of revenue.
Others are also zeroing in on construction. Bentley and Trimble have very strong businesses in the sector, and they have considerably more longevity in the field. Dassault Systèmes has been itching to get a piece of the AEC action and most recently they've invested in modular construction in a deal with Bouygues Construction.
Construction is a field that will flower at the end of these dark days.
Read more…
New models for new cities: Factory OS attracts new investment for construction R&D