The workstation Apple refuses to call a workstation.
Apple's new Mac Studio, clawed out of a single aluminum extrusion, measures 7.7-inches square and 3.7-inches tall—designed to fit nicely under a display. Two fans on top draw air up from the circular vent on the bottom, pass over the PSU and motherboard and exhausted out from the back. It should be relatively quiet, but Apple hasn't released any decibel values yet.
The little silver box has a lot of holes in the back (under the exhaust vent).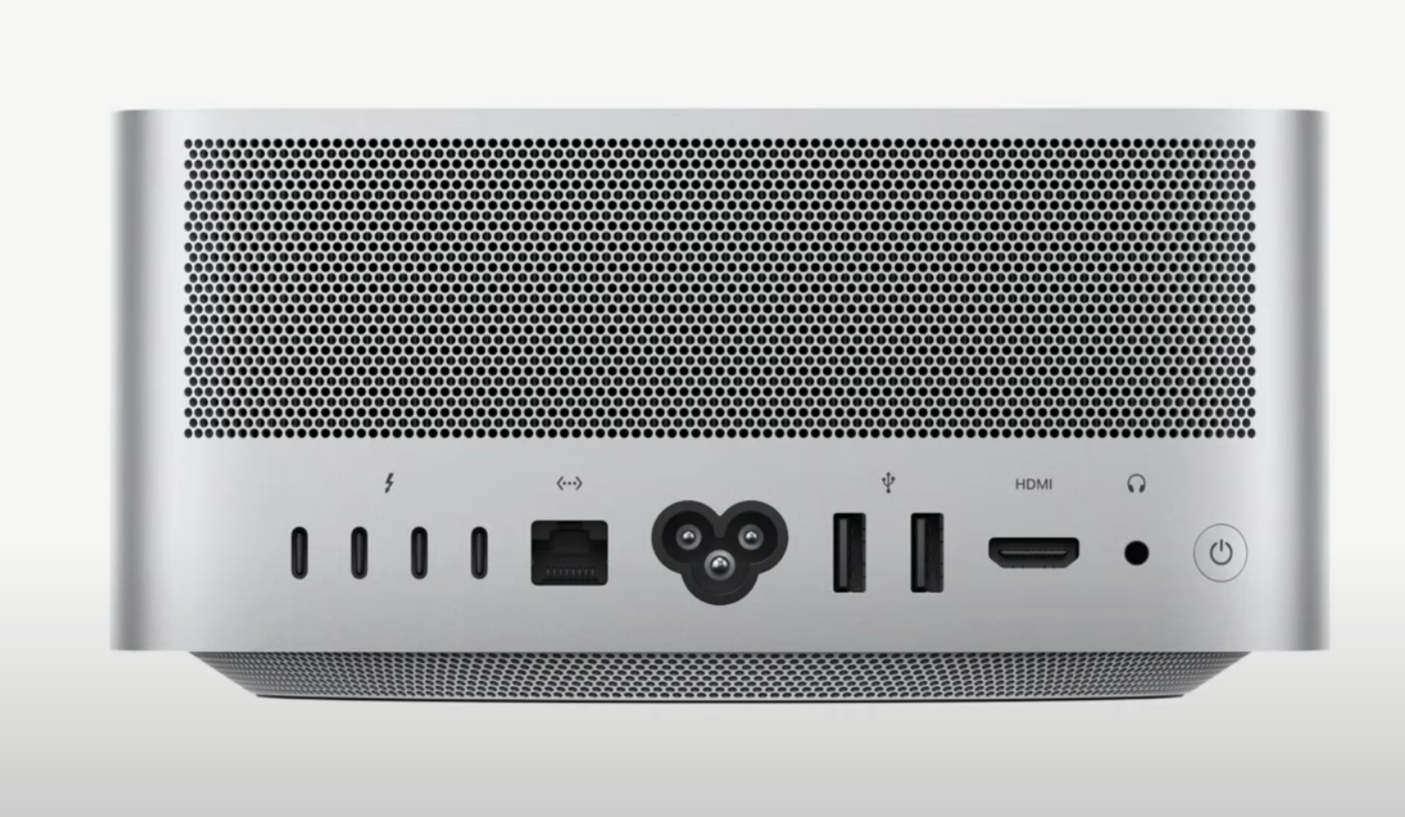 There are four Thunderbolt ports on the left for monitors and high-speed external drives or network stuff, an RJ45, two USB-A ports, an HDMI, and a high-impedance earphone jack (unlike an iPhone, Wi-Fi 6, and BT5). There are two 10GB/s USB-C ports or 40GB/s Thunderbolt 4 on the front, and an SDXC card slot. You could hang four 27-inch Pro monitors off the Thunderbolt ports in the back, plus a 4K TV from the HDMI port—that would give you 90 megapixels (MP).
Apple says the tiny but mighty Mac Studio is 50% faster than a Mac Pro with a 16-core Xeon, and its graphics are 3.4 times faster than an AMD Radeon Pro 5700 XT. And a Mac Studio is, contends Apple, 60% faster than a Mac Pro with a 28-core Xeon. And even though it's not a workstation, it can beat a Mac Pro with an AMD Radeon Pro W6900X by 80%. It embarrasses iMacs, which are 2.5 times slower, says Apple.
You can stuff up to 128GB of RAM in the little box and up to 8TB of SSD.
And the Mac Studio can spit out 18 streams of 8K ProRes 422 video. There is no other computer in the world that can do that, says Apple.
Pricing for the Mac Studio with the M1 Ultra starts at $4,000.
Studio display
The 27-inch monitor offers 14.7 MP (218 PPI), making it a 5K Retina display with 600 nits of brightness and a P3 wide color. It also has true tone for more natural viewing and an anti-reflective coating, as well as a nano-texture glass option to scatter light for further minimized glare.
The monitor has an A13 Bionic chip in it to drive the 12 MP ultrawide camera, plus the three-mic array for videoconferencing and the six-speaker sound system with four force-canceling woofers and two tweeters. The A13 offers spatial audio and Dolby Atmos.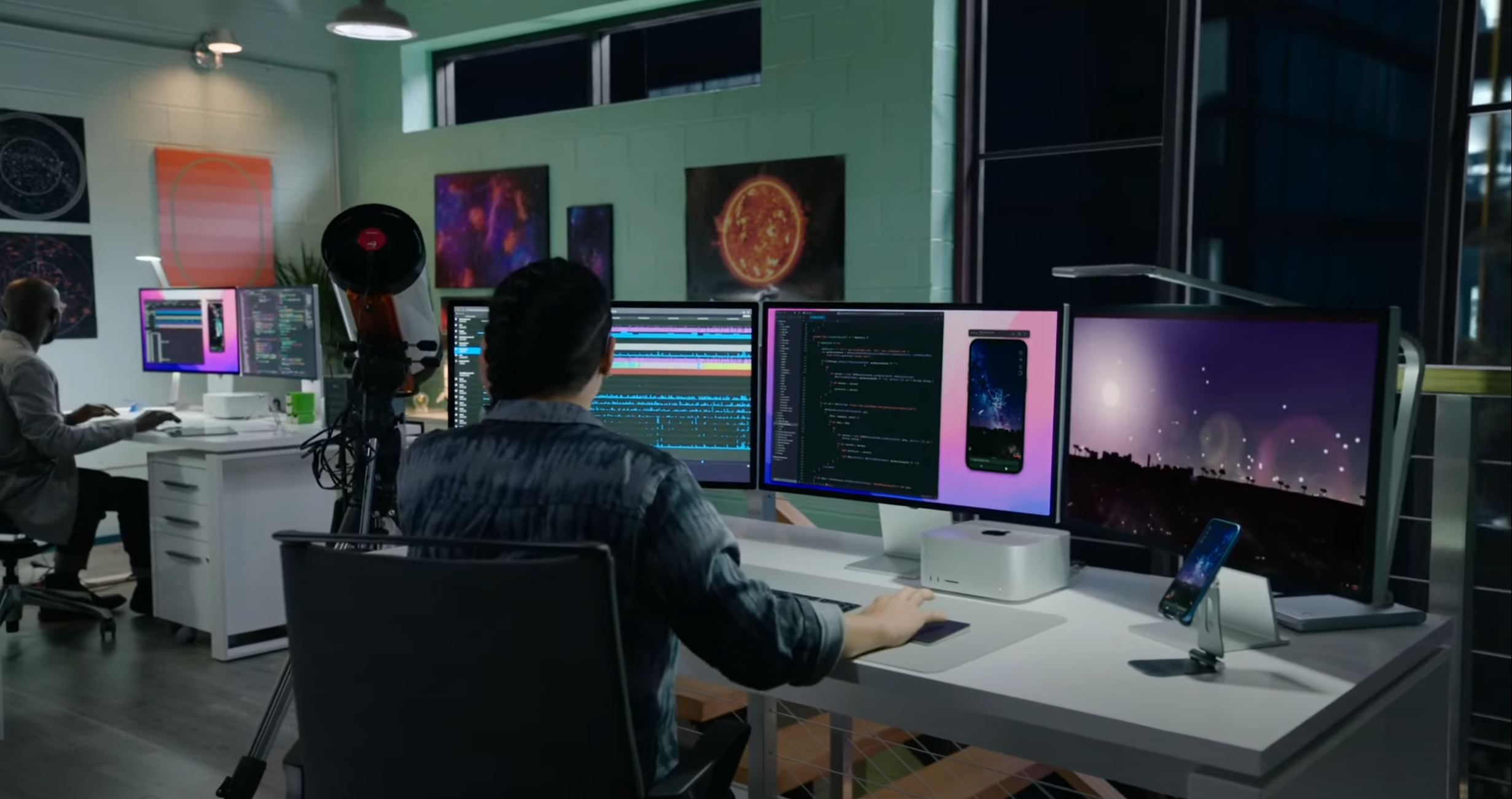 The monitor has three 10GB/s USB-C ports and a 96W charging Thunderbolt port.
It is a tiltable display of 30 degrees but at a fixed height, or you can buy the adjustable height stand.
The price starts from $1,600 for a tilt-adjustable stand, and $2,000 for a tilt- and height-adjustable stand. The nano-textured glass option is available for $1,900.