The new release features time-saving tools for accelerating BIM workflows.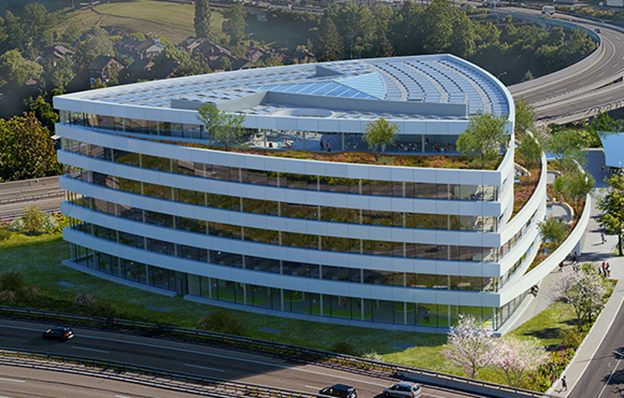 Data and time management are both important elements in BIM workflows. When Vectorworks last month released a new version of its CAD and BIM software, they concentrated their efforts in those areas, adding new tools and enhancements to their Vectorworks 2023 that will increase efficiency by automating certain tasks and decreasing the steps required to perform certain functions. Collectively, these improvements will help accelerate BIM workflows, provide improved interoperability, and more. The new release also makes data more accessible and easier to manage for more efficient and precise modeling and documentation.
Over the years, Vectorworks has become an all-in-one solution for designers where they can sketch, model, present all in the same platform. Last year's Vectorworks 2022 contained large-scale developments, particularly to the software's core technology and interface. With Vectorworks 2023, the company is focusing on everyday performance improvements that accelerate various processes throughout the workflow. This includes time-saving features that automate processes by lessening the amount of manual work that's required, so technology is more helpful, not a hinderance.
Enhancements to the user experience begin at the very start, making it easier to begin a project, and then continues by making tasks faster and the workflow less disruptive. When the software is opened, the new Home screen serves as the single source for getting started, learning, training, and more.
The new Offset Edge tool provides a streamlined and smooth 3D modeling process with offset edges and push/pull faces from both planar and non-planar surfaces for faster modeling and efficient design exploration.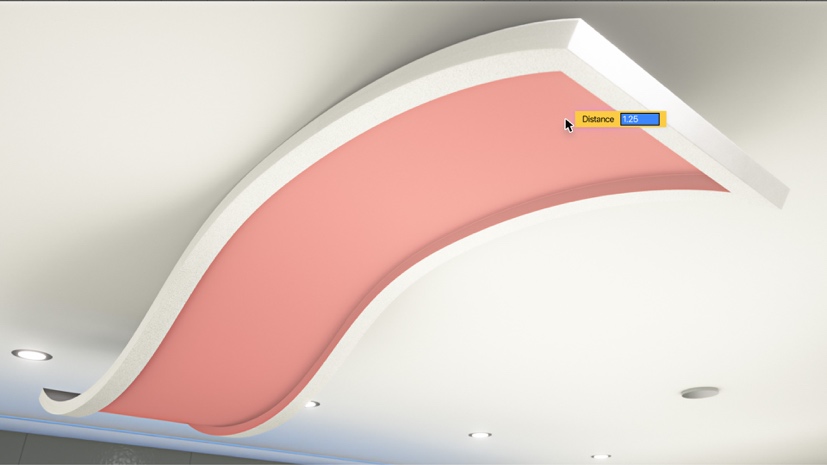 Updates have been made to the Shaded Render Mode for supporting an unlimited number of light sources, environmental lighting and reflections, and object reflections. This provides designers with a realistic working rendering mode to help them make more informed design decisions and provide a better-quality rendering.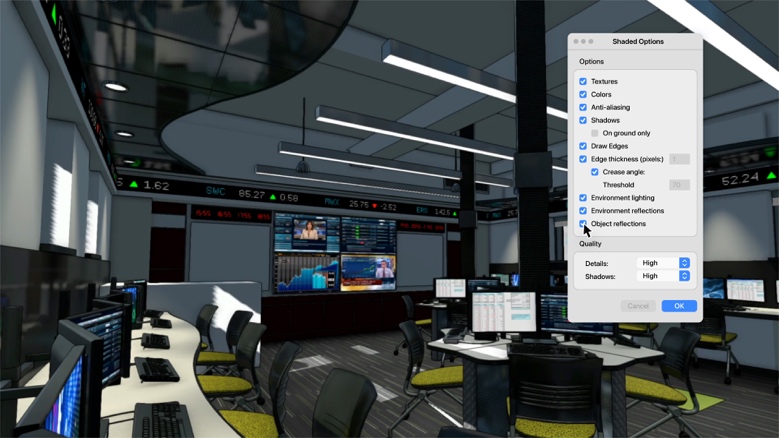 For BIM workflows, core architectural objects have been re-engineered and modernized to be more intuitive through all phases of a project, reducing the amount of manual work needed to create and edit day-to-day documentation. Historically, creating object type and drawing key legends have been labor-intensive processes, prone to errors and taking up a significant amount of designers' time. The new Graphic Legends tool helps alleviate those challenges, says Vectorworks, as the smart tool completely removes the manual process of creating graphic legends and automatically coordinates resources used to provide an easy editing and customization process, ensuring the accuracy of legends and drawing keys for documentation.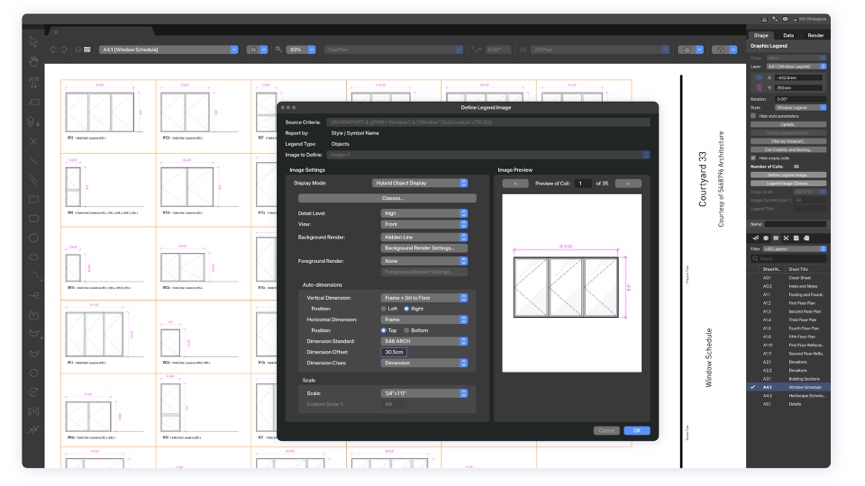 In addition, door and window objects can now be created and edited by simply drawing a rectangle on the face of the wall in 3D or a line spanning the opening in 2D. They can also be interactively edited, making modeling and updating easier.
Faster generation of section viewports has also been improved to streamline documentation workflows. These will now take advantage of the Vectorworks Graphics Module, moving calculations and processing to the background. The company maintains users will see viewport updates that are up to six times faster, and they will be able to continue working on other tasks at the same time.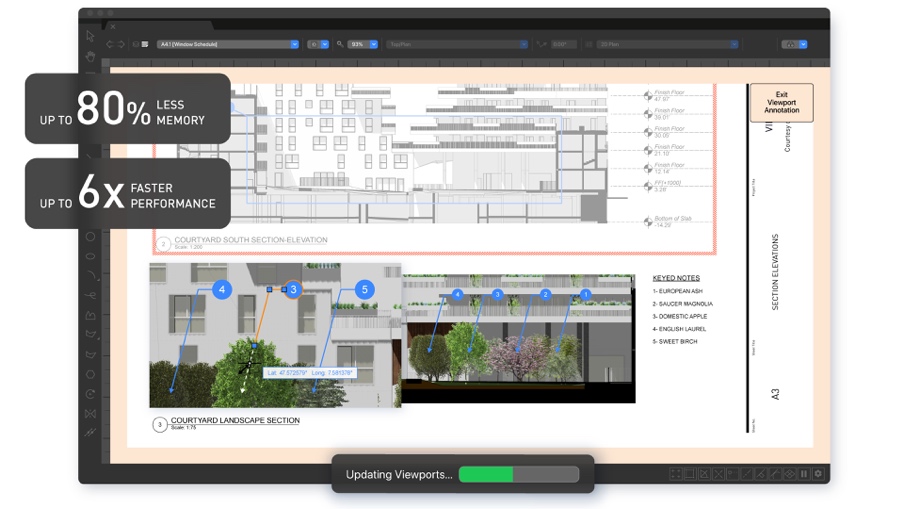 This focus on efficiency spans the Vectorworks 2023 product line, which includes Vectorworks Fundamentals, a 2D and 3D modeling and documentation platform; Architect for architects; Landmark for landscaping design; Spotlight for designing, documenting, and producing shows and events; Vision, a stand-alone product for previsualizing show and event designs; as well as Spotlight add-on modules Braceworks for suspended rigging system verification and ConnectCAD for AV design. Vectorworks Design Suite is all-encompassing package for those who work with cross-disciplinary projects. Built on Vectorworks Fundamentals, the suite contains the capabilities of Vectorworks Architect, Landmark, and Spotlight, with one software interface.
All Vectorworks products run natively on macOS and Windows platforms. Monthly and annual subscription pricing varies according to the product.