Adobe has itself a modeler…like no other.
Adobe's 3D and Immersive (3D&I) group has announced the addition of Oculus Medium to an emerging portfolio that includes Dimension, Substance, and Aero, tools that complement Adobe's flagship products Photoshop and After Effects.
Facebook's Oculus Medium was introduced to the world along with the Oculus controllers in 2016. It differs from other 3D paint tools like Facebook's Quill and Google's Tilt Brush because it is more of a sculpting tool than a painting or illustration tool. It's voxel-based and artists have been experimenting with Medium for character animation, creating environments, and objects.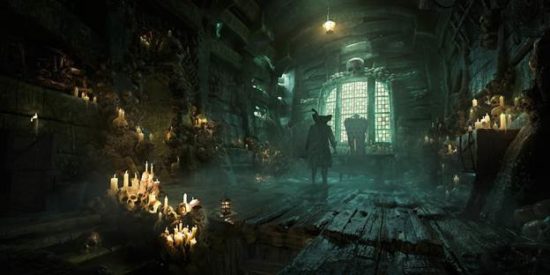 The deal was announced through an open letter from Sebastien Deguy, Adobe's head of 3D&I. Deguy notes that Medium has a thriving community and he sees the acquisition as a way to "meaningfully accelerate our 3D and immersive efforts." The Medium team will join Adobe, and, says Deguy, "the Substance and Medium teams are ready to work together on the next generation of 3D tools."
The Medium team also posted a blog. They say Medium has been used by AAA game developers, indie VR developers, feature film concept artists, VFX artists, makers, etc. They say, "our goal was to explore VR applications beyond gaming and give artists across the globe a new way to create. Since then, we've seen an amazing community of professionals and amateurs alike embrace VR and incorporate Medium into the production pipeline. We even launched a season of esports dedicated to competitive sculpting."
The sale to Adobe, says the team, "is an important milestone for the entire VR community as it demonstrates VR's maturation and value in the realms of productivity and non-gaming use cases. We look forward to Medium's continued evolution in the years to come as Adobe works to advance the field of 3D modeling.
Adobe has been talking about its advanced 3D tools, and Medium could be just the sort of thing Adobe has been looking for. A modeling tool of its very own. It's no secret that Adobe has been grappling with the challenge of 3D content creation because the company clearly wants to build in more 3D authoring, but it wants to do it in its own way;  to be inclusive of its millions of creatives already using Photoshop, Premiere Pro, and After Effects.
An obviously great idea, VR content creation tools have not lived up to their promise and for the usual reasons. Modeling and sculpting, even if it better conform to real-world physics, are hard. Art is hard. And machines have their own challenges interpreting the real world in raster and vector terms. On the other hand, the ability to create a 3D model within a 3D environment shortcuts the translation that has to happen in traditional 3D modeling as one creates 3D in a 2D environment—the flat plane of the display.
Meanwhile, Medium has had kind of a rough childhood in the game-centric Oculus environment and Facebook's culture of thrive or die. In 2017, Facebook shut down its VR Story Studio after only 2 years of operation. Story Studio had been founded to create non-game content to expand the market for Oculus headsets. The studio produced a cute children's story in Henry about a lonely porcupine and Dear Angelica, painterly expression of a child's imaginative journey. Oculus Quill, another 3D painting tool from Oculus was created in the production of Dear Angelica and is still available from Oculus. Facebook is still working with Quill to create a VR animation tool.
VR Story Studio barely had a chance to get off the ground. Authoring tools like Medium and Quill were supposed to be part of an ecosystem for creatives and enthusiasts but the content market needed considerably more nurturing than the Facebook/Oculus execs had to give. Games still rule at Facebook and, in fact, Facebook announced the acquisition of Prague-based Beat Games at the end of November. The company authored Beat Saber, a music game, which has sold over a million copies at $20 each. The plan is for Beat Games to develop more in-house music games.
Made for each other
So, back to Medium, which seems to have found a nurturing home at Adobe. The software will still be available at the Oculus Store, but the Medium team promises more features and improvements coming in 2020, thanks to the commitment and resources of Adobe. This is all to the good for the Medium content creation community, which might have been feeling a bit abandoned. Facebook had introduced a 2.0 version of Medium in June 2018 but it's been relatively quiet since.
Medium is a layer-based authoring tool that uses stamps and brushes to give artists the ability to customize and reuse processes. Artists working in Medium are already using Substance materials to give their models richness and detail. In the process of researching this story, we've found examples of people combining 3D models made in Medium with 2D backgrounds created in Photoshop. And, we found models textured with Substance and animated in Adobe's Mixamo and composed in Unreal, like this one created by Pablo Melchor.
Clearly, Adobe has found an avenue to 3D modeling that might be more comfortable for people used to working in Photoshop and an easy transition for those pioneers who have mastered Medium.
What do we think?
As of now, Medium only works on Oculus headsets. Because it is a voxel-based tool, the models created in Medium can be pretty heavy. Characteristically, models are blobby. It's hard to control finer shapes. Also, In order to be used in other platforms, models made in Medium have to be exported to OBJ files.
There's a lot for Adobe to work with here but there are also a few questions. Number one of which seems to be, how many people will want to don headsets in order to model. We're wondering how Adobe might streamline the process of making models created in Medium portable to other programs within the Adobe portfolio and also for game engines. And, oh yeah, we haven't mentioned pricing and accessibility to Creative Cloud users but because Adobe and the Substance team are still pondering those questions for the Substance products, we're not expecting a fast answer.
Medium has definitely found a good home but the acquisition sure raises questions about how Adobe plans to bring its disparate 3D tools together.
Further Reading