Codenamed Skofield, the cloud-based application is targeting aerospace, automotive, and architecture.
Virtual reality (VR) applications developer WorldViz has introduced a new VR-based communications platform for such complex visual tasks as collaborative interactive design review. Codenamed "Skofield," the platform was presented in public for the first time this week at Autodesk University in Las Vegas.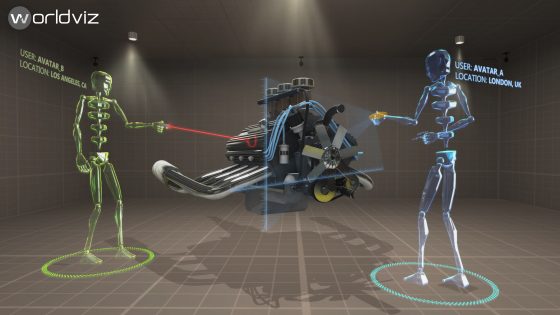 "Accurately conveying visual ideas to remote decision makers is still a huge challenge for companies," says WorldViz CEO and co-founder, Andrew Beall. "We see it all the time — modern communication technologies such as telephony, video conference calls, and PowerPoint sharing simply can't bring people together in a collaborative setting or enable decision makers to experience complex concepts, designs, and spaces first hand. Companies are spending a staggering $1.25 trillion globally on business travel to circumvent this limitation. We believe Skofield is the answer to that challenge."
WorldViz describes Skofield as a GoToMeeting app inside a head-mounted display. The idea is to take advantage of VR's ability to make someone feel "present" in a virtual location. The initial pitch is for manufacturers with high-cost/high visibility products, such as automotive, aeronautics, and architecture.
Skofield has two main elements: creation and experience. Designers can use Skofield's Presentation Designer software to assemble a VR presentation by dragging and dropping elements into the WYSIWYG editor. Presentation Designer will also allow the presenter to modify the presentation by setting proximity triggers, defining which objects have interactivity, and more. In addition to creating virtual spaces and interactive objects, presenters can also insert PDFs and PPT slides, such as training manuals or product fact sheets, to support a presentation.
After the presentation is created, attendees are invited to join a session. A set of tools will give attendees the ability to interact with the presentation in different ways, such as move around the virtual space, zoom in on or interact with objects, annotate on objects, measure distances, or even use a virtual laser pointer. Skofield also provides telephony for voice as well as gaze tracking, and can record meetings for later reference.
Skofield is being built on WorldViz's existing device-agnostic development software, Vizard. It will support a number of different VR hardware configurations using Vizard's built-in feature, VizConnect. Initially Oculus Rift and HTC Vive will be supported, as well as the current 3D displays, CAVE projection systems, input devices, and mobile devices WorldViz already supports. Other headsets will be added over time depending on demand.
Skofield will be distributed as a cloud-based solution, but can also be set up on a company's existing servers for highly sensitive environments. Pricing for Skofield will be announced at a later date.