X86 is a major platform of choice
By Jon Peddie
The gaming hardware market is huge, and bewildering because of its diversity and the marketing hype associated with it. We've been monitoring and measuring the gaming market for over a decade, and felt it was time to share some of our findings and clear up some of the misunderstandings about the market and the suppliers. The major take away is that when x86-based gaming is examined, AMD is the clear winner.
Gaming falls into several camps, device size, main processor type, OS, screen size, budget, time spent, etc. The gaming community is so large; no single demographic can define it.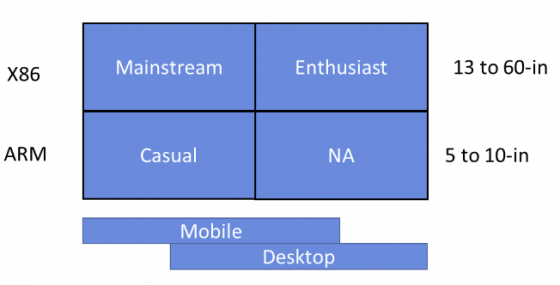 Partial demographic of the gamer community
Gamers also typically enjoy their hobby multiple ways, including owning multiple game consoles, PC gaming, and gaming at iCafe/net cafes and arcades.
For this report, we are looking strictly at x86-based machines used for gaming. Those machines fall into three platforms, consoles, notebooks, and desktops. And although some x86-based tablets were made and presumably could be used for gaming, we categorize them the same as an ARM-based device running Android, or a smaller version of windows, and are not included in this report because the gamer profile tends to be the same.
We define the market as consisting of three types of players: Enthusiast, Core gamer, and casual gamer. Included in the enthusiast class would be the professional gamers who play in tournaments for prize money or sponsorship. We do not make any distinction about gender, nor do we make any distinction about age, or geographic location. Generally speaking, these categories have to do with the amount time the gamers spend playing computer/video games, and the class or type of games being played.
The equipment a gamer has will depend upon his or her economic situation, so an Enthusiast may only be able to afford entry-level or mainstream equipment, or a last generation console, where a high-end gamer will have the latest PC, graphics add-in board (AIB) and/or the latest console; in between is the midrange equipment.
The hardware tiers are:
Entry-Level

(Mainstream)

Mid-range

(Performance)

High-End

(Enthusiast)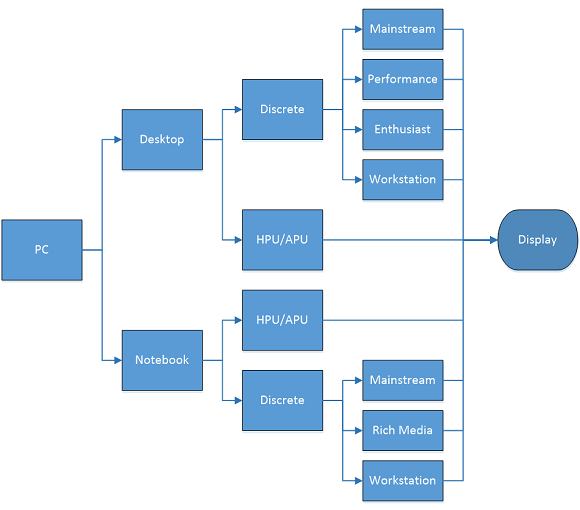 The tiers for gamer time commitment are:
Light

Moderate (Casual)

Intensive (Core)

Extreme (Enthusiast)
To arrive at the equipment in use, we looked at the installed base of the latest consoles (Microsoft Xbox-One, Nintendo Wii and Wii U, and the Sony PS4). We also looked at the installed base of AIBs used for gaming and acquired over the past three years. And we looked at the installed base of integrated graphics in Notebooks (AMD APUs, Intel integrated).
Not all graphics AIBs go to gamers, but a good percentage of them do, and not many notebooks (with integrated graphics or discrete GPUs) are used for gaming. However, all consoles are used for gaming.
To arrive at the gaming AIBs model, we used the following diagram.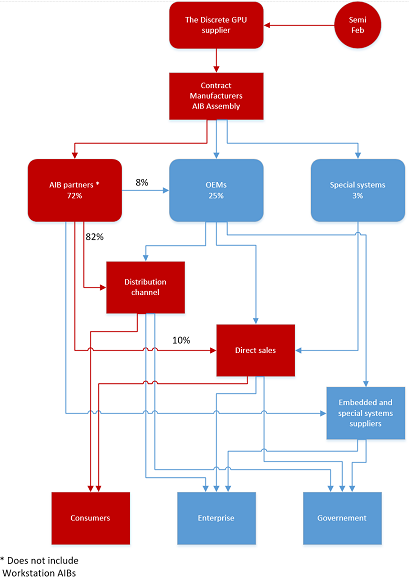 Based on Steam user data, we conclude that 16.5% of desktop machines used for gaming are using Intel integrated graphics (Southeast Asia represents about 6.5 percent of Valve's global Steam gamers). Steam data does not differentiate desktop from notebook integrated graphics. Therefore, we applied the same percentage to Intel for notebooks and based on the AMD to Intel integrated notebook ratio (our quarterly data collection of mobile integrated GPU shipments), normalized AMD's notebook integrated gamer utilization.
We also used Steam data to estimate the market share for AMD and Nvidia mobile discrete GPUs used for gaming based on our quarterly data collection of mobile discrete GPU shipments.
We used company financial reports to arrive at the shipments and installed base of gaming consoles.
 PC Data
For the past seven years, the three major vendors installed base of GPUs for PC gaming declined slowly following the PC's decline.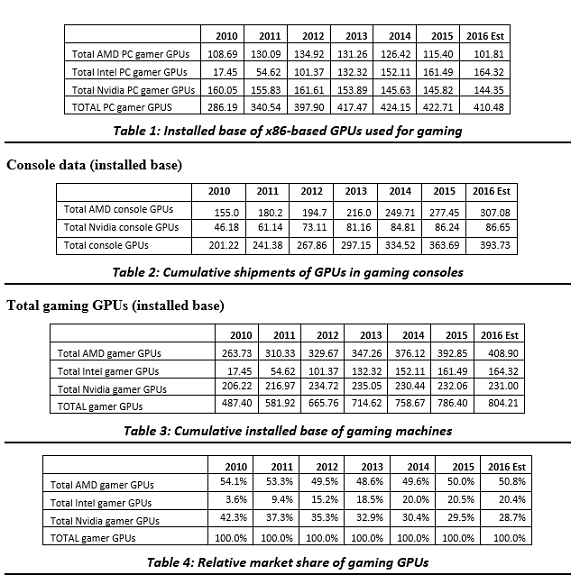 The total gaming GPU systems installed today amount to over 800 million as shown in the following chart.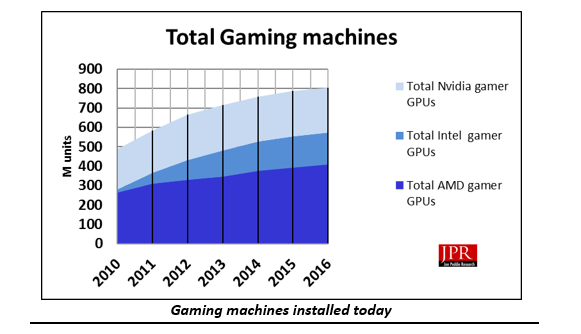 The list includes PCs used in gaming, PS3, PS4, PS4 pro, Xbox360, Xbox one, Wii, and WiiU.
If you just look at ×86-based gaming machines, you get the following chart.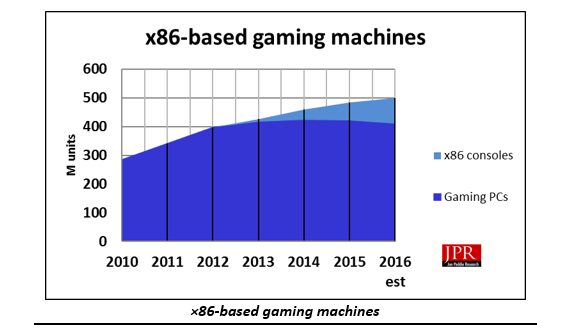 The list includes PCs used in gaming, PS4, PS4 pro, Xbox360, and Xbox One.
With the gaming GPU hardware market being $30 billion dollars in 2016, growing to $33+ billion in 2019 the market opportunity is very large. The total gaming hardware market is even larger—over $290 billion in cumulative sales.
The gaming community of players using x86 consoles and PCs has over 800 million people participating in 2016, growing to 875 million in 2019. It is no wonder we pay special attention when it comes to the balance of power in gaming. Developers too should do the same as they often make significant business decisions when deciding on the platforms that they are targeting.
What do we think?
Intel is the volume leader in shipping integrated GPUs in the PC, however, only a small portion of them are used in gaming, Nvidia is the leader in discrete GPUs in the PC.
However, when we look at the x86 console and the PC market as a whole, the numbers above tell an interesting story. More gamers are playing on Radeon graphics than Intel and Nvidia combined. AMD's position in game consoles combined with a strong position in the PC market puts it in unique, market leading position when it comes to gamers. And that is a great position to be in when you think of upcoming gaming possibility of VR coming to market.
Jon Peddie is President of Jon Peddie Research, which publishes GraphicSpeak.