The maker of CATIA and SolidWorks reported revenue up 38% in the third quarter, with profits up 44%. The fall of the US Dollar boosted the bottom line.
By L. Stephen Wolfe, P.E.
Contributing Analyst
[Editor's Note: The Euro-to-Dollar conversion in this article is 1 = $1.38, the rate on October 29.2010.]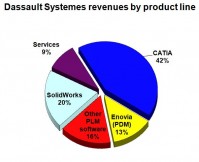 Dassault Systèmes reported another eye-popping year-to-year revenue increase of 38% in the third quarter of 2010, ended September 30, 2010. Profits soared 44% to €55.4 million ($76.87 million) on revenue of €403.6 million ($560 million). But as we observed three months ago, much of that increase was generated by Dassault Systèmes' purchase of IBM's PLM sales organization. (See "Dassault Systèmes Revenue Growth Less Than Meets the Eye.")
Adjusting 2009 revenue for the €45 million ($62.4 million) IBM's PLM unit brought in last year, Dassault Systèmes revenues grew 20% year-to-year. The revenue increase from IBM accrued exclusively to Dassault Systèmes so-called PLM software line that makes up 80% of its revenue. Taking the financial statements at face value, PLM sales soared 47% from 2009. Adjusting for the IBM component, they rose 20%. This increase is healthy compared with second quarter adjusted growth of 3% in the PLM software brands.
The fall of the US Dollar relative to the Euro also boosted Dassault Systèmes' year-to-year revenue gains. When converted to dollars, the company's total revenues rose 25% in Q3 versus 16% in the second quarter. When converted to dollars and adjusted for the IBM purchase, Dassault Systèmes' revenues rose 8%, roughly the same as the 9% rise reported by Parametric Technology in the same period.
Asian sales rose €18.6 million ($25.8 Million) compared with the second quarter, bringing the fraction of Dassault Systèmes Asian revenue to 28%, a record. Dassault Systèmes SolidWorks brand also turned around, breaking 10,000 unit sales for the first time in six quarters. SolidWorks quarterly revenues broke the $100 million mark for the first time since 2008 and hit €80 million for the first time in its history.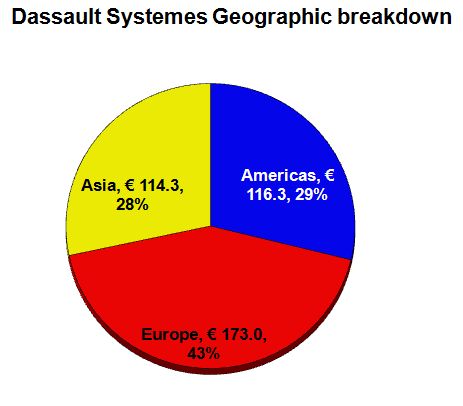 The much-discussed turnaround in durable goods is clearly benefitting both Dassault Systèmes and rival Parametric Technology. As product sales turn up, customers are again investing in new CAD seats and PDM software.
The long-term consequences of Dassault Systèmes' purchase of IBM's marketing arm have yet to be fully understood. By the second quarter of 2011, Dassault Systèmes' year-to-year sales increases will no longer benefit from the IBM PLM acquisition. That much is clear.
What's less clear is the effect on CATIA and Enovia sales of the loss of IBM's imprimatur. IBM account representatives had very high connections in the IT organizations of their customers. These connections opened doors for Dassault Systèmes in large accounts and discouraged large customers from defecting during the trying transitions from CATIA V3 to V4 and again from V4 to V5. Now Dassault Systèmes is attempting to pull customers through another transition from CATIA V5 to V6, but without IBM's help.
Meanwhile, arch-rival UGS has become Siemens PLM software. Siemens is a highly respected brand both in Europe and Asia. If CATIA customers find the V5-to-V6 transition too difficult or too costly, they may be more willing to jump to Siemens than they were when CATIA was under IBM's wing.
Siemens also has developed synchronous technology, a method of revising CAD models that were not originally created in its NX (formerly Unigraphics) CAD software. The combination of synchronous technology plus the Siemens brand may cause more CATIA customers—especially those who are still using CATIA V4—to defect than Dassault Systèmes has ever seen before.
The purchase of IBM's PLM marketing arm may or may not increase Dassault Systèmes' PLM revenues in the long run. So far Dassault Systèmes appears to be doing well, but investors should weigh the risks when pricing the company's shares.
Cash per share on September 30, 2010 was $10.83, down slightly from $10.97 three months ago. Dassault cash holdings still top $1 billion.
Six charts follow.
GraphicSpeak Managing Editor Randall S. Newton contributed research for this article.