This year it seemed everyone at NAB has a virtual reality story. Nokia Technologies has gotten out in front in the news with its Ozo VR camera, a large, flashy booth, and very slick content.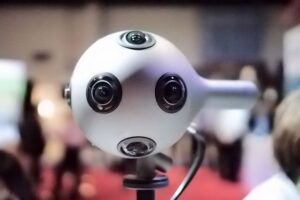 Virtual Reality (VR) has rounded an important turn in its race to mass acceptance. People no longer ask whether the technology will happen, or if it will last. It's happening because so many people and companies have invested in it, and because developers, many of whom have been working on VR and immersive visualization since the 90s, have worked together to build a solid infrastructure for development. Make that infrastructures, plural. The VR industry is branching along several paths: mobile VR, VR gaming, cinematic VR, broadcast VR, professional visualization, etc. All of which argues for a nice ramp for the technology as it finds its place in multiple niches.
NAB offered attendees a VR pavilion off in the far northern desert regions of the convention center. The trek over there was not all that rewarding except for a visit to the Ozo booth. Tracking VR can be a painful experience, when there is so much uninteresting and/or badly made content out there. At NAB people argued that cardboard VR isn't really VR, or that panoramic captures aren't VR, etc. At this stage of the game, everything should be considered, but the quality of content captured by the Ozo camera made a strong argument for professionally produced content. At NAB Ozo showcased its work with Capital Records to capture live performances.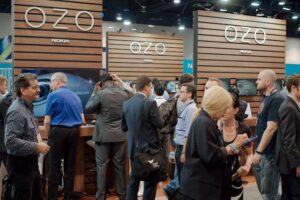 The Ozo demo reel included a custom shoot for TNT's Major Crimes in which 3D audio is used to direct the viewers' attention. What's interesting is that the viewer has a defined place in the room and there is an increased sense of involvement. In his Ted Talk filmmaker Chris Milk says VR is an empathy machine. That was very much a common theme in discussions all around NAB 2016.
Infrastructure building
Just before the kick off at NAB, Nokia Technologies launched sales of the Ozo in Europe. Along with that announcement, it also announced Deluxe and the Foundry as post production partners. At NAB Akamai (content distribution networks) and Elemental (broadcast encoding) were also showcased as technology partners.
Deluxe has created Deluxe VR, a division dedicated to VR that will be headed by Malte Wagener who previously was VP at Deluxe's Method Studios and Company 3. The unit was officially introduced at NAB 2016. Deluxe says the unit has 35 team members but that it can also count on the 3,000 artists working in the Deluxe Creative Artist Group. In a chat at the Deluxe booth at NAB, Wagener said that Deluxe began investigating the future of VR in 2013 with the first rumblings of the Oculus Rift. He said the company began evaluating the technology to see if it was something they should become involved with. Obviously, the company decided they did need to take a flyer on VR. Wagener said, "there's a demand for it," and more important for Deluxe, Wanger said it's the sort of things Deluxe's clients will demand, noting that their client list includes innovative directors.
The Foundry is also building support tools for the Ozo. At this year's NAB, the company announced its new plug-in, Cara, for its Nuke compositor. Cara will support the Ozo as well as other cameras including the Jaunt camera and Go Pro's VR models.
One of the interesting observations from Wagener was that production and post tends to collapse in VR. Unlike the more linear structure that has evolved from traditional movie making, VR requires more collaboration from post from conceptualization to finish. The use of 360-degree content means there's a lot less flexibility for post after capture. In another story coming out of NAB this year, Autodesk and Jaunt announced a collaboration. Jaunt is working with Autodesk's Shotgun team to devise a pipeline and looking at what kinds of tools VR requires.
The message coming from the Ozo booth at NAB is that VR will be many things to many people, but the capture process will be crucial to success.