The wheels aren't coming off, but they are bit out of line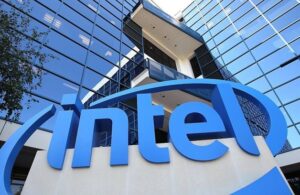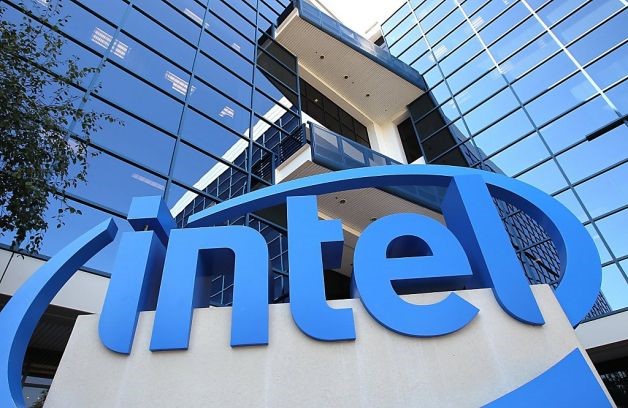 Intel Corporation, one of the best and biggest engineering companies in the world, has had to make a reality check. Those are tough times for any company or individual, tough but essential if you're going to survive. Intel is going to survive, make no mistake about that.
Employment levels, like office space, are things you never can seem to get right when you're running a company, you're always a little short, or have a bit too many in the wrong place no matter how well you plan. Life always throws you a curve, and usually after you've made the purchase. How many presidents and CFOs have said, Damn, and we just signed a 5-year lease. Or, how the hell are we going to keep up with demand if we can't find the engineers?
Big companies deal with that puzzle every day, and they never get it right.
So they react. The bigger companies, with big cash reserves, and a long vision don't panic. They know just because this quarter or even this year are down, things won't stay that way, And when the market goes back up, those engineers you let go, or that building you sub-leased is going to look pretty attractive, and be a lot more expensive to get back. So they wait it out, being accused by shareholders and competitors as being lethargic, out of touch with the times, not nimble.
A trained engineer with 3 to 5 years' experience is worth a lot and tough to find, so you don't toss them overboard every time there's a hiccup in the market. But, when the market just refuses to come back, because people are using cars instead of horses, or electric lights instead of candles, you have to make corrections.
Intel is making that correction, and some will say it's about time, others might say it's too late.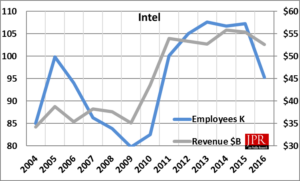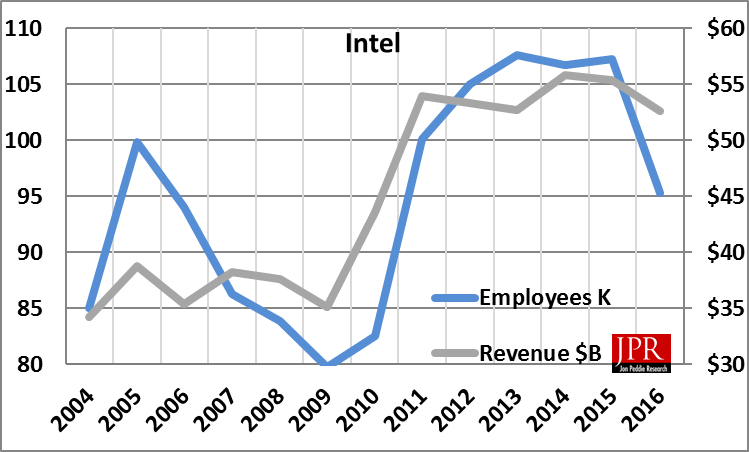 And even though Intel continued to deliver record sales in a declining market, it was pretty clear they couldn't keep that up with the overhead the company was carrying. So Intel announced it will eliminate 12,000 jobs, or 11 percent of its workforce, the deepest cut in a decade, maybe the history of the company, as it adjusts for a fifth year of decline in the PC market.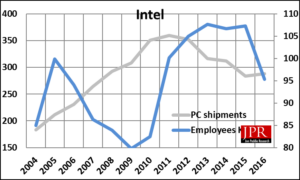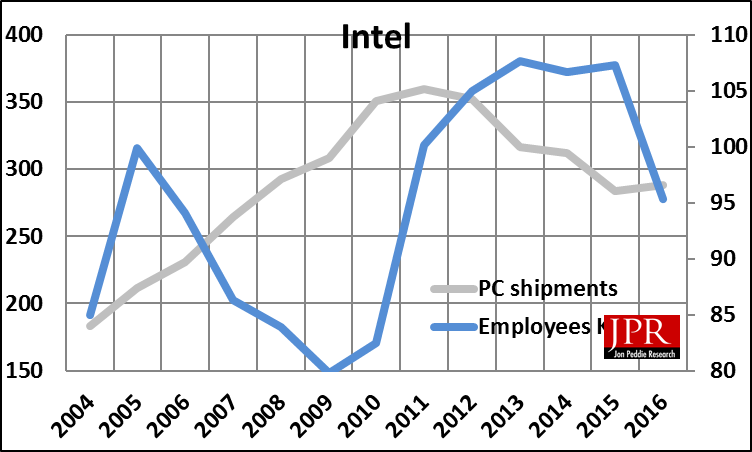 Shipments of PCs, not counting server, amount to more than half of the company's sales. The canary in the mine, well actually there were two canaries, were Kirk Skaugen and Doug Davis who were shown the door a couple of weeks ago.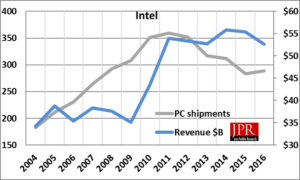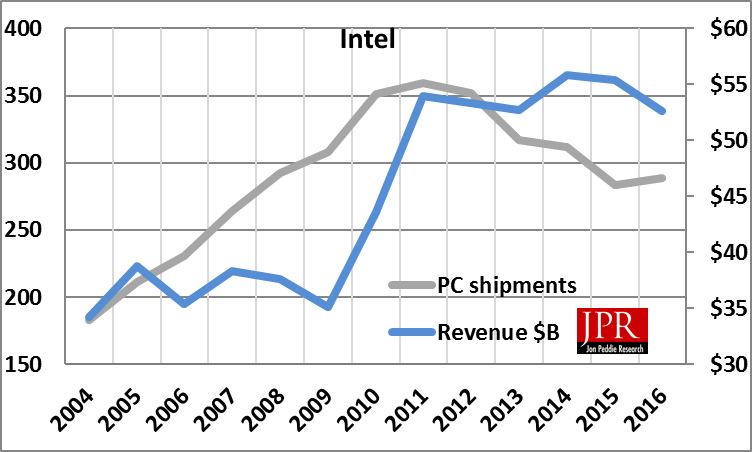 Skaugen, a senior vice president had been managing sales of chips for both PCs and mobile devices, and Davis, a senior vice president who has worked at the company for 32 years had been overseeing the IoT stuff. Aicha Evans, a vice president overseeing Intel's struggling efforts in chips for smartphones also left the company.
Adding to recent reshuffles among Intel's leadership, Stacy Smith, who has been chief financial officer since 2007, will move to a new role as head of manufacturing and sales, the company said Tuesday in a statement. Krzanich said Smith's new role will give him the opportunity to gain more experience in the operations of the company, as he'll be overseeing more than 50 percent of the workforce. That looks like CEO grooming to me.
And whereas it looked as if Intel's share price was doing better than the overall PC market. It was doing much poorer than the overall NASDAQ market index.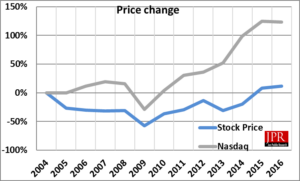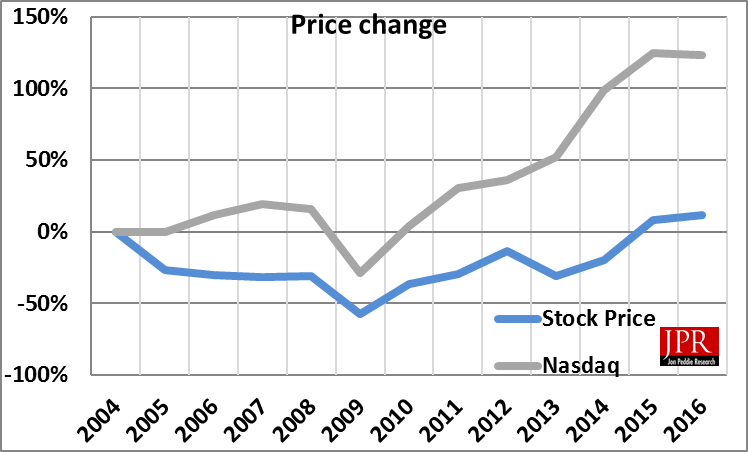 So far Intel doesn't have any hyper active activist shareholders with a big enough stake to force the company to rip itself apart like Qualcomm so agonizingly did. But, with so much cash and a lackluster share price, it's only a question of time until a Carl Icahn, Bill Ackman, or Jeff Ubben shows up at Intel's shareholder's meeting, and when that happens the great company that led the PC revolution will be headed for the history books. So we see this adjustment as a step to thwart that kind of jujitsu take over.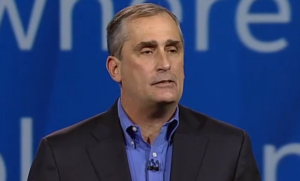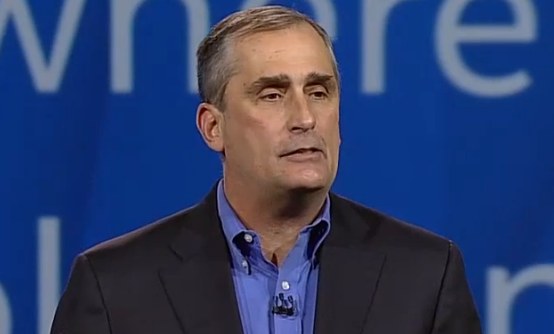 I'll tell you one thing, I sure wouldn't want to be in a car pool with Krzanich right now, he wouldn't be much fun to be with. No one loves engineers more than he, and each and every one of them leaving will take a piece of his soul with them.