The results of a recent Jon Peddie Research survey on remote graphics and virtualization for design and engineering turned up surprising results.
By Jon Peddie
A few months ago we conducted a worldwide survey of engineers and managers in the design and engineering field. Our goal was to find out what the level of awareness was of remote graphics and GPU virtualization.
We were surprised on many fronts. Clearly our respondents were well informed. That much was clear from their overall responses, but over half of them were not aware of any of the companies in the remote graphics markets. Also interesting, of the 48% who were aware of the virtualization competitors, over half of them knew about Nvidia's Grid project.
One of the benefits of remote graphics and virtualization is the ability to work anywhere, anytime, on almost on any machine. So we asked the respondents about that, and one of the questions we asked was, "Would you like to be able to access your workstation from home?" Eighteen percent of the respondents didn't think remote graphics or virtualization for remote access of their workstation was very important, and 6.2% were not interested at all. But here's the kicker: those 6% really were interested, they just didn't think they had the IT skills to implement the technology in their workplace. So they want it—what a great opportunity for system integrators and VARs.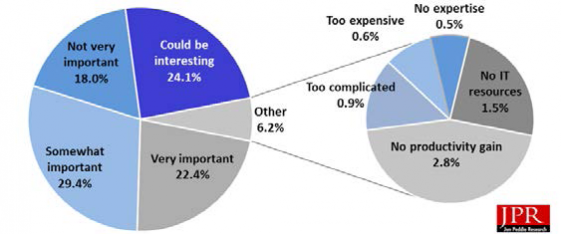 As a result of this study, we decided to create a conference that will provide more information about this technology. Frankly, we wanted to learn more ourselves. If you're interested, more information about it is available on the JPR website. We have also done some testing to find out more.
Welcome to the real world
What about latency? There is some latency, but improvements in the technology are constantly bringing it down. If you're trying to play a first-person shooter, the latency may be unacceptable, but if you're doing less GPU-intensive tasks such as email, working in a spreadsheet, or creating a document, it will not be a problem. In fact, engineers and architects may be surprised to hear that the workflow is acceptable in CAD.
In testing we did recently, we found the worst-case latency using SolidWorks was about 50%. That means if it took one second to rotate a model on a local machine, it took only 1.5 seconds using remote graphics, and that's not a big deal with such an app. All the major brands (Boxx, Dell, HP, etc.) have a remote graphics solution based on AMD, Nvidia, and/or Teradici. On the software side, they use Citrix, or VMware, plus a few others including Nice and Parallels.
The ironic part of this new development is that it hasn't negatively impacted the sale of GPUs. In fact, if anything, it's increased the number of GPUs sold. Users aren't giving up their workstations, PCs, or laptops for a remote graphics solution (with a tablet or thin client), but they are buying more GPUs for the servers to implement remote graphics.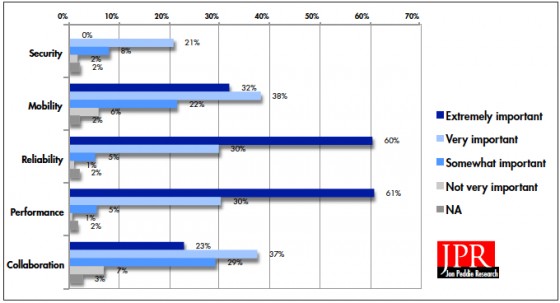 Companies of all sizes are adopting this technology, especially those that are engaged in collaboration and need to be on site, at customer or supplier facilities, or just traveling. However, it does require strong IT support to get it running and maintain it, and that makes it seem as if it's out of the reach of small engineering firms. It's not. There are loads of VARs out there just waiting to help.
You can learn everything you ever wanted to know about remote graphics and virtualization at the Virtualize conference October 30 at the Hyatt at SFO in San Francisco.