The latest release of Vectorworks adds new interoperability tools for BIM, and also beefs up the company's speciality tools for landscape design, theater design, and engineering. 
Refreshingly, Vectorworks, Inc. tells us their latest update, Vectorworks 2018, is a major release with important new features for BIM, productivity, and analysis, but they admit they set out to make every release an important one. The new package includes Vectorworks Architect, Landmark, Spotlight, Designer, Fundamentals and the new Braceworks, a structural load analysis module for Spotlight.
So, to take things out of order, Braceworks is a new addition to the Vectorworks suite and reflects the strong use of Vectorworks in the entertainment industry. The module gives design, production, and rigging professionals an analysis tool including FEA to predict the performance of temporary structures under load and ensures compliance with US and European standards. Files can be output to DSTV to be shared with structural engineers. Braceworks was developed in collaboration with Deersoft, a Berlin based software development company specializing in event engineering. Vectorworks tells us that in Europe the infrastructure in theaters such as lighting rigs, sets, etc. has to be signed off by structural engineers and Braceworks helps bring the different disciplines such as structural design and lighting design together with a tool that allows better collaboration and communication.
The company also offers tools for landscape architect with its Landmark product. Vectorworks CEO Biplab Sarkar says that their focus has been primarily on the larger landscape architect companies but they are also soliciting input from smaller companies who are trying to add more capabilities to their design workflow. He tells us the smaller companies are looking for easier to use tools and that Vectorworks will do that but they have a breadth of tools in Landmark and that will also continue.
This version of the software adds direct site model contour editing. Users can get DTM contour documents from surveyors and work within regional requirements for the site and can edit the site model settings, modifying contour lines as easily as editing a polyline. Existing site locations can be obtained from GIS and tree survey data and the software can access geolocated tree species data to create tree objects in the plans. Cuts, fills, walk ways, roads, etc. can all be designed with reference to constraints. Storm water, irrigation, pipes, equipment, pressure requirements for irrigation can all be calculated.
The site can be designed with the building design enabling project teams to see how the house looks on the site. Files can be exported to clients via Shapefile, TXT, and DXF.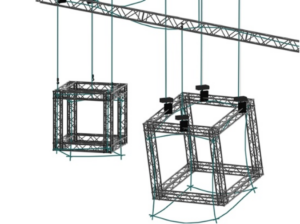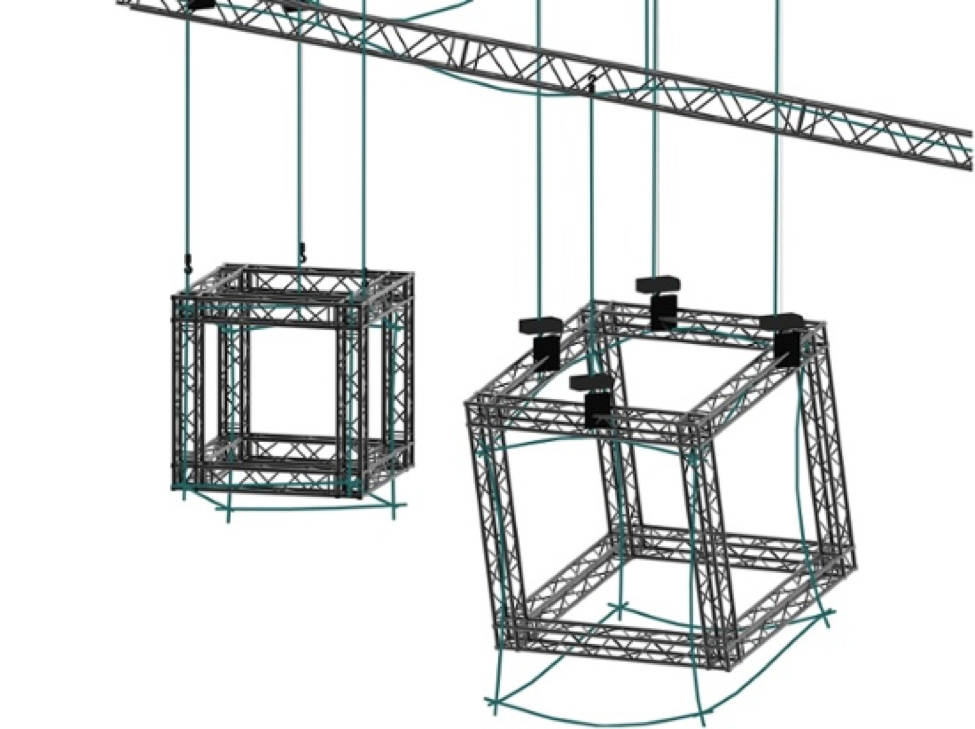 The highlights for 2018 Vectorworks include multiple drawing views, enhanced multi-monitor support and flexibility of workflow between viewports. Multiple viewports are not news in the CAD world, but Vectorworks has improved the capability with a fluidity that lets users start work in one view and add details in another, finish up in another. Users can have different visibilities, for instance they can see different layers in different views. Users can get an instant idea of how a design works in 3D, plan, section, and elevation views. Plans can be created along with a design and making drawing output almost seamless.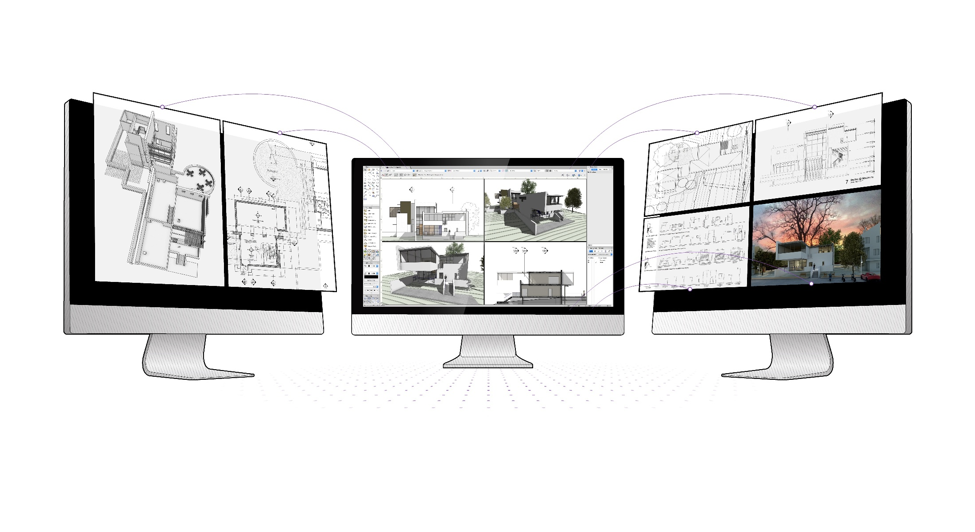 Vectorworks CEO Biplab Sarkar told us the improvements to multi-monitor handling lets users work the way they want to. "Architects especially want as much visibility space as they can get." They often put the design on one screen and palettes, and views on another. (See JPR's latest research on multiple monitors.)
We're told that Vectorworks has been working hard on interoperability with other CAD tools including Revit. They're using the Teigha library and they've seen great improvement. But still, says Sarkar, there are glitches and they're hoping to see improvement in the next round of Open Design Alliance standards (see latest article on the ODA).
Vectorworks has joined the hybrid modeling trend in CAD with subdivision modeling to enable freeform surfaces and it has been upgraded with new controls. Sarkar says the Vectorworks philosophy is that you should have everything you need to complete your design. Vectorworks is built with Parasolid-based geometry modeling. Subdivision modeling is based on Pixar's OpenSubdiv library.
And they also offer graphical scripting called Marionette similar to Grasshopper or Dynamo, all of which are used in generative elements.
Going back to Vectorworks' tools for the entertainment industry, the company is also highlighting its improved tools for projections and video screens. New tools enable designers to calculate and adjust projector throw and zoom and to specify equipment choices given the design's requirements.
New features in Spotlight provides better tools for lighting designers to be able to work with lighting boards and pre-program lighting cues and work interactively. We're told that users report shorter rehearsal times with the added control and programming ability.
The company has had tools for designing the seating area for theaters but new improvements for 2018 include new layout options, multiple seat numbering options, and graphical interface tools to modify seating options from the object info palette. The company says users will be able to generate precise seating layout visualization and automate seating schedules for inventory and ordering.
Vectorworks stepped up to VR in the last version but they've added on with additional controls on rendering qualities, and views that Vectorworks generates for web viewing and VR. The software also enables cloud processing for VR scenes and for 360-degree panoramas. Photorealistic rendering of six views are stitched together to create the panorama. VR compositions can be shared through the Vectorworks Cloud Services portal.
So, throughout all this we wondered how Vectorworks got pulled in the entertainment industry. Until we thought about it for a minute and realized that most of Vectorworks' users are Mac users—the company is at 55% Mac use (they've actually added more PC users). But, Mac users are more likely to come from the arts community and we're seeing this in play here. We're also seeing Vectorworks receptiveness to user input.
Vectorworks Designer 2018 which includes tools for design professionals in architecture, landscape architecture, and entertainment is priced at $3,745. Vectorworks Architect 2018 is priced at $2,945. Upgrade pricing for both is available.
What do we think?
Over the past 5 years we've seen the CAD vendors find their niches and nestle in and the best of them build out with products tailored for their unique customer base. Vectorworks is unique with its tools for the entertainment industry, but it is also building a base in landscape engineering, as well as its core base in architectural design. Vectorworks has moved far far away from being an AutoCAD competitor, the company is leading the way in its markets and that's critical these days.
See related stories: