Optis introduces a new version of its virtual reality design tool at the GPU Technology Conference.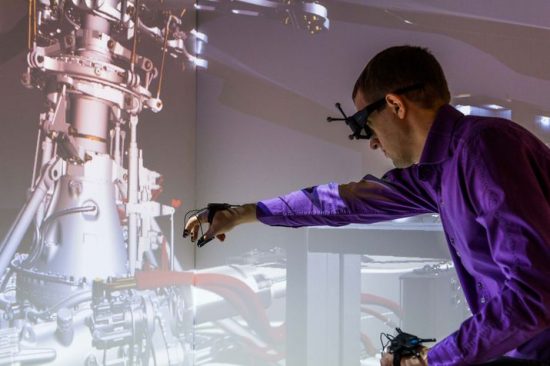 Applications of digital models in the product development to manufacturing process are increasing. Visualization, simulation, and analysis inform the process to an increasing degree resulting in more useful virtual prototyping.
The goal today is to create a digital model that behaves as closely as possible to real world physical objects. Optis claims to solve this problem with a physical simulation approach that meets the industry-specific accuracy expectations. Recently introduced at Nvidia's GTC (GPU Technology Conference), HIM 2017 integrates video, audio and haptic feedback to create a more realistic simulation.
Optis HIM (Human Integrated Manufacturing) software fosters collaboration among team members. Design decisions are easier and faster to make due to a collaborative VR environment. Manufacturers can use HIM to show the assembly line in virtual reality for all newly developed products, and examine all hand-held handles, both man-made and robotic, in order to optimize the safety and ergonomics of production.
Optis provides both software and hardware solutions. The OSM2, Optis' hardware material scanner is used to capture colors, materials, surfaces, and textures of the objects. The data is then dropped directly to the HIM software. The HIM software is built on CUDA allowing Quadro GPUs to accelerate the display of 3D virtual prototypes immediately in scale, maintaining required level of realism. HIM also allows a full body motion capture to evaluate interaction between end-users and future products. HIM includes collision detection based on Nvidia PhysX, a key component of the Nvidia VRWorks SDK. High-fidelity sound restitution using VRWorks' VR Audio to fully simulate how sound propagates, combined with the audio material definition expertise of Optis GENESIS, market reference for audio simulation in aerospace and car industry, provides for an entirely realistic VR immersion.
Jacques Delacour, CEO and founder of Optis, said, "VRWorks integration is an easy way to make the VR environment come completely alive for our users. With PhysX and Audio, we perfectly immerse designers into the virtual world so they can feel their future products."
https://youtube.com/watch?v=PTeISUdAW1Q
Some quick facts about HIM:
Full-body motion capture
1:1 scale
Tracked manikin
Stereoscopic visualization
Collision detection
Real physical behavior
Dimensional measurement tools
Ergonomics and posture analyses
Robots & AUV cooperation
"Robotics will soon play a major role in the design process as well as in industrial manufacturing in general. OPTIS solutions facilitate upstream tasks, and the use of virtual reality promotes human-machine interactions," said Jacques Delacour, CEO and founder of Optis.
What do we think?
Optis has integrated key features of Nvidia VRWorks like VR Audio and PhysX into HIM to bring realistic sound, touch and physical simulations to its VR environments. Integrations such as these prove a boon to product development teams that may be scattered around the globe. Perceived realism within 3D models makes people more curious about virtual reality, thus lowering the adoption barriers.