Autodesk's high-end finishing suite still requires a significant hardware investment, but now you can pick or choose your vendors.
Autodesk's Media & Entertainment division has been spending time cleaning house, aligning products, and building around new market strategies. The company unveiled the fruits of their labors at the recent National Association of Broadcasters (NAB) 2016 convention. Among their announcements came news that the company is taking charge of its destiny in rendering with the acquisition of Solid Angle and the introduction of the Autodesk Rendering Technology (ART). It's integrating its Stingray game engine into more of its products including its compositing and finishing line of products. It's also offering new pricing options for its finishing and compositing tools. (See also Autodesk buys Solid Angle).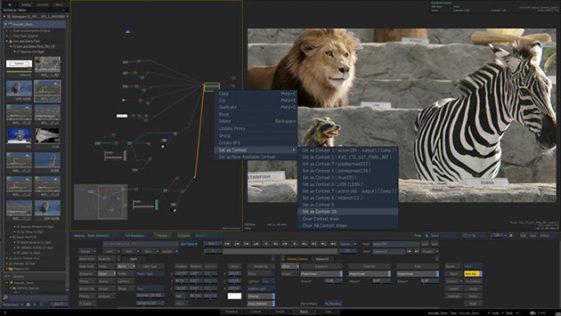 In a change that's been a long time coming, Autodesk has freed its high-end video finishing suite Flame from its hardware and selling it as a software-only option. Autodesk is also offering monthly subscriptions for all the products in its Creative Finishing line. Flame is now available for the Mac and Linux. Autodesk Director Mark Hamaker tells us Autodesk is seeing a solid increase in Autodesk Creative Finishing licenses.
Autodesk's finishing tools have been better integrated, enabling interactive work between color and effects. Among the major changes for Flame:
Camera FX: Autodesk has used capabilities from its Stingray engine to enable 3D composites in its Action module. The new FX tools take advantage of GPU rendering, and Autodesk says artists can take interactively work with ambient occlusion, realistic reflections, and depth of field.
Lustre integration: Autodesk has improved the interoperation of Lustre and Flame through the new connected workflow feature. Color grading information from Lustre can be sent to Flame, and a live connection is maintained so composites can be rendered and seen in Lustre. Autodesk says artists can now move seamlessly between compositing, VFX, and look development tools.
| | | | |
| --- | --- | --- | --- |
| PRODUCT | MONTHLY | QUARTERLY | ANNUALLY |
| Flame | $750 | $2,000 | $6,000 |
| Flare | $400 | $1,050 | $3,200 |
| Flame Assist | $400 | $1,050 | $3,200 |
| Lustre | $750 | $2,000 | $6,000 |
Autodesk Creative Finishing family desktop subscription pricing (US).
Color management: Autodesk's color management enhancements to Flame, Flare, and Flame Assist give users the ability to standardize the way a source's color space is identified and processed.
User requested enhancements include improvements to desktop reels, conform, timeline workflow, batch, media panel, and UI.
Hamaker said that there is a lot more to be done for the Finishing tools, but the group now has a clear direction for what they want to do. He thinks customers are going to see a lot of the changes right in the viewport, where they'll have more interactive performance, better integration between the products, and more modules to work with.
Autodesk did a quick genuflect to the importance of virtual reality and showed a VR editing workflow in Flame. The company has added support for headsets to Flame to enable artists to work using a headset to see how things are working. However, it would seem there is a lot more to be done on the VR front. Reel FX of Dallas uses Flame in their VR workflow and was featured at NAB 2016. Reel FX's Mike Roy says they're getting more and more work in VR, and do to it he has turned to Flame, where he can put tools he's used to using to work in this new medium. In Roy's demo, content was brought in from a GoPro rig, and stitched before import. Opinions vary on where best to do stitching, so watch for this as the different companies grapple with one of the most difficult challenges of VR: stitching and dealing with massive amounts of data generated by multiple cameras.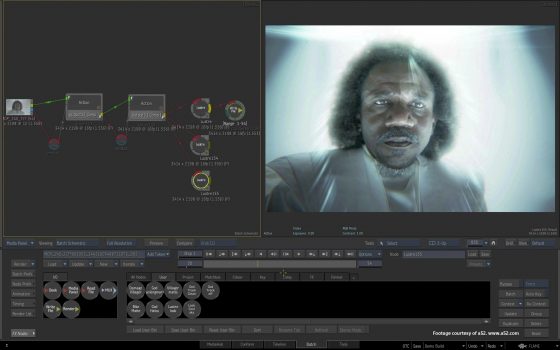 Maya 2016 extension 2
It's time for an extension to Maya, and that's what it's getting with new tools for motion graphics, new rendering, and new character animation tools. The first extension for Maya 2016 was released in August 2015. This second extension to Maya 2016 for NAB is a major extension that includes:
New motion graphics: Last fall Autodesk announced it was taking over the Mash motion graphics nodes developed by the Mainframe production studio located in the UK. Mainframe introduced their nodes with a simple video. The addition of Mash brings a procedural, node-based 3D design workflow directly into Maya, enabling 3D motion graphics such as futuristic UIs, expressive text, and organic animation and effects.
Updated render management makes it easier for artists to segment scenes into render layers.
Character creation workflows include a new quick rig tool and shape authoring enhancements and also improvements to symmetry and poly modeling, UV editing, and also animation performance, rigging, the Bifrost workflow, and XGen; a content browser; deep adaptive fluid simulation and high-accuracy viscosity in Bifrost; and XGen hair cards.
New 3ds Max 
At NAB Autodesk announced the arrival of 3ds Max 2017 with new UI improvements, a new renderer, and the usual grab bag of asked-for tools and surprises. Max's new UI supports high-resolution displays by employing Windows display scaling so menus and other UI features remain readable.
The new 3ds Max asset library enables model libraries to be searched and accessed through the Autodesk Exchange App store. Acquiring assets is a simple drag-and-drop affair.
Probably one of the biggest pieces of news for 3ds Max is the introduction of a dedicated renderer for Max in addition to the Nvidia-supplied Mental Ray renderers. The company has built its new Autodesk Raytracer Renderer on technology acquired in 2007 from Opticore AB of Gottenburg, Sweden. Autodesk has also used the Opticore technology to develop its Showcase tool for design presentations. The ART renderer is fast, but it's also been optimized for use with Revit, Inventor, Fusion 360, and other Autodesk products. ART is a CPU-based renderer and features image-based lighting and supports IES (Integrated Environmental Solutions) and photometric lights from Revit for accurate lighting and light studies.
Autodesk says optimized CPU rendering means the tool does not require specialized graphics add-in boards or GPU processors.
Random new features includes fast-form hard surfaces; UV mapping, object tool, and animation productivity enhancements; a scene converter for moving from one renderer to another or to real-time engines; and tighter pipeline integration via an improved Python/.NET toolset.
Hardware shifts
If Autodesk has freed Flame from hardware bundling and is making it available on the Mac as well as Linux, will we be seeing new systems being certified for use with Flame? As of this writing, there has been no answer. A visit to the Flame system requirements page reveals the same systems are being authorized and they're HP Z workstations. It's logical to expect other systems to get the nod in the future. For now, however, Autodesk is sticking with the same systems it has certified in the past.
Autodesk Flame runs on Linux and Max operating systems. The standard workstations for Flame are HP Z systems include the HP Z840 and older legacy systems the HP 8600, HP Z800, and HP Z820, which are still being supported.
In addition, Autodesk provides a list of required peripherals including Eizo monitors, Aja breakout box, etc. It also recommends the addition of special keyboards, a Wacom tablet, and other tools. In the end, it all adds up to an expensive machine.
On the Mac side, it's a little bit simpler. You need Mac OS X 10.9.5 or higher, and Autodesk recommends the addition of the Aja Kona 3G, IOXT, or IO4K, or Black Magic Ultra Studio add-ons. Autodesk recommends a Mac Pro with dual AMD FirePro D700 GPUs with 6GB of GDDR5 VRAM, 32GB of RAM, or an iMac Retina 5K. Recommended add-ons include the Aja io4K card, Pegasus 2 R8 storage, and a Wacom Intuos Pro tablet.
The huge advantage of releasing Flame from its hardware constraints means that other systems can and will be used with Flame, and we expect to see Dell and Boxx stepping up with systems tailored to the Autodesk Finishing customers.