Now construction and maintenance site inspection can be drawings-based or forms-based on an iPad.
IMSI/Design has added editable PDF forms to TurboSite, its iOS application for mobile field reporting. The addition extends TurboSite from being only a drawings-based approach to site evaluation by making it possible to use pre-existing forms.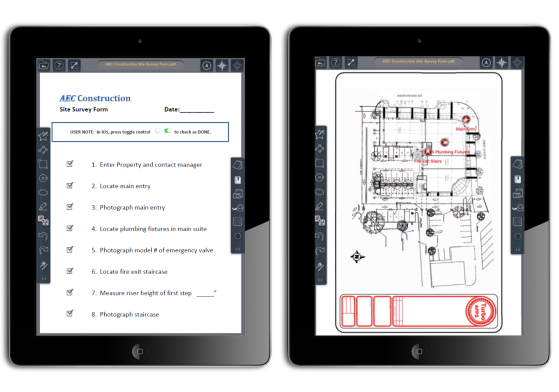 TurboSite allows uploading of multi-page PDF forms and offers text entry and checkbox editing. "This is a big win for companies since the majority of site evaluations are still forms based," says IMSI/Design CEO Royal Farros.
Other new features in TurboSite v4.1 include:
Cloud Storage Syncing:  Open/Save directly to Box, Dropbox, WebDav, and FTP servers
PDF Reporting Enhancements: Now customize PDF reports with company logo, header, and company information without template editing
Easy GeoMark Search Filters:  Predefined search filters display and report items based on Title, Notes, Punch Key, Status, Assigned, Location, Deadline, Video, Audio, and Photo Names
GeoMark Recent Search:  Recent search queries are saved for quick access
Photo Locator Map:  When taking or importing pictures, geolocation text is automatically created and hyperlinked to available maps of the area
Push Notifications:  Stay up-to-date with the latest updates and critical product communication
iOS 8 updates.
TurboSite Standard is a free download from the Apple App Store, but most usage requires an in-app upgrade to either a Plus ($9.99/month) or Pro ($29.99/month) subscription. An Android version is expected to ship later this year.