We called version 1.0 of this innovative AEC iPad app a bargain at $495. Apps like this one reveal the true utility of the iPad.
TurboSite, a field and site survey iPad app from IMSI/Design, is now at version 1.1 with the addition of several new features including HTML reporting and AutoShapes, a gesture-based precision drawing tool. TurboSite takes advantage of geo-location, mobility, and the iPad's built-in cameras to create an application that gathers data from the construction or remodeling sites and generates required reports.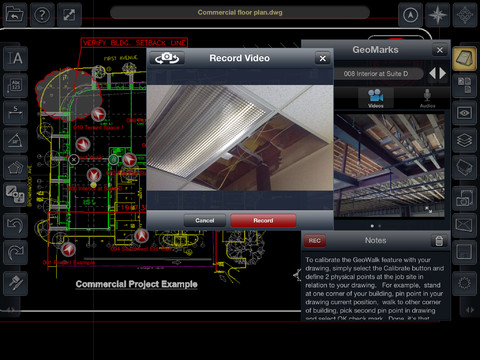 IMSI/Design says AutoShapes is the first gesture-based tool in a tablet app for creating precision geometry. In use, rough shapes are created with fingertips, then TurboSite will automatically refine to accurate circles, rectangles, and orthogonal lines.
HTML reporting allows data recorded in the field to be auto-generated and distributed in HTML format, one of the most ubiquitous exchange formats in computing. If a tablet or other computer has a web browser, it can view a TurboSite report. IMSI/Design continues to provide a separate free app for reading TurboSite drawings; TurboSite Reader contains most of the features in the paid TurboSite app.
Other new features or tweaks in the 1.1 release of TurboSite:
AutoCAD 2013 DWG support
Geo-located DWG support; the GeoWalk features in TurboSite now automatically reads GPS coordinates in DWG files
Dropbox support
Enhanced GPS support; specify drawing unit settings for more accurate location
Improved DWF support.  Now reads larger files faster with improved visual fidelity
Units setting for architectural, metric, and decimal display measurements
Text auto-sizes based on specified percentage
Enhanced 3D PDF (U3D) support.
A variety of performance optimizations.
TurboSite is available for iPad OS 4.3 or later. Supported languages are English, Chinese, Czech, Danish, Dutch, French, German, Italian, Japanese, Norwegian, Polish, Russian, Spanish, Swedish, and Turkish.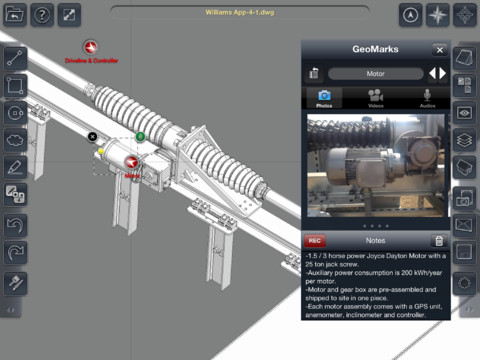 Our take
When TurboSite was launched last October, we said at the time if worked as advertised, it would be a bargain at its "introductory" price of $495. The price is still $495, and since then we've seen it in action and played with it a bit. Anybody who needs to do on-site drawing or on-site review and mark-up will quickly earn back the purchase price in ease of use and loss of aggrevation compared to whatever they've been doing before. Many apps are simple programs from other environments shrunk to app size. TurboSite is purpose-built for the iPad, and is one of the best ways to demonstrate its potential as a useful professional tool.
Related
TurboSite for iPad ends tedium of documenting site visits