Walk through site and floor plans based on calibrated geo-location, and then generate reports from the same app. If it works as advertised, $999 is a bargain.
Tiptoeing into a new technology is an old story. When cinema began, directors put a camera in front of a stage play. Then somebody got the bright idea of taking the camera outside and writing scripts to match. The first shows for television were imported from radio. In the CAD industry the same thing has happened in the transition to mobile, except that software vendors have been scaling down their applications to petite size and capabilities. Viewing and mark-up apps dominate.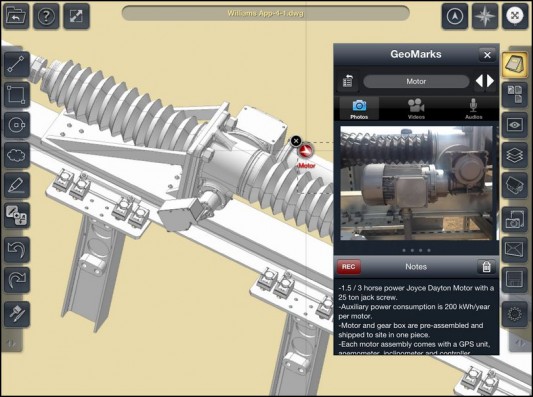 Today IMSI/Design expands the paradigm by releasing an AEC app for iPad that takes advantage of the device in a way that no existing desktop or notebook PC can match. TurboSite is a field and site survey app that takes advantage of geo-location, mobility, and the built-in cameras to create an application that gathers data from the site and generates the reports.
The typical process of documenting a site walk-through and creating punch lists has only been partially automated by computers. It is all too typical for an architect, contractor, or client to make a site visit with a full set of printed building plans, a laptop, an extra battery, a digital camera, and maybe even a collapsible chair or small folding table. Toting all that to a house a few times is one thing; going through a commercial building might mean hundreds of set-ups and take-downs. Then when the data is gathered, it is back to the office to create reports using a variety of applications.
Not only do site visits typically  require carrying a full set of building plans, but a laptop to take notes, extra batteries to keep that laptop running throughout the day, a digital camera to create visuals, and usually a collapsible chair and small folding table to work from.  Each location that requires documentation involves setting up and breaking down this temporary work station. For an average-sized structure, this cycle may be repeated dozens or even hundreds of times.
Once information has been gathered, it's taken back to an office where, using a variety of software applications, it is all put together in various reports for distribution, too often using manual transcribing instead of copy-and-paste, which invariably leads to errors.
"We're doing away with all of this," said Doug Cochran, CTO of IMSI/Design. "I was a practicing architect for 20 years.  Anyone that has ever done a site visit will agree:  This is the app we've been waiting for."
Vive la différence
On site, TurboSite becomes a portable viewer of building plans. It supports all relevant formats for AEC, including DWG and PDF. The use can navigation through plans and saved views using iPad gestures. A new feature called GeoWalk tracks location within a structure, while GeoNudge pinpoints exact location.  Need to document something in the building? Take a photo or video; the result is automatically positioned correctly in a separate layer over the existing data. Text notes and audio annotations can also be added. The orientation when taking notes and photos is added to the file by another new feature, GeoMarks.
Files created with TurboSite can be immediately available for viewing and distribution using free TurboSite Reader.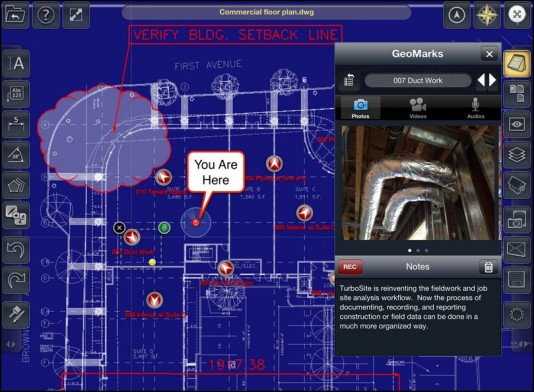 IMSI/Design refers to GeoWalk as "anytime anywhere positioning." Using a patent-pending trick called Sensor Positioning System, GeoWalk can create geo-referencing without GPS signal or other geo-located documents.
Supported file formats include DWG, DXF, DWF, PDF, 3D PDF (U3D), 2CD, 3DM, 3DS, ASAT, CGM, DCD, DGN, EPS, FCW, IGS, OBJ, PLT, SAT, SKP, STEP, STL, STP, TCW, and WRZ. TurboSite ships with support for 15 languages:  Chinese (simplified), Czech, Danish, Dutch, English, French, German, Italian, Japanese, Norwegian, Polish, Russian, Spanish, Swedish, and Turkish. The product is now available at iTunes; IMSI/Design says the official price is $999 but is selling it at an introductory price of $499 for "a limited time."
Our take
In 1988 an architect friend purchased one of the first laptop computers, installed his favorite CAD program on it, and with two associates would do a "CAD Attack" every time he had to go on site to bid on a remodeling project. Two guys would measure while the architect would type and draw. Checking projects went much the same way, except for making the initial drawings. The process they used hasn't changed much in the 20+ years since. TurboSite doesn't do the initial drawing, but if its review capabilities are as slick and as practical as IMSI/Design says they are, $999 will be a bargain.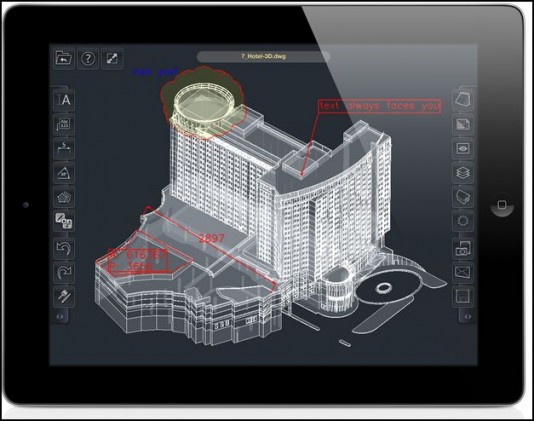 Related
IMSI/Design TurboReview first to support 3D PDF on iPad
IMSI/Design to release TurboViewer SDK 
IMSI/Design releases first 2D/3D DWG viewing app on Android