Other updates include rendering, architectural and user interface enhancements.
The 2016 update to TurboCAD from IMSI/Design includes enhancements to its 3D mechanical design feature set, including the ability to generate a variety of 3D shapes by using "law-based" design. Other new features include updates to its visualization rendering engine, new features for architectural design, and tweaks to the user interface.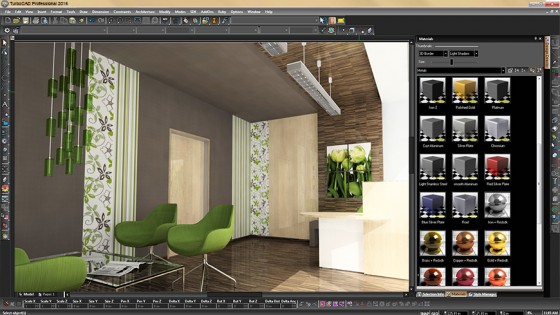 TurboCAD is one of the oldest CAD software products on the market; its first release came out in 1986. Unlike the other CAD survivors from the 1980s, TurboCAD and other products from IMSI/Design are sold primarily through retail channels as well as online.
New advanced blending functionality includes 3D Fillet Blending options, which allow for more organic and realistic object creation, and a new Holdline Blend, which uses 2D elements to control limits of a fillet. A related new feature, Variable Blend, uses points to specify the radii at various locations on the fillet.
A set of new what IMSI/Design calls law-based features provide new ways to generate shape using formulas:
Curve from Law creates a parametrically defined 2D, 3D curve; the resulting curve can be used by the Graphic on Path tool, in Sweeps, etc.;

Surface from Laws generates an new parametric surface object by formula;

Warp Entity by Law can warp an existing 3D solid based on a formula;

Offset with Laws reshapes the resulting offset object based on a formula.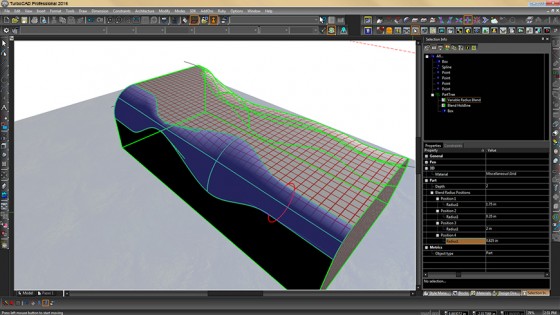 TurboCAD Pro Platinum now offers support 3D point cloud data:
Point Cloud Import/Export uses .PCD and .XYZ formats to transfer data;

Point Cloud Triangulation can extract a surface from a point cloud data set;

Subset Point Cloud selects a subset of an existing point cloud to create a separate entity.
Both the Pro and Pro Platinum versions of TurboCAD 2016 now use the ACIS R26 Kernel for the 3D modeling engine.
New features of architectural interest include:
Convert Roof Slabs takes a classic TurboCAD roof and converts it to a set of roof slabs;

Trim Roof Slab by Plane trims a Roof Slab by the plane of other roof slabs, standard roofs, or walls;

Improved IFC object support includes the IFC file filter, used for building information management (BIM), supporting the Import and Export of beam and column object types;  

Create multi-landing stairs from a 2D polyline;

Edit Roof Slab tool includes an input field.
TurboCAD uses the RedSDK rendering engine, updated with features including:
Portals to designate objects as transparent to sky luminances;

Tone Mapping controls that are both interactive and graphical;

Improved Render Manager workflow of rendering components including materials, luminances, environments, and advanced render styles.  

Improved Transparent fill support  
User interface improvements in TurboCAD 2016 include highlighting of 3D objects and parts while copying in RedSDK mode, reference point relocation, and a new Show Normals to help estimate the smoothness and orientation of 3D objects.
TurboCAD uses the latest edition of the Teigha engine for import/export conversion of .dwg and .dxf files.