$99 for professional PDF creation, editing, and management.
For years CAD vendor IMSI/Design has supported PDF as an output from its various design products. Now it has taken its knowledge of PDF one step further and written a new program for creating PDF documents and integrating them into a business workflow. New TurboPDF is useful whether or not CAD drawings are part of the workflow.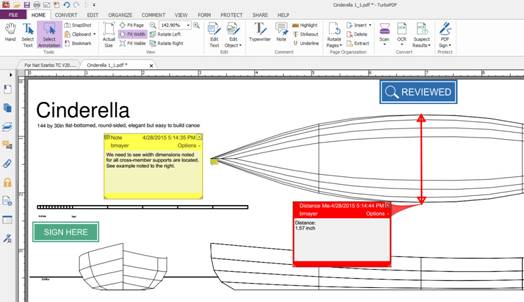 TurboPDF can be used to create and sign documents, produce marketing collateral, design forms, implement workgroup collaboration, secure confidential information, and archive company documents—in short, do everything PDF was designed to do. The product is priced at $99, a price point that competes with PDF creation tools that offer far fewer features than TurboPDF.
TurboPDF key features include:
Create PDFs – Publish professional quality, industry standard PDF files from virtually all PC applications, popular image formats, and the clipboard.
Edit and modify PDF Content – Automatically identifies text boxes and allows users to paragraph edit within that text box.  Add or change text; add and delete pages; design forms; add headers, footers, page numbers, images and video to PDF documents.
Collaborate and Share – Markup and add comments to PDF documents for workgroup collaboration.
Convert and Export – Users can export PDF to Microsoft Office, text, RTF, HTML, and popular image formats.
OCR Text Recognition – OCR support allows users to convert scanned or image-based content into selectable and searchable text.
Standard and XFA Form Filling – Supports interactive and non-interactive PDF forms XFA (XML Form Architecture) form filler allows users to leverage existing XFA forms
Sign PDF documents – Sign in your own handwriting or apply a saved image as a signature using PDF Sign. Send, sign and save PDF documents using DocuSign.
Protect PDF documents with Passwords and Certificates – Control access to PDF documents – particularly important for IP such as architectural designs and mechanical prototypes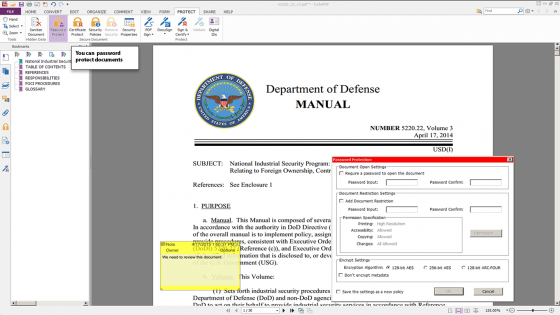 What do we think?
PDF is now a global standard, supported by hundreds of software products of all kinds. PDF use in businesses of all sizes is common. It feels free to use PDF, even though the real cost is hidden by using software designed for other purposes. But annotation and other "above and beyond" uses of PDF is not a hidden fee; you need a custom product. For many that has been Adobe Acrobat Professional. At the price of TurboPDF, there is no competition.
I tested creating a sample document with three different products can can export to PDF: Microsoft Word, Adobe Acrobat Pro, and TurboPDF. The files from all three were identical.