Net income is down, net revenue is flat in underwhelming fourth quarter. Ansys will have to wait until next year to join the billion dollar revenue club.  
Ansys (ANSS: Nasdaq) reports a rare decline in net income for the all of 2015 (ended December 31, 2015). The company cites a mix of currency issues (rising US Dollar), longer sales cycles, and the shift from licenses to subscriptions as contributing factors. The decline in net income is the first since 2006 and only the second one in the 21st Century.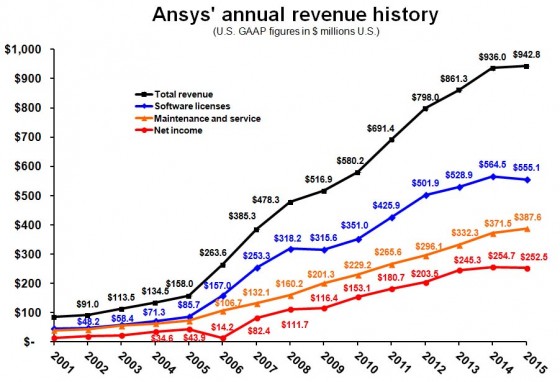 Ansys was poised at the beginning of the year to join the billion dollar club in CAD/CAM/CAE software, joining Dassault Systemes, PTC, Autodesk and Siemens' PLM division. But a lower than expected fourth quarter means the champaign goes back to cellar for one more year.
For the fourth quarter of 2015, total revenue dropped 1.1% to $251.6 million. Drilling down in quarterly revenue:
Software license revenue was $149.5 million, down 5%.

Maintenance and service revenue was $102.2 million, up 5.5%.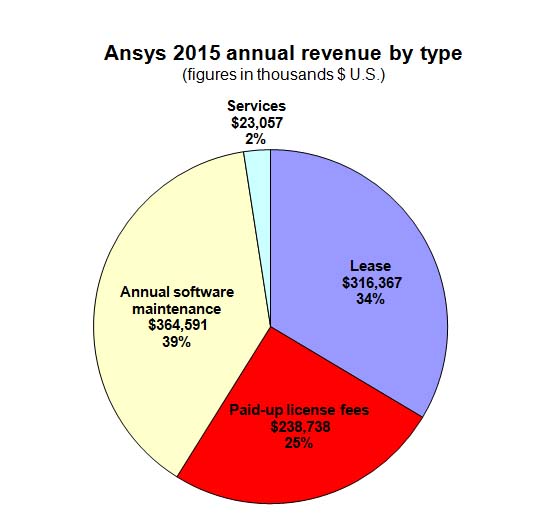 Americas revenue was $96.6 million, up 1.6%

Europe revenue was $71.4 million, down 6.8%

Rest of world revenue was $69.7 million, down 3.4%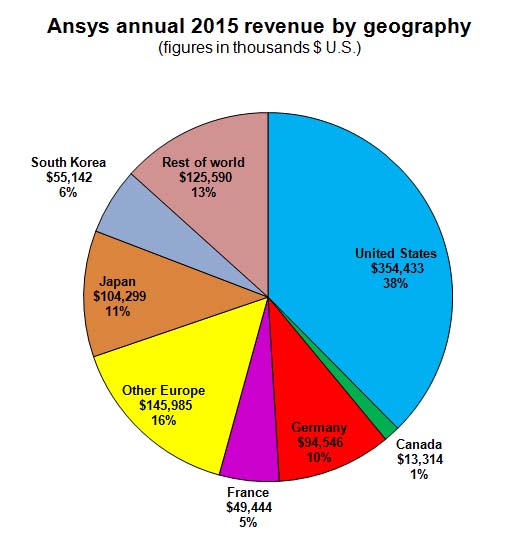 Revenue trends (fourth quarter 2015, year-over-year) in selected markets:
Germany revenue was up 14%

Other Europe was down 31%

Japan revenue was down 3.3%

Rest of world was down 31%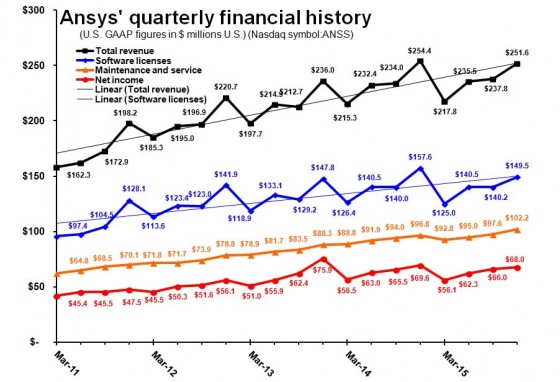 Like its CAD/CAM/CAE peers, Ansys is shifting its revenue mix away from perpetual licenses in favor of subscriptions. In 2015, perpetual license revenue dropped 1%, to 25% of total revenue. Subscriptions stayed flat  as a percentage of total sales in 2015 at 34% of revenue, while maintenance rose from 36% to 39% of annual revenue. Quarterly sales bookings exceeded revenue growth rate, contributing to a record total deferred revenue and backlog balance of $504 million.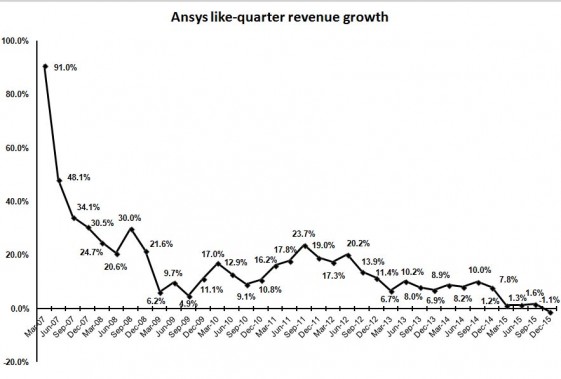 What do we think?
More than any other public company we track, the annual revenue growth chart for Ansys since 2000 looks like a Moore's Law hockey stick. 2015 will be remembered as the year the hockey stick got a handle. For years Ansys grew by acquisition as well as expanded sales of the core product line. But the best acquisition choices are either already taken (such as the recent purchase of CD-Adapco by Siemens PLM) or too small/too new. Ansys claims the latest edition of its Workbench suite delivers 10x performance gains in several important categories, but that doesn't translate into 10x performance gains for financial metrics.
L. Stephen Wolfe, P.E., a contributing analyst for Jon Peddie Research, provided research and his usual legendary insights for this article.