The latest addition to Trimble's expanding AEC portfolio will be integrated into the operations of Meridian Systems. Trimble continues to build a construction-based BIM portfolio.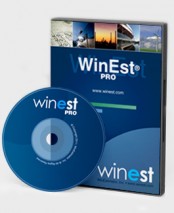 Trimble (NASDAQ: TRMB) announced today it will acquire WinEstimator, Inc., a provider of construction cost estimating and cost-modeling software. The 25-person company will be integrated into the operations of Meridian Systems, a wholly-owned subsidiary within Trimble's Engineering and Construction segment. The purchase price or other terms were not disclosed.
WinEstimator provides estimating and cost modeling solutions to builders and capital project owners. The company's offerings include the WinEst product line that provides a suite of estimating solutions, allowing customers to respond to all phases of the estimating process, from initial project feasibility to detailed final estimate. WinEstimator has approximately 5,000 clients in more than 80 countries.
WinEst also provides Modelogix, a solution for capital project owners and general contractors who develop accurate conceptual cost models based on cost-history data from multiple sources. Modelogix leverages the value of project cost history across the enterprise, integrating the customer's past estimates and "actual" project costs to form an accurate conceptual budget.
Trimble says the acquisition will extend Meridian's capabilities for general contractors and owner/operators who want to better develop, manage and leverage their construction cost information to support their core business. In addition, WinEst solutions will support the integration of cost data into other applications, including Meridian's Prolog and Proliance software, enabling the adoption of Building Information Modeling (BIM) and Integrated Project Delivery (IPD) business practices.
Construction-based BIM
As we noted when Trimble acquired SketchUp from Google earlier this year, the company intends to be a leader in building information modeling software (BIM), but unlike other firms in BIM which start with design, Trimble approach BIM from the construction side of the operation. Incorporating WinEst into the mix will allow Trimble and its Meridian Systems subsidiary to extend the range of services it provides to contractors and building owners, and streamline the flow of construction cost data.