A story of distracted parents and a precocious child.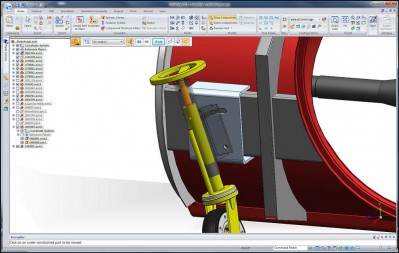 By Randall S. Newton
Once upon a time in 3D CAD Land a little girl was born to simple-minded parents who had no clue what to do with their new child. Their other children were already grown and making their way in the big wide world, but this new addition was by comparison helpless and seemingly hopeless in their eyes. They tried for a few years to raise her, but they were too distracted being amazed by all their older children; they usually just ignored her. The parents thought about killing the child to cut costs, but then they read in the newspaper how a child much like theirs was sold to a French family for a lot of money. So these simple-minded parents sought a buyer for their gawky child.
It took time, but finally these parents, motivated only by having one less mouth to feed, found a wealthy buyer. The older couple who bought our hapless young heroine meant well, but they really didn't know what to do with the girl, now a precocious young teen with eclectic interests. She was so different than their other children: smaller, interested in clever puzzles, and attracted to Windows. So they gave her a wing of their large house, supplied her with educational toys, and suggested she find something to do to keep herself occupied. They then proceeded to re-do the landscaping around that part of the house, making it very hard for anyone to find her.
One day a few years later the parents remembered they had a step-daughter living in the southern wing of the house and wandered over to pay her a visit. To their astonishment she had invented a new method of solving complicated puzzles. She had also grown to become a rather attractive, if lonely, young woman. Her step-parents, delighted by their discovery, immediately threw a lavish cotillion ball on her behalf, and borrowed from her ideas to improve their various other enterprises.
Today she is surrounded by suitors, beloved by a growing number of admirers, and occasionally  trash-talks about the fake French kid who inspired her birth parents to sell her.
THE END
Attending Solid Edge University 2012 (SEU) was a bit surrealistic; thus my inspiration for the fairy tale. The setting, Nashville, Tennessee, sells more short stories per year (set to twangy tunes) than any publisher could churn out in a generation. The Solid Edge story could be the stuff of a Grammy. It started life as the Jupiter project at Intergraph, which tried to cram too many things into Jupiter at once and eventually sold off the technology to EDS Unigraphics, today known as Siemens PLM Software. For a while it seems Solid Edge was the ugly stepchild of the UGS family, but things started to turn around after Siemens came on the scene. When the R&D team at Solid Edge came up with Synchronous Technology—a unique approach to merging parametric solid modeling with direct modeling—Siemens decided it was time to give the Solid Edge team some real love. For the past few years the R&D budget has been climbing as a percentage of revenue. More recently Siemens has initiated a bigger marketing budget for Solid Edge and its related products for CAM (CAM Express) , PDM (Insight XT for SharePoint), PLM (Teamcenter Express), and finite element analysis (Femap).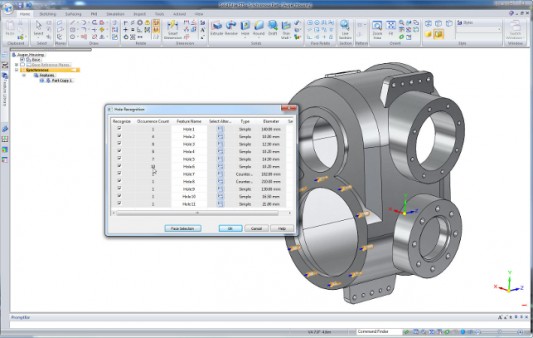 Synchronous Technology has proven to be like many new technologies; over-hyped in the short term, under-hyped in the long term. This year marks the fifth release of Solid Edge with Synchronous Technology. The company says more than 1,200 tweaks to the product have been made, affecting virtually every aspect of the product. The ability to bypass the history tree and directly edit the solid model does not yet permeate every aspect of the product, but each release brings it closer. In the update that will ship later this month, synchronous technology will enhance multi-body modeling, making it possible to import and edit solid models or assemblies from all major 3D CAD products. The resulting geometry can be combined into a single part or multiple parts, depending on manufacturing requirements.
Siemens PLM employees at all levels stressed the importance of the import/export improvement as a key selling point against SolidWorks. More than one demonstration included importing a SolidWorks file into Solid Edge, making changes to it using synchronous technology, and sending it back to SolidWorks where it opened as if it had never been elsewhere.
Other improvements in Solid Edge ST5 include:
A wide range of enhancements to drawing documentation, improving the ability to generate detailed 2D shop floor deliverables from the 3D model;
A new steady-state thermal simulation tool, design for early "what-if" design work;
A new 3D parts and assemblies viewer for iPad.
New competition in 3D CAD?
While I was at SEU I met users who had switched their companies from SolidWorks to Solid Edge. When I reported in May about one user who made the switch and was adamant about the importance of switching from SW to SE, I stirred up a hornet's nest. SolidWorks users and employees said there were more defections from SW to SE than vice versa; Solid Edge user comments could be characterized as "you ain't seen nothin' yet."
In a keynote presentation to start SEU, Siemens PLM Chairman Tony Affuso took the opportunity to spread the FUD about SolidWorks. Quoting from an article at Develop 3D called "The Death of SolidWorks," Affuso told the SE faithful Dassault Systèmes has a history of creating incompatible versions of their CAD software and that, by comparison, Siemens PLM offers Solid Edge users a roadmap of "steady improvement" with no file incompatibility on the distant horizon.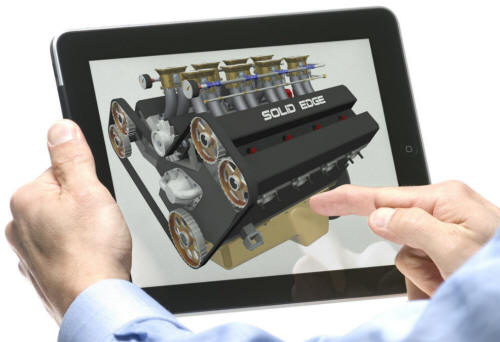 The market for mainstream 3D CAD was quiet for years, with SolidWorks the clear leader and a variety of other products finding smaller markets. According to Siemens PLM, Solid Edge has been outpacing the market, with 20% growth in the Americas and growth in the teens in other markets. SolidWorks and Autodesk Inventor, by comparison, have been growing at lower rates for the past two years. Siemens does not allow the PLM division to break out the specific revenue figures it generates, so we have to settle for the tidbits the executive team can offer.
Not every SolidWorks user is nervous about "SolidWorks V6" but enough are to fuel both the FUD and the sales for the next few years. We have probably only seen the start of competitive marketing between the two.