The high-volume CPU-based particle renderer has long been available for 3ds Max or stand-alone. There are version for both Windows and Linux.
Thinkbox Software has released Krakatoa MY, a new version of its high-volume particle renderer, for Autodesk Maya running on Microsoft Windows and Linux operating systems.  The new version shares the same rendering core as the stand-alone Krakatoa SR and Krakatoa MX (for Autodesk 3ds Max),allowing it to provide the same results as the other versions when given the same data.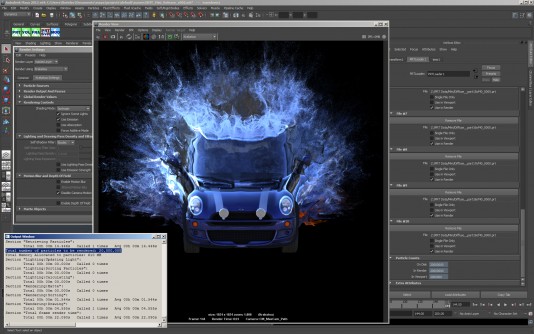 Krakatoa is a CPU-based production-class volumetric particle renderer. It is highly optimized, heavily multi-threaded, and can be used successfully on most hardware running Windows or Linux operating systems including laptops and render nodes without dedicated high-end graphics accelerators.
Krakatoa MY connects Maya with the Krakatoa renderer, providing ways for artists to accelerate workflow when manipulating millions of particles. Key features include:
Point or voxel representation of particle data, with various filter modes, motion blur and depth of field camera effects, and HDRI render passes output to OpenEXR files;
Simultaneous support of both additive and volumetric shading models, with per-particle control over color, emission, absorption, density and more;
Support for various light scattering algorithms, high-quality self-shadowing and occlusions from both geometry and DTEX maps;
Dedicated particle loader object supporting Krakatoa .PRT file sequences, RealFlow .BIN file sequences and .CSV file sequences, with the ability to offset, retime, combine and modify already cached particles;
Dedicated PRT Volume and PRT Fractal objects inside the Maya viewports provide procedural particle creation from polygon mesh volumes and mathematical algorithms;
Particle partitioning tools for caching multiple versions of the same simulation to combine into high-density particle clouds;
Particle repopulation for render-time conversion of low-count simulations into high-count particle clouds.
Krakatoa MY requires its own dedicated workstation license for interactive use inside of Autodesk Maya, but is compatible with the network rendering licenses used by the other Krakatoa implementations (Krakatoa SR and Krakatoa MX). Thinkbox says workstation and render license bundles are available at a reduced price.