Company continues to expand its PC line-up, with new touchscreen all-in-ones and low-cost colorful Chromeboxes.
By Jon Peddie
I remember when HP bought Compaq in 2001 (for a whopping $25 billion (almost $34 billion in today's dollars), and it looked like Compaq had acquired HP. All the big iron enterprize stuff was rolled out, some of it based on Compaq's acquisition of Tandem in 1997 (for $3 billion). HP wanted to be a big computer player then like IBM, Unisys, and Bull.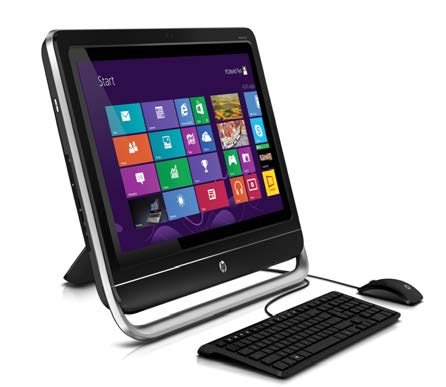 Then a whole lot of stuff happened for the next 13 years while HP ran in circles stepping on its own feet in the process, but the PC group carried on, did their job, and did it well pushing HP into the number one PC supplier position year after year. Still, HP wanted to be a big iron computer company like Sun, SGI, and Amdahl, and it looked like it might succeed. As for that PC stuff, well, maybe we should get rid of it, like IBM did. Oh wait, it's actually making money and helping the brand—hmmm, maybe we should keep it, just don't feed it too much. In the meantime, the concept of big, big, ah say, BIG big data son, came into being and with it the cloud.
HP loved that idea; big iron for big data in the big cloud was a really BIG idea. And over the years the company had made some really BIG acquisitions that would position the company to play in the big iron game. There was 3Com ($2.7 billion), EDS ($14 billion), 3Par ($2.4 billion), and Autonomy ($11 billion), to mention a few. The $1.2 billion acquisition of Palm was a momentary lapse of focus, and was soon washed away and forgotten.
Meanwhile, the PC group kept doing their job, and kept on being a boring number one in a boring industry that shipped 300+ million units a year. Well, the good news is HP has done it. They are a big iron company that can manage big data in the cloud, and they have a service organization that can design, build, install, and maintain such systems for clients. Oh, and they also make printers and those other things, ah, right—PCs.
At the recent HP analyst's conference held in still-frozen Boston, HP delivered a very consistent and clear message: We're back, we're focused, and we've got the size and depth to support big businesses with big machines using big data for really big problems in this ever smaller world.
HP's four focus areas are Cloud, Big Data, Security, and Mobility. Their strategy is to provide solutions for the new style of IT. The other part of HP's big plan is to embrace mobile. "Mobile" is a vague noun like "cloud"; it can mean just about anything you want it to. Nonetheless, mobility is a big part of HP's new focus. Chris Moyer, Chief Technology Officer & Mobility and Workplace Solutions Lead for HP Enterprise Services, laid out HP's end user strategy.
HP has the breadth to be a partner to big business, no doubt about that. They've got on-site support in 135 countries 135! There are only 196 countries in the whole world. The company's service desks speak 35 languages.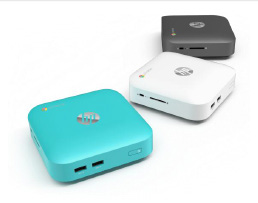 In HP's March 2012 reorganization, they merged the cash-cow printing business with the stepchild PC business and renamed the combined organization the HP Printing and Personal Systems Group (PPS). Printing getting first billing for obvious reasons—HP likes printing. HP is also moving out on all PC fronts, and Mike Nash, HP's VP, Product Management Consumer Personal Systems, told us about some of HP's firsts. Did you know they were the first to bring out a Chromebook with Google, and the first to bring out an Intel Chromebook, the first to build an Android-based AIO, the first to ship a fanless detachable 2-in-1, and the first to integrate Leap Motion into a PC? HP's always had neat-looking consumer products, and they are going after the phablet segment with two Slate VoiceTab models.
The company is going to continue its leadership in AIO. HP actually pioneered the AIO in 1972 with the HP9830. HP has brought out AIOs starting at $499 for a no-touch version of the Pavilion, and topping out with the reclinable Envy (Rove 20 Mobile All-in-One Desktop PC) for $999. HP has launched a portfolio of AIOs with sizes ranging from 19 to 27 (19, 21, 23, and 27).
HP is also launching a series of Chromeboxes, which you could duct tape to the back of a monitor and DIY an AIO. The Chromebox is available this spring in the U.S. and we think it will sell with a Haswell Core i7. No price has been announced but Asus's entry-level model is $179 and that seems a reasonable starting point.
So HP has it all: big iron, small iron, software and services, and everything anyone needs for any kind of cloud.