A new svelte mobile workstation and a new way to test virtualization for workstation-class users was on display in Austin.
By Kathleen Maher
The US-based PC manufacturers, Dell, HP, and Lenovo (the workstation group is based in North Carolina), are locked in a hotly contested fight for customers who are less brand conscious and more value conscious. The workstation market is an attractive target for all three, and all three are fine-tuning their approach.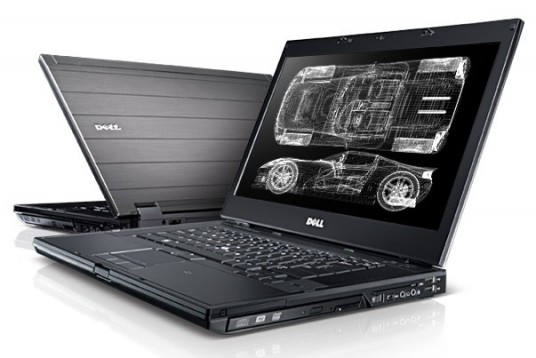 Dell has several programs it has ramped up to capture more of the high-margin, high-profile workstation market. It has gone after the entertainment market with ferocity, and it continues its loyal courtship of the design and manufacturing professionals. When it comes to the traditional workstation markets—design and manufacture, oil and gas, science, visualization—Dell has a solid base earned with its no-frills, just-value-and-service approach.
Now the company would like to ramp up its flash quotient. This is a good time to be doing it, since recession, off-shoring, and democratization, among other factors, have taken their toll on the entertainment industry. In its pursuit of entertainment content creators, Dell has optimized its Precision models and claims the work it has done to enhance cooling, etc., significantly increases rendering performance for video, game development, and FX.
Precision news
Dell invited a group of journalists covering design and content creation for a visit to Austin to see the SXSW film festival and get the latest news from Dell's workstation group. Dell is looking at an end-to-end play that will bring its Wyse clients in to play for virtualization scenarios that can leverage the company's servers. In addition, Dell is building out its workstation line.
The company has introduced several sharp new PCs including a new no-compromise 2-in-1, the XPS 11, a folding tablet/keyboard design. It has new XPS 13 Ultrabooks with the latest processors and the Dell Precision M3800 mobile workstation, a thin-and-light workstation with a sporty finish. Dell has also updated its OptiPlex 3020 desktops with a new chassis and even more accessible innards.
In Austin, Dell sought to build on those announcements and introduced a mobile workstation that resets the definition for entry level. Designed for students, artists, and 2D CAD designers, and small shops, the Dell M2800 is a 15-inch mobile workstation based in Intel's i5 or i7 processors and AMD's FirePro W4170M graphics with 2 GB of dedicated GDDR5 memory.
The new computers can be configured with up to 16 GB of system memory and up to 1 TB of storage for graphics and data-intensive workloads. The 15.6-inch UltraSharp display is available in HD or FHD (1920 x 1080 resolution). It also has multi-monitor support and docking compatibility. However, if you go for the base model, the price tag comes in at an alluring $1,199.
Just like its larger brethren in Dell's workstation line, the M2800 will be an ISV-certified system. At the Austin rollout, representatives from Autodesk, SolidWorks, and Adobe pledged support for Dell's program, and the company is hoping to have a broad range of ISV certifications for its users. Dell has been courting the entertainment creation community, and you can expect them to have a presence at the upcoming Game Developers Conference in San Francisco.
Dell has also been upgrading its Dell Precision Performance Optimizer (DPPO) program. The program will automatically adjust system settings in a new computer to optimize it for specific applications. The company has committed considerable resources to this effort with constant benchmarking and testing.
The company is working closely with the SPEC (Standard Performance Evaluation Corporation) organization to create profiles for applications, and it does its own internal testing running applications with various settings to find the best power/performance setup. Recognizing that professionals who use workstations tend to use several different applications, Dell says it is considering looking into typical workloads by job description to create profiles for combinations of software.
Going virtual
Dell is also going after the nascent virtualization market. For this the company is teaming with Nvidia, Citrix, Intel, Microsoft, and application providers to enable virtualization for workstations. Dell, of course, has been offering virtualization options for office workers for some time. The company acquired Wyse thin clients in 2012 and has been able to offer its customers end-to-end virtualization products.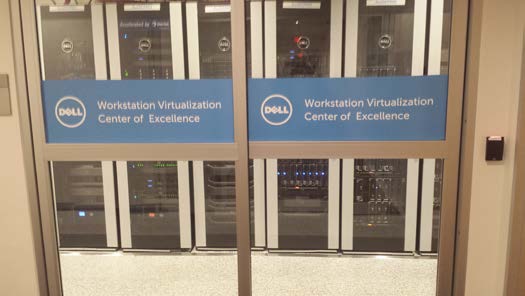 So, why not expand it to workstations? The answer seems a tad self-evident. Workstations are usually involved in computer heavy lifting, so the distance to the server, the width of the pipes, and the workload are all important considerations, and if you ask Dell people what they mean by virtualization, they will tell you, it depends. It depends on the workload, it depends on the connection, it depends on security concerns, and it depends on how a company thinks about virtualization. Is it a matter of managing professionals and enabling secure collaboration on premises, a matter of linking far-flung colleagues, or an attempt to leverage resources in the cloud? The truth of the matter, Dell's execs will tell you, there are any number of scenarios that vary from company to company and application to application.
Why do it at all?
We are entering the next phase of mobility with ever more lightweight devices and ever more globalized companies. There are people who are utterly fearful of the security risks inherent in virtualization and collaboration schemes that centralize data. At the same time, workers are gleefully signing on for the cloud party bus. They're using Dropbox and Google Drive and sharing files without the blessing of their IT masters. Virtualization offers companies a way to share resources on their own terms.
Dell's Center of Excellence for workstation applications Virtualization for one, virtualization for more. The move toward virtualization is a well-established practice for office workers in the enterprise. There are obvious cost advantages, but even more important is the ability to standardize applications for all workers. Centralized management provides security, maintenance is also centralized, and the experience is standardized across platforms. It can be the IT manager's long deferred dream.
Dell has been offering its customers a test center to try out their scenarios for virtualization before they roll it out to their customers. It has been in place for a few years now as Dell's customers have used it for their knowledge worker armies. Now Dell has built out demo systems for workstation virtualization.
The Virtual Workstation Center of Excellence is an actual place where the vendors can test out the proof of concept and companies can bring in their systems to work with Dell's on-site servers, but they can also "remote-in" to test performance. Intel, Nvidia, and the key ISVs are all involved in this effort to test systems and find the best solutions for their customers' situations.
Dell's Andy Rhodes says, "The barriers to entry are large, the components are not cheap," but the Center of Excellence enables companies to test the concept instead of building it out at their sites. "We don't have all the answers," says Rhodes, but he's pretty confident that no one else does either. "With the merging of enterprise and workstation, we can bring a lot of value."