Dental and jewelry are the obvious applications, but a precision micro-SLA 3D printer the size of a coffee maker for $4,900 will find a lot of uses.
Most of the chatter in the 3D printing world for the last year or so has been about the hobbyist market, but the vendors all know their bread-and-butter is in professional systems. This week 3D Systems starts shipping its new ProJet 1200 micro-SLA 3D printer, aimed at the market for precision parts and casting.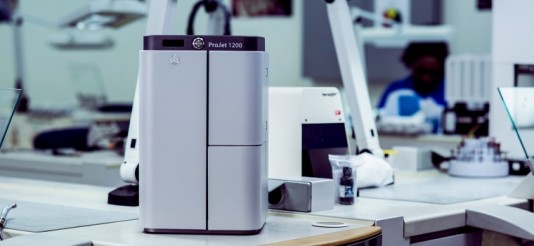 The ProJet 1200 is a micro-SLA printer; it uses an additive manufacturing process in which a thin layer of resin is contained in a build tray. The build platform lowers, transferring the resin to the build platform, and then the layer is cured by a UV projector. This process is repeated, building the part layer by layer until the model is finished. The ProJet 1200 offers 585 dpi print resolution and a vertical build speed of 14 mm/hour. The build area is 8" x 8" x 13".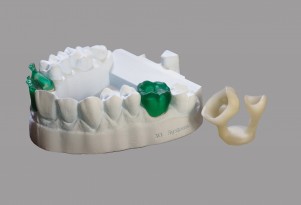 3D Systems says the ProJet 1200 can print 12 dental wax-ups in an hour or five jewelry ring castings in two hours, at a material cost of approximately $1 to print one jewelry ring cast. A true office 3D printer, the ProJet 1200 can safely be used on a desktop, There is no need to relegate it to a special 3D printing station where curing must take place separately in a well ventilated area.
The printer uses 3D Systems' VisiJet FTX Green material, which 3DS describes as a durable and rigid material tailored for plastic prototyping and casting patterns. It says best applications for this material include jewelers, dental labs, and designers of very small detail products such as collectibles and electronic component parts. The build material comes in  all-in-one cartridges for ease of use. The necessary ultraviolet curing is built in, not separate as in older systems.
What do we think?
The ability to 3D print of a ring casting model for $1 in two hours will find a lot of ready buyers, not just in jewelry but in dental and electronics. Hobbyist 3D printers may move the public dialog, but printers like the ProJet 1200 do more to advance the state of the art in digital manufacturing.