The Eurocom Panther 5 puts the capabilities of a data center server in a portable form factor.
Boutique computer manufacturer Eurocom has released a monster mobile workstation, designed to put the capabilities of a data center server into a portable computer. The key is its support for up to four 2TB RAID drives.
Eurocom expects target markets for the new Panther 5 mobile workstation will include simulation, ray trace rendering, mobile analytics, CAD, CAE, server operations, software development, and GIS. This new edition to the Eurocom Panther line comes from the addition of the highest storage density hard disk drives for mobile products currently available. Standard factory configuration is up to 6 TB (SSD or HDD), but the Panther 5 can also support use of four 2 TB Samsung Spinpoint M9T Hard Drives for a total of 8 Tb as RAID 0/1/5/10 storage.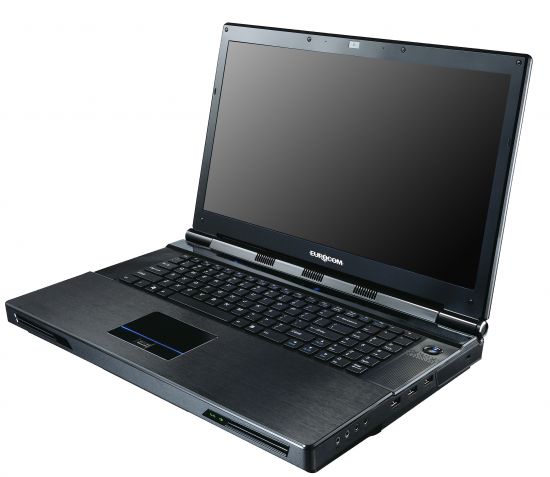 The Eurocom Panther 5 was recently awarded the Intel Solutions Summit Form Factor Solution Innovation award for packing the performance capabilities of a datacenter server into a portable form factor, complete with workstations tools such as keyboard and monitor.
Other standard features include dual MXM 3.0b graphics from Nvidia GPUs, 32 GB DDR3-1600 memory, and Intel Xeon or Core i7 desktop processors. Most targeted uses for the Panther 5 are in fields with high security concerns, so the workstation comes standard with a Trusted Platform Module 1.2 (TPM), finger print reader, and Kensington lock port.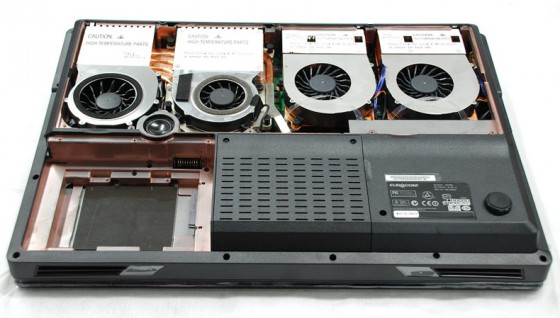 Weighing in at 12 pounds, the Panther 5 sports a 17.2-inch display with 1920 x 1080 resolution at 60Hz, 120Hz or 3D 120Hz wide viewing angle. The LED backlit monitor comes in glossy or matte.
Video: Watch 8TB being installed in the Eurocom Panther 5. (Source: Eurocom)