New ProjectWise Essentials is pre-configured with industry best practices for AEC information management.
Bentley Systems today released a version of its ProjectWise AEC information management software suite as a cloud-based solution. ProjectWise Essentials is a subset of the local server version, designed with smaller workgroups in mind.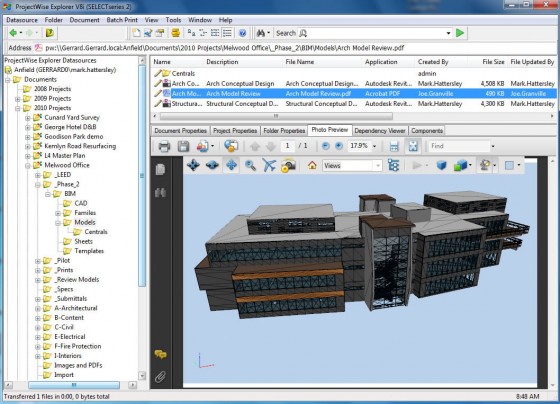 ProjectWise is currently the project management systems of choice among the largest AEC firms. It is used by all of the Engineering News-Record (ENR) top 25 design firms, a majority of US state departments of transportation, and 81 of the ENR top 100 design firms. Bentley says ProjectWise users currently bill more than $120 billion in annual design billings.
ProjectWise Essentials offers the advantages of its locally based sibling in a cloud environment, making it easy for smaller teams to deploy. It supports not only drawings and models created in Bentley software, but also from Autodesk's AutoCAD Civil 3D and Revit. As deployed, it offers what Bentley calls "pre-configured best practices" for AEC information management.
Bentley claims up to 40% of an engineer's working day can be spent looking for and validating specific information and files for use, and in ensuring that the results of the work are properly communicated and distributed. Project management software is designed to reduce the administrative burden. By putting a version of ProjectWise on the cloud, Bentley simplifies access and IT administrative overhead, compared to the local server version.
ProjectWise Essentials works with all of Bentley's mobile apps, including Bentley Map Mobile, Field Supervisor, InspectTech Collector Mobile, Navigator Mobile, ProjectWise Explorer Mobile, and the Bentley Learn App. Specific modules
What do we think?
Big projects require big design teams; the server-based version of ProjectWise matched the existing IT infrastructure of these big firms. But the demands of doing more with less are causing AEC firms of all sizes to re-examine how they deliver software services, and cloud is at the center of that re-examination. Providing an instant-on, zero administrative overhead version of ProjectWise could do more than make it easier for existing Bentley customers to deploy ProjectWise, it could open the door to new users who may rarely, if ever, use Bentley design tools.