Ark-Coca-Cola Place is the first commercial tower in Australia completely designed, constructed, and managed from a BIM model.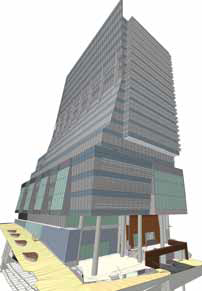 Australia's first commercial high rise building completely designed, constructed and handed over as a built model with asset management software using Building Information Modeling (BIM) has been named the NSW Development of the Year for 2011. The Rider Levett Bucknall 2011 Innovation and Excellence prize marks the fifth award for Ark-Coca-Cola Place.
Conceived, designed, documented, and built using ArchiCAD by Graphisoft, Ark-Coca-Cola Place is a striking new landmark. Owners of the building, Investa, were quick to identify the benefits of Building Information Modeling, and insisted that disciplines working on Coca-Cola Place complete the entire project using BIM.
Designed by Rice Daubney and built by Thiess, Ark-Coca-Cola Place was completed in 2010. The A Grade office tower in the heart of North Sydney comprises 28,500 m2 (306,771 square feet), spanning 21 levels. Ark-Coca-Cola Place embraces environmental sustainability, featuring tri-generation, grey-water recycling, natural light from three sides, charging bays for electric cars, and cycling facilities. The building was awarded 6 Star Green Star Design and As-Built Ratings.
"Ark is what design excellence is all about – it is daring, iconic, and a true landmark for Sydney," said Glenn Byres, NSW Executive Director of the Australian Property Council. The Innovation and Excellence Awards program is the pre-eminent property industry program in Australia. The annual awards celebrate the achievements of the sector's finest professionals and companies.
The architects of Ark-Coca-Cola Place are convinced BIM is the way to go, from initial design conceptualization through to the construction process and end management of the building. "BIM continues to change the way our industry works and collaborates; virtual construction is the future and Ark is the first completed commercial high-rise building in Australia where all contractors have truly collaborated using BIM," says Paul Reidy, Director of Design at Rice Daubney.