The latest generation of AMD workstation graphics was just starting to find a market. Will this departure start another market decline?
By Alex Herrera
The hits just keep coming for AMD. Not hits as in hit songs, but hits as in body blows. Yesterday AMD announced that Eric Demers, the chief technical officer for the graphics business unit formerly known as ATI, will be leaving the company by tomorrow at the latest.
This one really hurts. AMD has been struggling on many fronts lately, particularly in the area of personnel. I'm not talking about the layoffs, as tough as that's been. I'm talking about the turnover of the executive management team.
It started a year ago with the abrupt departure of CEO Dirk Meyer, and the revolving door has yet to stop spinning. Many would judge Meyer's exit as the most damaging to the company, as it led to a steady exodus by senior executives that has yet to end. But while Meyer's move may have kicked off the churn in personnel, it's this most recent resignation that I believe will have the more significant impact in several areas, including workstation graphics.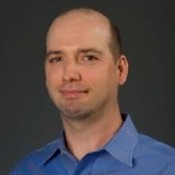 Eric Demers was more than the CTO of AMD's graphics unit. He was, at least by external appearances, the chief architect of the past few generations of AMD's GPU technology. From everything I've witnessed, it was Demers that not only resided over, but triggered, a revival of GPU technology at AMD. September 2009's unveiling of AMD's Evergreen GPU generation turned up the heat on a rivalry with Nvidia that had been going Nvidia's way for quite some time. And now Demers is gone, heading off to some new unnamed endeavor.
Granted, when it comes to the workstations and graphics that are sitting by the desks of most CAD pros today, AMD's comeback has yet to translate into a lot more sales or presence. But the company's products were clearly showing more potential than they have in a while. Now that comeback might be coming to an end, or at least be put on hold.
The performance of Graphics Core Next (GCN), Demers' architecture behind the Southern Islands GPUs (now being released under the Radeon brand) hasn't been at all poor, but the products aren't getting the fanfare that Evergreen did. That's possible, and if so, to some degree understandable, because with GCN AMD is undertaking a major shift in design philosophy similar to what Nvidia did with its Fermi generation. Fermi also disappointed some, both being late and (arguably) a bit bloated.
Regardless of how GCN ends up looking, AMD needed to hang on to Demers. It was hard enough battling Nvidia with a fraction of their resources. Now it will have to do it without its primary helmsman. I've learned too often never to say never … and while I sincerely hope not, it's hard not to wonder if Demers departure will turn out to be the final straw that turned a comeback in graphics into another decline.
Now, as a customer, if you are going to be tied to just one component supplier, you can't do much better than Nvidia. The company consistently builds innovative products that not only serve existing applications, they've literally created new market spaces. The Quadro line now dominates workstation graphics almost to the level Intel rules workstation processors.
But still, it's never a good thing for OEMs to be at the mercy of any one supplier. When AMD (it appears consciously) left the market for workstation CPUs all to Intel, a vendor like HP couldn't have been happy. Even if Opteron didn't represent a big chunk of shipments, the company knows it's much better off having a second go-to option, if only to use as an occasional lever with its primary supplier. And when workstation OEMs suffer from fewer choices, workstation buyers do, too. For CAD pros hoping for the most choices and best prices a competitive market can produce, the long-term prospects have just gotten a little dimmer.
Alex Herrera is a senior analyst with Jon Peddie Research.