Stratasys says three heads are a whole lot better than two. The company unveiled its new Connex3 3D printer at SolidWorks World 2014 and demonstrated a printer that can print a rainbow of colors and combine materials to create new materials.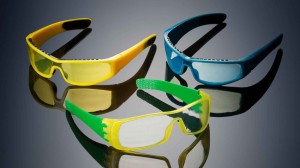 Stratasys is pulling out the stops to announce the Objet500 Connex3. This printer, may have a name straight out of RoboCop, but the company says they have the first printer that can print multiple  colors and multiple materials in the same run. The company's latest printer has eight print heads, two each for three base building materials and a fourth pair for support material.
Stratasys' Objet group was first to the market with the PolyJet process in 2000, and as the industry catches up, Stratasys says it is pulling ahead with the ability to create new materials, combine stiff and flexible materials, clear and opaque, and almost any color. Bruce Bradshaw, the company's director of marketing says the new printer can produce more than 500 combinations of materials.  For each print run, the three building materials can produce a maximum of 45 hues over a range of mechanical properties:
Mechanical properties of parts produced by the Objet 500 Connex3 3D printer

Hardness (Shore A)

27-95

Toughness (Izod impact strength)

21-40

Tensile strength (MPa/psi)

50-60/7,250-8,700

Elongation at break

0-60%

Stratasys says their new printer has almost unlimited abilities with color. (Source: Stratasys)
At the SolidWorks World press conference announcing the new machine Bradshaw told the audience that the ability to combine material properties and colors adds up to more than a sum of the parts.  New materials and colors can be achieved by printing  droplets of three base materials in specific patterns. The company says the new triple-jetting technology enables the creation of parts with "virtually unlimited combinations of rigid, flexible, and transparent color materials. " The fact that so many options can be achieved within a single print run means that there's less time lost to swap out colors and materials and many different prototypes can be combined in a single run. Like other systems in the Connex line, the 500 prints about one half inch per hour. The building volume is 500 x 400 x 200mm (19.7 × 15.7 × 7.9 inches).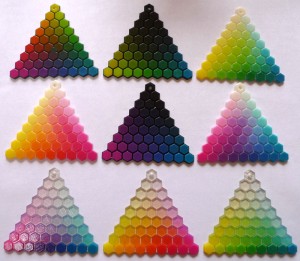 The company's software Objet Studio software, enables users to define the colors and properties they want in their print so the printer can reproduce them. Stratasys announced their latest machine at Dassault's Solid Works World and the company says it is working closely with CAD companies to improve the interoperability between the CAD program and Objet Studio. A few months back Stratasys also announced a working relationship with PTC.
The new printer will be shipped in the second quarter of 2014. The list price is $330,000.  Material prices haven't been released, but materials for older models range from $250-$350 per kilogram. Bradshaw says the company expects to be able to announce new materials as they continue to experiment with the printer's capabilities. More information about the Connex3 is on the Stratasys site.
What do we think?
The sample models on display at Solid Works World were really as amazing as the pictures on this page suggest. The colors were really that vibrant, flexible materials were really that flexible, and transparent components were really that clear.
Of course, no sooner had Stratasys said it can build a machine with three print heads but people began asking for four to achieve the full CMYK color pallet found in 3D Systems's ZPrinter line. By limiting the system to three colors, designers must choose a narrow pallet before printing their parts. This restriction isn't so serious for parts such as automobile trim that are generally of a single hue, or at most two colors.  But for fashion items, toys, consumer products, and architectural materials, where multiple colors may be combined, the 500 Connex3 may not be able to do the whole job in one run.
Bradshaw explained that adding a fourth color to the machine is more complicated than just adding parts for another jet.  "We are still learning how the various material behave when they are combined," he said. The Connex2 has been on the market for 7 years, so maybe that's how long it will take to add full color capability. However, the available palettes and ranges of material properties represent a huge step forward, and we are duly impressed.
GraphicSpeak's man on the ground Stephen Wolfe has updated this report with more detail.